Actions and Detail Panel
Into His Fields - Benefit Concert
Sat, April 29, 2017, 4:30 PM – 9:30 PM EDT
Description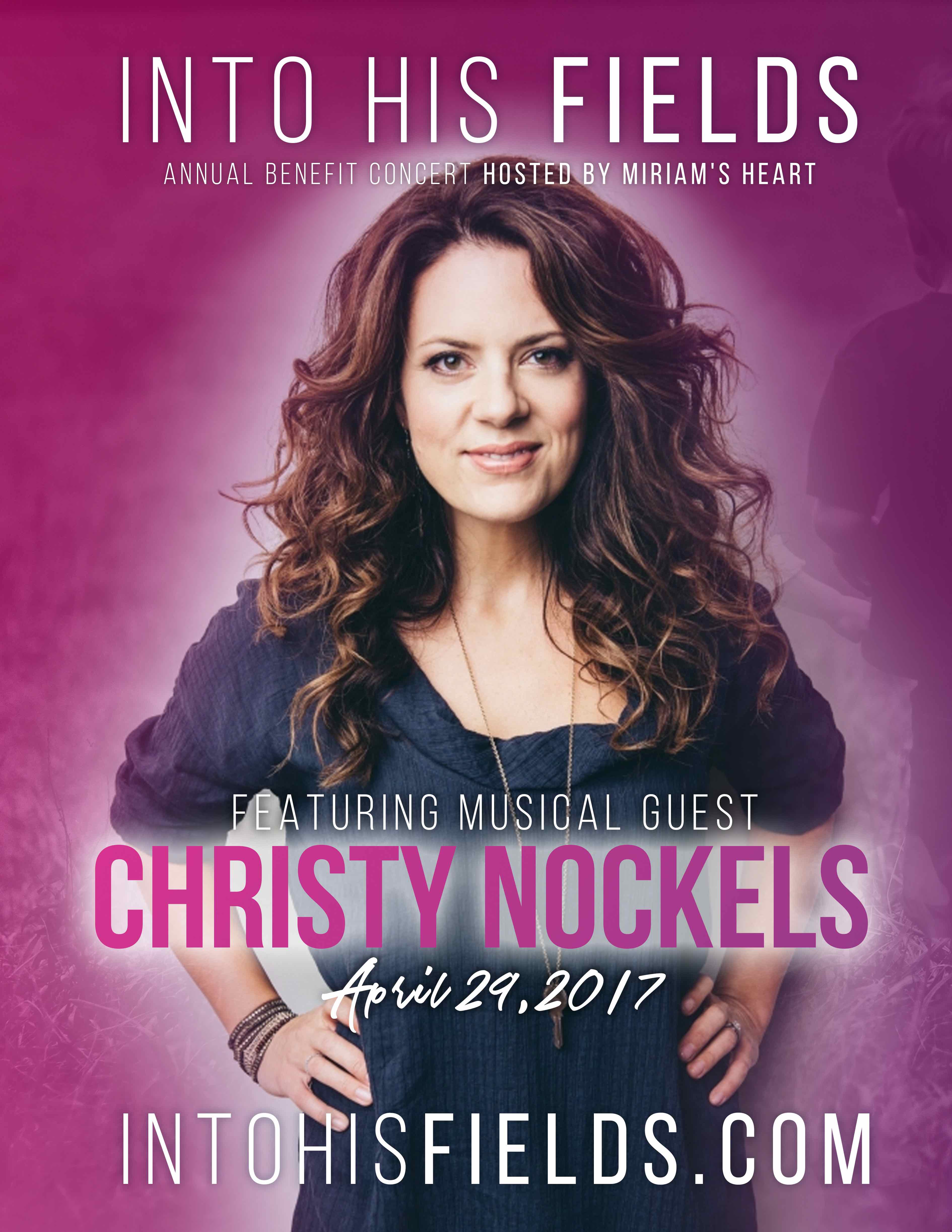 You are invited to join us at the Into His Fields benefit concert on April 29, 2017! Passion worship leader, Christy Nockels joins us as musical guest at Into His Fields! This concert will captivate your heart to
#TakeAction

on behalf of orphaned and abandoned children. Be a part of the great movement that is sweeping the Northeast! To learn more about this event, visit our website

1.TELL ME ABOUT THE SPEAKERS & ARTISTS?

We are delighted to bring in special guest, Christy Nockels! With songs like "Let It Be Jesus," "Waiting Here For You," "Healing Is In Your Hands," "My Anchor," and "A Mighty Fortress," Christy Nockels has long had a huge appreciation for music and the role it plays in the kingdom of God. As a worship leader for many years, she has been an integral part of Passion Conferences from its inception in 1997. She's seen first hand how music can sweep people into the presence of God in a powerful way. On her latest release, Let It Be Jesus, Christy's prayer is to further explore biblical truths that elevate our worship and bind us in our hearts even closer to our creator. Christy believes that her calling in life "is to be a songwriter for my generation to proclaim Jesus' renown."

Christy will be joined by our dear friend and supporter, a stunningly powerful worship leader, Samantha Butler. Outstanding speaker, advocate and adoptive mother Mandy Litzke.


2. PURCHASE YOUR TICKETS IN ADVANCE: Tickets will go on sale in December. Due to parking limitations we must ticket all attendees (even the kiddos!) for this event and will stop selling tickets once we have reached the building capacity. Can you share a ride with a friend? Parking may become limited!

3. WHY #IHF17?: Proceeds from this concert will benefit Miriam's Heart, Inc (unless otherwise stated) Can't join us? Consider making a donation toward the Miriam's Heart Fund or to Miriam's Heart; which assists in offsetting adoption costs, events for adoptive & foster families, and post-adoption training. For more information about our work visit www.miriamsheart.org

4. COME EARLY & LEAVE LATE: We have blocked out time before the music kicks-off for you to mingle and connect with the vendors and organizations! Doors open at 4:30 and close at 9:30 pm.

5. GET READY FOR SOMETHING AMAZING! We have unique worship artists ready to provide us with an incredible evening! We have hand-selected these folks because of their heart to take action on behalf of orphaned and abandoned children and their willingness to serve God through musical worship on behalf of Miriam's Heart. We have packed every minute with exciting music, artistry and information.

6. I NEED MORE INFO! Reach out to us at info@miriamsheart.org for general questions regarding the event. If you are interested in find out more about hosting a table as a vendor/organizational partner connect with Amanda@miriamsheart.org. For general event information email info@miriamsheart.org

7. WHAT ABOUT THE KIDDOS? The #IntoHisFields concert is a family friendly event! Children are not only welcome to attend with you, we encourage you to bring your children to enjoy this evening of incredible music and fun! Did we mention that kids are FREE?

8. I LIKE TO EAT AND SHOP! Yes! Chick-Fil-A has partnered with Miriam's Heart to provide us with amazing food for Into His Fields! We will also have books, tee shirts and other items for sale! The doors open at 4:30 - Come early grab some Chick-Fil-A and browse the vendor fair!