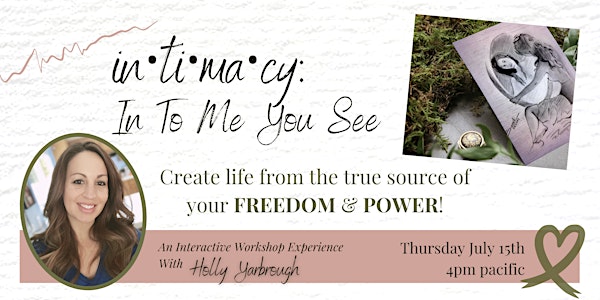 in·​ti·​ma·​cy: In To Me You See
Tap into the resource we ALL have inside of us and create the life you dream of!
About this event
Learn how to master your most important relationship in your life… your relationship with yourself, and watch all of your other relationships transform.
- Develop the courage and clarity to explore and express your deepest feelings.
- Experience what it's like to finally let go of the old patterns that don't serve you and discover a level of abiding happiness you never knew was possible.
- Discover what it's like to live a life true to yourself versus a life fashioned around pleasing and satisfying the expectations of others.
- Experience deep meaningful connection with those who matter most in your life.
No one will ever know you as intimately as you can know yourself. Discover your power, potential, and possibility by simply getting curious enough about what it would be like to have a deeply intimate relationship with yourself.
In this workshop you will learn how to build a strong and healthy relationship with yourself. Imagine having an inner navigation system guiding you along your journey with depth and precision... A guiding light shining the way towards your fully realized self.
Let's step into the fire of self discovery together and reveal our true selves, knowing our greatest days are ahead.
With Love & Gratitude,
Holly Yarbrough
P.S. Please bring a journal, pen and have a mirror nearby, as we will be doing some transformative mirror work during our time together. I look forward to connecting heart to heart with you.