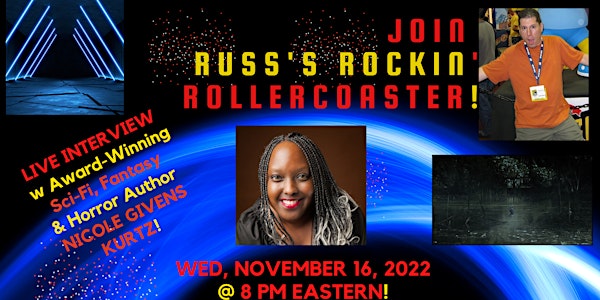 Interview with SFF and Horror Author NICOLE GIVENS KURTZ!
Author Russ Colchamiro hosts an hour-long interview with science fiction author Nicole Givens Kurtz about her life and writing career
About this event
NICOLE GIVENS KURTZ is an author, editor, and educator. She's the recipient of the Ladies of Horror Grant (2021), the Horror Writers Association's Diversity Grant (2020) and the two-time Atomacon Palmetto Scribe Award Winner (2021 and 2022). She's also the editor of the groundbreaking anthology, SLAY: Stories of the Vampire Noire. She's written for White Wolf, The Realm's The Vela: Salvation series, and Baen's No Game for Knights and Straight Outta Tombestone. Nicole has over numerous short stories published as well as numerous novels and three active speculative mystery series. She enjoys reading scary stories and watching true crime.
RUSS COLCHAMIRO is author of the Sci-Fi mysteries Crackle and Fire, Fractured Lives, and Hot Ash, the ongoing series featuring intergalactic private eye Angela Hardwicke. Russ is also the author of the rollicking time travel/space adventure, Crossline, the SF/F backpacking comedy series Finders Keepers: The Definitive Edition, Genius de Milo, and Astropalooza, is the editor of the Sci-Fi mystery anthology Love, Murder & Mayhem, and co-author and -editor of the noir anthology Murder in Montague Falls.
Russ has also contributed to several other anthologies including PRISM, Tales of the Crimson Keep, Pangaea, Altered States of the Union, Camelot 13, TV Gods 2, They Keep Killing Glenn, Thrilling Adventure Yarns, The Phenomenons, Footprints in the Stars, Devilish and Divine, Badass Moms, and Brave New Girls.
Russ is a member of The Mystery Writers Association, The Private Eye Writers of America, and the author collective Crazy 8 Press. He also hosts and produces his Russ's Rockin' Rollercoaster podcast, where he interviews best-selling and up-and-coming Sci-Fi, fantasy, crime, mystery, and horror authors.
For more on and Russ's books and his podcast, visit russcolchamiro.com, and follow him on Facebook, as well as Twitter and Instagram @AuthorDudeRuss.
He lives in New Jersey with his wife, two ninjas, and black lab, Jinx.