Interview with "Mexican - American History Maker" and "Pearls of Wisdom"
About this Event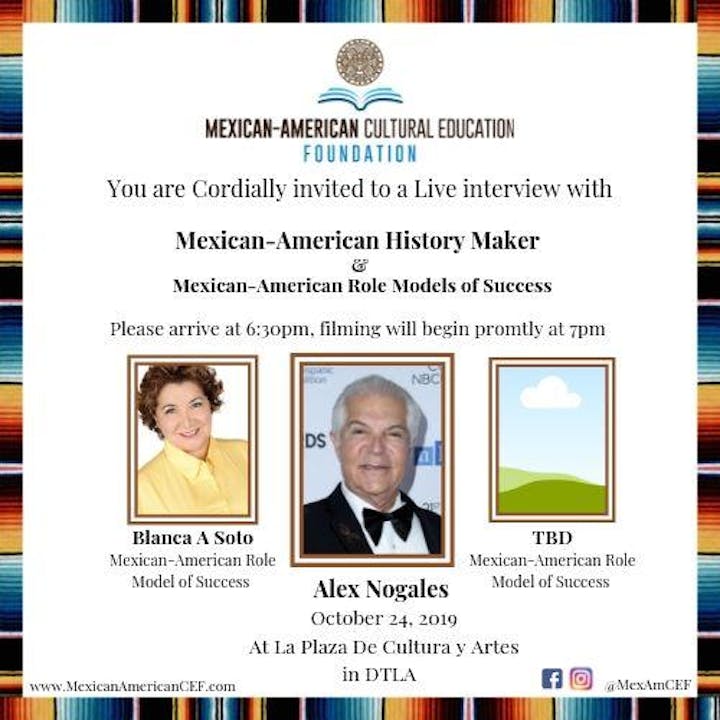 On October 24, 2019, The Mexican-American Cultural Education Foundation will showcase one Mexican-American History maker, who is an individual who achieved the highest degrees of success in their respective fields, and have influenced the future of not only Mexican-Americans, but of our entire nation. In addition, to showcasing a Mexican-American History maker we will also showcase two Mexican-American Role models of Success. These are highly successful individuals/role models who will share intimate stories and their "Secret Sauce" of how being Mexican-American, may have both interfered as well as ultimately help achieve great success in their respective field! Also will answer questions and offer mentorship.
Meet in person "Mexican-American History Maker" Alex Nogales, CEO of the National Hispanic Media Coalition . Learn about his early life, what motivated him to succeed and to serve, as well as his secrets to his great achievement. Mr. Alex Nogales is one of the most influential Latinos to date in media. Mr. Nogales spends his days advocating for more Latino Representation in the entertainment/media industries. If you have always waned to work in the media/entertainment industry, or currently work in it, you do not want to miss meeting Alex Nogales.
In addition, we will also have two TED talk inspired speeches, by highly successful "Mexican-American Role Models of Success", Blanca A Soto.
Seating is very limited and the opportunity to meet this Mexican-American "History Makers" is priceless, bring the people you love and be inspired! One ticket per person.
The educational event is brought to you by The Mexican-American Cultural Education Foundation (MACEF) fulfilling it mission to "To change the narrative by educating the community about the endless positive contributions the Mexican-American people (Chicano,Chicanx Latino, Hispanic, Latinx, or 1st generation immigrant), and their rich culture have given to America, which is often unrecognized. This is to be achieved by promoting unity, education, pride, and progress.". https://www.mexicanamericancef.org/