Description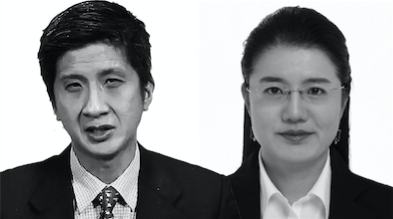 ANTITRUST IN ASIA: ONE SIZE FITS ALL?
ASEAN, CHINA, HONG KONG, INDIA...
---
Interview with Han Li Toh
Chief Executive and Commissioner, Competition & Consumer Commission of Singapore
---
Han Li Toh (Chief Executive and Commissioner, Competition & Consumer Commission of Singapore) has been interviewed by Elizabeth Wang (Executive Vice President, Compass Lexecon, Boston and Beijing) in view of their panel "IP Licensing: Should Essential Patents Be Challenged?"
They will join the Antitrust in Asia conference that will take place in Hong Kong on May 24, 2019 at The Chinese University of Hong Kong.
To see the full program and register, please click here.
What are the competition law issues that arise in the area of licensing of Standard Essential Patents?
While Standard Essential Patents ("SEPs") are an essential feature of the modern-day economy and perform various functions (such as the assurance of a minimum level of quality, allowing for economies of scale in production, and interoperability), the standard setting process creates conditions that are conducive for certain anti-competitive conduct.
The standard setting process eliminates alternative technologies and confers significant market power to the SEP holder whose technology is included in the standard. One key competition law issue arising from SEPs relates to whether the SEP holder exercises this market power in a manner that is detrimental to competition in the market. For example, demanding a higher royalty rate than what would have prevailed in a competitive process can deter innovation by increasing costs for other industry participants. The SEP holder can also choose to discriminate against certain licensees by varying the relative licensing terms offered to these licensees who may be key horizontal or vertical competitors or refusing to license to certain users the necessary Intellectual Property Rights ("IPRs"). As evinced by the decisions of the European Commission ("EC") against Motorola Mobility, Inc. ("Motorola Mobility") and Samsung Electronics Co., Ltd in 2014, an SEP holder can also abuse its dominant position by seeking injunctive relief against a user (in that case, Apple Inc.) who has committed to license the SEPS on Fair, Reasonable and Non-Discriminatory ("FRAND") terms and agreed to take a license and be bound by a determination of the FRAND royalties by the relevant court or a mutually agreed arbitrator.
The standard setting process could involve bringing industry players, sometimes competitors, together and providing a conduit where such industry players coordinate their actions. For example, an SEP holder can collude with a subset of licensees seeking for relatively favourable treatment (e.g. lower royalty rates) as compared to fellow competitors. Favourable licensing terms can be problematic as they do not just distort competition amongst existing players but can also be used to shield existing players from future competition.
In assessing the acquisition of smart phone SEPs held by Motorola Mobility by Google Inc. ("Google") under its merger review framework, the EC examined whether Google would have the ability and incentive to use Motorola Mobility's SEPs in a way which would cause a significant impediment to effective competition, in particular by having recourse to injunctions against good faith licensees. The EC expressed the view that a FRAND commitment cannot be considered as a guarantee that an SEP holder will not abuse its market power and found that the acquisition would increase Google's ability to impede effective competition even though the ability would be constrained to an extent by the fact that FRAND is an obligation upon which inter aliacourts, arbitral tribunals or competition authorities may rule. The EC also considered that its enforcement policy under Articles 101 and 102 of the Treaty on the Functioning of the European Union with respect to FRAND commitments to be a factor that would diminish Google's incentive to abuse its market power post-acquisition. Although the EC concluded in that case that the proposed acquisition did not raise serious doubts as to its compatibility with the internal market, the case offers an illustration of the considerations relating to SEPs in accessing the competitive effects of an acquisition or merger.
What is the basic trade-off enforcers face when considering intervention in the area of Standard Essential Patents licensing?
Ultimately, there is a need to balance the interest between SEP holders and licensees. While competition law inquiries often relate to whether the SEP holder has abused its market power by limiting, directly or indirectly, access to its SEP, over-enforcement against SEP holders may also encourage opportunistic conduct by licensees to hold out for unreasonably low or favourable terms, or to utilise SEPs without paying FRAND royalties. It is therefore important to strike a balance between ensuring that licensees are able to gain access to essential technologies for compliance with the standard and at reasonable rates, whilst ensuring that the IPRs of innovators are protected and they receive adequate compensation for their investments.
FRAND commitments have been commonly adopted by standard setting organisations to attain such a balance. The recent decision by the European Court of Justice in Huawei Technologies Co. Ltd v. Zhongxing Telecommunication Equipment Corporation sought to provide a procedural framework on what constitutes reasonable conduct in relation to both the SEP holder and the licensee in FRAND negotiations, in an attempt to strike a balance between maintaining competition and safeguarding the IPRs of SEP holders. It is worth noting that the burden of initiating the FRAND license negotiations was shifted to the SEP holders on the basis they are better placed to check whether their offer is consistent with the FRAND requirements as compared to the alleged infringer. The English High Court, in making a finding in favour of the SEP holder, Unwired Planet International Ltd ("Unwired Planet"), noted, inter alia, that the SEP holder is obliged by contract to take a FRAND approach to the negotiation and to grant a license on FRAND terms and the licensee in turn must also take a FRAND approach to the negotiation and accept a license on FRAND terms if it wishes to take advantage of the constraint on the SEP holder's rights imposed by the FRAND undertaking.
What is the role of economics in devising an approach toward disputes and enforcement actions related to Standard Essential Patents licensing?
The role of economics in assessing abuse of dominant cases is well established. In the relatively complex space of SEPs, economics can also help us to understand and analyse the conduct and motivations of the respective economic players, which is helpful both in the determination of whether the conduct is anti-competitive, as well as in devising remedies. This includes the question of what constitutes FRAND rates and terms. In the Unwired Planet case, economic expert evidence, as well as economic literature, were part of the English High Court and Court of Appeal's assessment in determining FRAND rates and terms. There also exist various economic models in relation to the determination of FRAND rates and terms, as well as the detection of FRAND violation. While such frameworks and approaches have limitations and there is debate over which of these should be used for FRAND cases, they can help to provide competition authorities with considerations in relation to how to proceed in such cases. CCCS is currently working on a paper studying the development of FRAND commitments in SEP cases and potential applications of FRAND commitments in future cases from an economic perspective.
What is the position of the CCCS towards competition law enforcement in the area of Standard Essential Patents licensing?
In 2007, CCCS published the CCCS Guidelines on the Treatment of IPRs ("CCCS IPR Guidelines") which sets out the interface between IPRs and Singapore competition law generally, and includes discussion on whether the refusal to supply a license to essential IPRs can constitute an abuse of a dominant position and infringe section 47 of the Singapore Competition Act. While CCCS has not had any cases directly involving SEPs, CCCS has applied the use of FRAND terms in accepting commitments for two cases, namely (i) the acquisition by Times Publishing Ltd of the Penguin group of companies and (ii) an investigation where lift manufacturers had refused to supply vital spare parts to third party lift maintenance contractors. CCCS is currently considering a review of the CCCS IPR Guidelines to consider how CCCS will treat IPR-related assets such as data sets or other IPRs in a merger context or in an investigation. With the developments surrounding FRAND, there is also scope to consider setting out how CCCS may accept FRAND commitments in merger cases or to address other competition concerns.
CCCS has also undertaken various projects relating to SEPs to allow for prompt and effective enforcement action as and when the need arises. In addition to the economics study previously mentioned, CCCS awarded its inaugural research grant call in 2018 for a study examining how international standards can act as a catalyst or barrier to innovative entrepreneurship; and how private or quasi-public regulation affects competition.