Description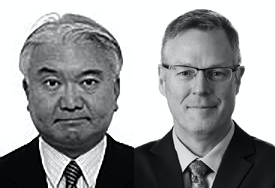 ANTITRUST IN ASIA: ONE SIZE FITS ALL?
ASEAN, CHINA, HONG KONG, INDIA...


---
Interview with Brent Snyder
Chief Executive Officer, Hong Kong Competition Commission
---
Brent Snyder (Chief Executive Officer, Hong Kong Competition Commission, Hong Kong) has been interviewed by Sadaaki Suwazono (Deputy Secretary General, International Affairs, Japan Fair Trade Commission, Tokyo) in view of their Enforcers' Roundtable.
They will join the Antitrust in Asia conference that will take place in Hong Kong on May 24, 2019 at The Chinese University of Hong Kong.
To see the full program and register, please click here.

You conducted criminal investigation in the US DOJ for many years, and are now implementing the administrative procedures of investigation, for cartel and bid-rigging cases. It is precious experience to know both ways of case handling, I think. In what kinds of situations have you felt a difference between the administrative and criminal experience? And, what kind of aspects have you felt are the biggest differences between the two?
Hong Kong's Competition Ordinance established a prosecutorial system, rather than an administrative system. The Hong Kong Competition Commission (Commission) must file with Hong Kong's Competition Tribunal those enforcement actions which seek a pecuniary penalty or are otherwise contested. In this sense, the Commission is in a similar position to the US DOJ, which also has a prosecutorial system for both criminal and civil antitrust enforcement actions.
Another similarity is that both the Commission and the US DOJ may seek to hold individuals accountable for competition violations. The Commission may seek fines against individuals as well as disqualification for directors, while the US DOJ may seek jail sentences and fines for individuals involved in hardcore cartels.
In some ways, the biggest difference between the Commission and the US DOJ in enforcement matters is that US DOJ lawyers can prosecute its cases in court while the Commission is required to rely on outside counsel to represent it in enforcement proceedings before the Tribunal. Although the US DOJ's system creates certain advantages and efficiencies, the Commission has been fortunate to receive a sizable litigation fund from the Hong Kong government and has been able to retain experienced counsel to represent it in its enforcement proceedings to date.
I have heard that the Hong Kong Competition Commission has utilized econometric analysis to find suspected bid-rigging or cartel conduct very successfully. Could you share your experiences with us?
I cannot go into much detail about our economic screening efforts at this time because it relates to our confidential investigative work. What I can say is that we have used a progressive series of screens that we think increase the likelihood of eliminating "false positives," which is one of the principal concerns expressed about economic screens in cartel matters.
I have heard that the leniency program of your authority needs to be improved. Could you elaborate on what kind of problems the program has and how you plan to improve on them?
We have had some leniency applications and, of course, hope to receive more. Typically, an enforcement agency receives more leniency applications after it has demonstrated its ability to successfully investigate and prosecute cases without a leniency applicant. Our first three enforcement actions have begun to show we have that ability and will hopefully create greater incentives for companies to seek leniency.
As for whether there is a need to modify our current leniency policy, that is something we will continuously monitor. Other jurisdictions modify their leniency policies from time to time to ensure the incentive structure is well-calibrated. As we continue to have more experience with our policy and applicants, we will consider whether changes could improve its attractiveness.
This interview has been edited for clarity.