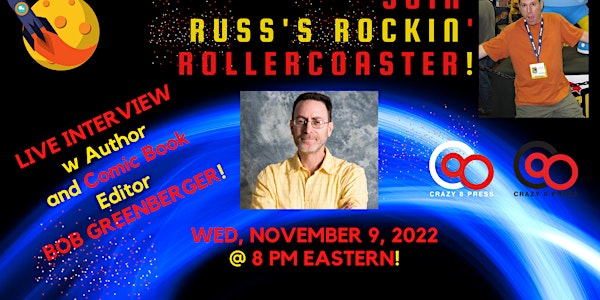 Interview w Pulp Author & Comic Book Editor BOB GREENBERGER!
Author Russ Colchamiro interviews Author and Editor Bob Greenberger about his career in comic books, tie-in fiction and Crazy 8 Press
About this event
ROBERT GREENBERGER is a writer and editor. A lifelong fan of comic books, comic strips, science fiction and Star Trek, he drifted towards writing and editing, encouraged by his father and inspired by Superman's alter ego, Clark Kent. He has subsequently worked for Starlog Press, DC Comics, Gist Communications, Marvel Comics, and Weekly World News.
In 1984, he joined DC Comics as an Assistant Editor, and went on to be an Editor before moving to Administration as Manager-Editorial Operations. He joined Gist Communications as a Producer before moving to Marvel Comics as its Director-Publishing Operations. He has freelanced for an extensive client base including Platinum Studios, scifi.com, DC and Marvel. He helped revitalize Famous Monsters of Filmland and served as News Editor at ComicMix.com.
He is a member of the Science Fiction Writers of America and the International Association of Media Tie-In Writers. His novelization of Hellboy II: The Golden Army won the IAMTW's Scribe Award in 2009.
With others, he cofounded Crazy 8 Press, a digital press hub where he continues to write. His dozens of books, short stories, and essays cover the gamut from young adult nonfiction to original fiction. He's also one of the dozen author using the penname Rowan Casey to write the Veil Knights urban fantasy series. His most recent works include Chartwell Books' 100 Greatest Moments series, The Dreadstar Handbook, and editing Thrilling Adventure Yarns.
Bob teaches High School English at St. Vincent Pallotti High School in Laurel, MD. He and his wife Deborah reside in Howard County, Maryland. Find him at www.bobgreenberger.com or @bobgreenberger.
RUSS COLCHAMIRO is author of the Sci-Fi mysteries Crackle and Fire, Fractured Lives, and Hot Ash, the ongoing series featuring intergalactic private eye Angela Hardwicke. Russ is also the author of the rollicking time travel/space adventure, Crossline, the SF/F backpacking comedy series Finders Keepers: The Definitive Edition, Genius de Milo, and Astropalooza, is the editor of the Sci-Fi mystery anthology Love, Murder & Mayhem, and co-author and -editor of the noir anthology Murder in Montague Falls.
Russ has also contributed to several other anthologies including PRISM, Tales of the Crimson Keep, Pangaea, Altered States of the Union, Camelot 13, TV Gods 2, They Keep Killing Glenn, Thrilling Adventure Yarns, The Phenomenons, Footprints in the Stars, Devilish and Divine, Badass Moms, and Brave New Girls.
Russ is a member of The Mystery Writers Association, The Private Eye Writers of America, and the author collective Crazy 8 Press. He also hosts and produces his Russ's Rockin' Rollercoaster podcast, where he interviews best-selling and up-and-coming Sci-Fi, fantasy, crime, mystery, and horror authors.
For more on and Russ's books and his podcast, visit russcolchamiro.com, and follow him on Facebook, as well as Twitter and Instagram @AuthorDudeRuss.
He lives in New Jersey with his wife, two ninjas, and black lab, Jinx.