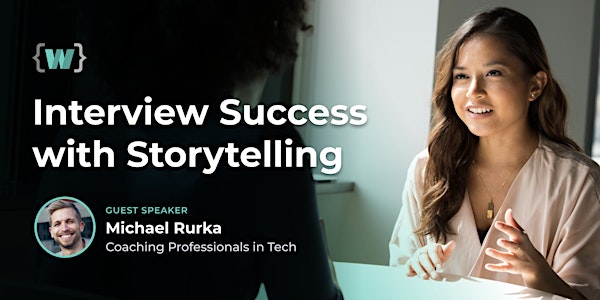 Interview Success with Storytelling
Need help communicating your value? Join our free workshop to learn how to stand out in your next interview through storytelling!
About this event
WEST stands for Women Entering & Staying in Tech, and we want to help women and nonbinary folks in tech land their next great role. Join us in our 2nd event of our WEST Job Search Series: Interviewing Success with Storytelling!
In a sea of candidates, how you shine and sell yourself DURING the interview has never been more important. You may think it's hard. But most people simply recite what's on their resume (i.e. things the interviewer already knows). Which leads to an unremarkable first impression and more work for the interviewer. But we can change that.
At the core of Design Thinking: Everything starts with the end-user and their needs. And in this case, we start with the interviewer. And from there, we work backwards.
In this interactive workshop, you'll learn how to stand out during your next interview with the use of storytelling, while leveraging various tried and tested principles. Enabling you to stand out among other candidates within minutes.
Specifically, you will …
Learn to craft compelling answers to the most common questions in interviews
Craft your unique story and value proposition (i.e. superpower)
Practice telling your story in mock-interviews style breakout sessions
—
Guest Speaker
Michael Rurka, Career Coach for Designers
Michael Rurka has thrived in the tech industry as a designer of all stripes for nearly a decade. He's now turned to Career Coaching. Leveraging various Design Thinking methodologies in helping professionals create and manifest the lives they truly want to live. Full of health, wealth and passion.
Whether that's landing your dream job, levelling up your current position, or simply achieving a sustainable balance that will propel you far into your future.