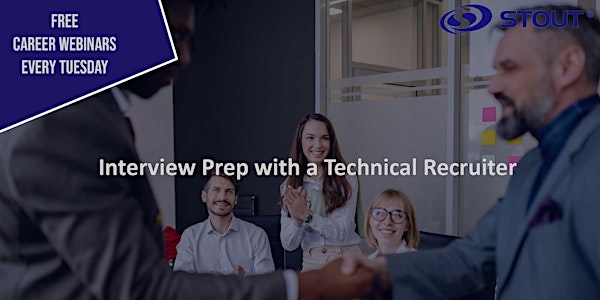 Interview Prep with a Technical Recruiter (Free Webinar)
Need help preparing for your interview? Here's a free webinar from the experts! We've been in technical staffing & recruiting for 25 years.
About this event
 What We'll Cover: 
Different types of interviews and how best to prepare for them.
Not all interview prep is technical. What else should you be doing?
What the role of research is in preparing for an interview.
What to take to an interview. (Hint: it's not just your resume)
How to rebound from a bad interview.
[Presented by Peg Bogema and Brian Skory of Stout Systems]
View our calendar of upcoming free webinars.
We have a bunch of technology jobs available! Visit our job board: https://www.stoutsystems.com/jobs
Stout Systems is the software consulting and staffing company Fueled by the Most Powerful Technology Available: Human Intelligence. Stout was founded in 1993 and is based in Ann Arbor, Michigan. Stout has clients across the U.S. in domains including engineering, scientific, manufacturing, education, marketing, entertainment, small business and, yes, robotics. Stout provides expert level custom software development, technical staffing services and direct-hire technical recruiting services.
Check out one of our presenters, Brian Skory, with his Getting Hired tip of the month - how to tackle the weird interview questions.