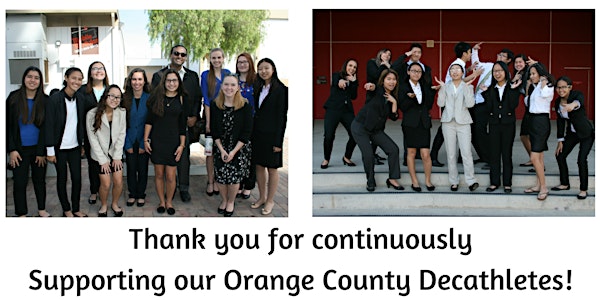 Interview OR Speech Judge (2020 Orange County Academic Decathlon Day 1)
Location
Tustin High School
1171 El Camino Real
Tustin, CA 92780
Sales Have Ended
Registrations are closed
Please note that OCAD hosts multiple academic competitions throughout the year that are volunteer driven. We encourage you to keep connected with us and look out for our additional volunteer opportunities.
Description
Give Youth a Voice! Be a Speech or Interview Judge for the Orange County Academic Decathlon (OCAD) and Help Us Celebrate 52 plus Years of Academic Excellence!
You can help the Orange County Academic Decathlon (OCAD) make a difference!
Each year OCAD relies on the kindness of over 150 community members volunteering their time and talent to positively impact student lives - just by listening to and evaluating speeches or conducting interviews.
With One Day of Service you help to create the space for our students to pursue their academic endeavors, build their communication skills, and engage with the community around them.
You make a difference in helping OCAD to achieve its mission to inspire academic excellence and build 21st century skills that prepare our students for college, career, and beyond.
Serving our students as a judge will be impactful, rewarding, and simple to achieve. If you enjoy being inspired by young people and working with other community members on a team, register as a judge and commit to One Day of Service with OCAD in 2020!
More information can be found at: http://www.ocde.us/Decathlon/Pages/Volunteer-Information.aspx
Time commitment: 8:00 a.m. to 3:30 p.m.
If you are interested in being part of this spirited and rigorous event competition, please register above!
---
Note:
Volunteers should be at least 18 years old and a high school graduate. Parents who volunteer will not be placed in the same area as their child. Registered volunteers will be emailed an information packet and map two weeks prior to the event.
It is very important that all volunteers arrive promptly on competition day. If a volunteer becomes unavailable, it is critical that the Project Liaison be contacted prior to the competition day to avoid incomplete judging teams. A missing volunteer can delay the start of the competition for our students. For additional information, please contact Stephanie Thomas at: 714-966-4316 or sthomas@ocde.us