Start your health care career as a Clinical Inventory Specialist at Syft! This is a traveling position that pays $11.5 per hour.
About this event
HEALTHCARE SUPPORT OPPORTUNITIES WITH SYFT: the leader in clinical and pharmaceutical inventory valuation. We are immediately hiring Clinical Inventory Specialists to join our team in the Atlanta area.
This is a part-time, seasonal, remote work position (not work from home) that requires US-based travel. Travel expenses are covered by Syft, and seasons start from March- December. We want career-oriented individuals looking to start a career in healthcare by counting clinical supplies inside hospitals across the country. We welcome candidates from hospitality or retail and all candidates interested in joining the healthcare field. We also welcome students who have schedule flexibility to train and travel. This is the perfect opportunity for you! Start in the healthcare support career with Syft, the leader in "smarter clinical supply for US based hospitals".
Syft will be holding Open House interviews on May 12th, 13th, and 14th in the Atlanta area. The Open House will be held at the Atlanta Airport Marriott 4711 Best Road Atlanta, GA 30337. Please respond to this posting with your resume and call (813) 308-8276 to reserve your interview day and time.
Each day – Wednesday 5/12, Thursday 5/13 and Friday 5/14, there will be small group interviews starting at 9:00am, 11:00am, 1:00pm and 3:00pm daily.
Gain healthcare experience performing clinical inventory valuations at a rate of $11.50/hr. with ample opportunity for overtime during our busy seasonal months
Learn the hospital clinical supply chain business using Syft technology
Earn airline miles and hotel rewards with your travel arranged by our travel coordinator. This position is part-time and can be seasonal and requires extensive USA travel
Workdays and hours vary job to job, week to week and include weekends
This position is ideal for students, teachers, anyone with a flexible schedule during the summer and winter months
Valuable training and experience in the healthcare field
Van transportation is provided to assignments outside the local area
Syft is looking for responsible, hardworking individuals to perform physical inventories for our healthcare clients- US based hospitals and pharmacies. Requirements include:
High school graduate/GED
Must be able to speak, read, write and understand the primary English language used in the workplace
Ability to follow verbal and written instructions
Ability to use provided laptop computer and bar code scanner to collect data at client sites
Must present a professional appearance
Must have reliable personal or public transportation for local work or to the airport
Ability for extensive travel
Ability to work independently and as a member of various teams
Possess an acute attention to detail
Demonstrate versatility, flexibility, and a willingness to work within constantly changing environment with a polite and positive demeanor
Possess the ability to stand for extended periods of time
Access to reliable personal or public transportation to local assignments
Possess the ability to move and bend frequently
Punctual for scheduled assignments
Follow provided PPE standards, temperature checks, face masks worn properly over mouth and nose and/or any other hospital required standards
Medical and/or pharmaceutical product knowledge is desirable but not essential. We are willing to train
A state Issued Driver's License is preferred but not essential
All Syft employees are required to pass a background test and drug screening. Syft prepays travel-related expenses. Airfare, hotel, car rentals are arranged by our travel coordinator. Per diem meals and travel related and baggage expenses are reimbursed. Work hours vary, depending on job requirements. Our business needs vary month to month and is ideal for students because our busy times are during summer and winter break months. If you enjoy working in a team environment, visiting different work locations daily and having a sense of accomplishment at the end of the workday, we may be the work destination for you. We are always on the lookout for new, motivated people to join our team.
JOB DESCRIPTION - INVENTORY CONTROL SPECIALIST: Inventory Specialists perform inventory tasks at a hospital, pharmacy, or warehouse physically counting consumable supplies, pharmaceuticals, surgical implants, or hospital assets. Responsible for counting accurately and efficiently inconsistent methodology.
DUTIES AND RESPONSIBILITIES: The following reflects management's definition of essential
functions for this job but does not restrict the tasks that may be assigned. Management may assign or reassign duties and responsibilities to this job at any time due to reasonable accommodation or other reasons.
Accurately and efficiently capture inventory count data in the HITS program, in MS Excel or on paper count sheets as instructed by the Team Leader or other Inventory Management.
Regularly communicate with Team Leader regarding any issues with the HITS program and/or the computer equipment.
Follow Inventory Counter procedures and protocols as set forth in job orientation and training
Follow directions and/or instructions as communicated by the Team Leader in a professional manner.
Follows company procedures, guidelines, and standards in the areas of customer service, utilization of company equipment and internet usage.
Performs all duties and responsibilities in a timely and effective manner in accordance with established company policies to achieve the overall objectives of this position.
Maintains a high level of competency in utilizing technology to facilitate inventory data capture including but not limited to the HITS application.
Projects a favorable image of the company to promote its aims and objectives and foster and enhance public recognition and acceptance of all of its areas of endeavor
Attends staff and training meetings for ongoing updates related to Field Operations.
Keeps immediate superior promptly and fully informed of all problems or unusual matters of significance.
Maintains a favorable working relationship with all other company employees to foster and promote a cooperative and harmonious working climate which will be conducive to maximum employee morale, productivity and efficiency/effectiveness.
Performs other duties as assigned by Syft management
QUALIFICATIONS:
High school education or GED.
Ability to communicate effectively in the English language both written and verbally.
Ability to understand and follow written and verbal instructions.
Ability to use a personal computer to enter data at client sites.
Must present a professional appearance.
Must have reliable transportation and the ability to travel extensively.
High school diploma or equivalent combination of education and experience.
Ability to work independently and as a member of various teams.
Acute attention to detail.
Versatility, flexibility, and a willingness to work within constantly changing priorities with enthusiasm.
Must be able to speak, read, write, and understand the primary English language used in the workplace.
State Issued Driver's License and clean driving record preferred.
Medical and/or pharmaceutical product knowledge a plus
COMPETENCIES:
Analytical -- Accurately collects data.
Technical Skills - Assesses own strengths and weaknesses; Pursues training and development opportunities; Strives to continuously build knowledge and skills; Shares expertise with others.
Customer Service - Responds promptly to customer needs as appropriate for the position;
Responds to requests for service and assistance; Meets commitments.
Interpersonal Skills - Focuses on solving conflict, not blaming; Maintains confidentiality.
Listens to others without interrupting; Keeps emotions under control; Remains open to others' ideas and tries new things.
Oral Communication - Speaks clearly and persuasively in positive or negative situations;
Listens and gets clarification; Responds well to questions
Written Communication - Writes clearly and informatively; Edits work for spelling and grammar; Presents numerical data effectively; Able to read and interpret written information.
Teamwork - Balances team and individual responsibilities; Exhibits objectivity and openness to others' views; Contributes to building a positive team spirit; Puts success of team above own interests.
Ethics - Treats people with respect; Keeps commitments; Works with integrity and ethically;
Upholds organizational values.
Organizational Support - Follows policies and procedures.
Judgment - Exhibits sound and accurate judgment.
Motivation - Demonstrates persistence and overcomes obstacles. Measures self against standard of excellence.
Professionalism - Approaches others in a tactful manner; Reacts well under pressure; Treats others with respect and consideration regardless of their status or position; Accepts responsibility for own actions; Follows through on commitments.
Quality - Demonstrates accuracy and thoroughness; Looks for ways to improve and promote quality; Applies feedback to improve performance; Monitors own work to ensure quality.
Quantity - Meets productivity standards; Completes work in timely manner; Strives to increase productivity; Works quickly.
Safety and Security - Observes safety and security procedures; Reports potentially unsafe conditions; Uses equipment and materials properly.
Adaptability - Adapts to changes in the work environment; Manages competing demands;
Changes approach or method to best fit the situation; Able to deal with frequent change, delays, or unexpected events.
Dependability - Follows instructions, responds to management direction; Takes responsibility for own actions; Keeps commitments; Commits to long hours of work when necessary to reach goals. Initiative - Volunteers readily; Undertakes self-development activities; Seeks increased responsibilities; Asks for and offers help when needed.
PHYSICAL: While performing the duties of this job, the employee is frequently required to do the
following:
Travel extensively to US based hospitals
Stand and/or sit for prolonged periods
Walking for prolonged periods
Stooping and/or reaching to count products and/or handle equipment
Perform some repetitive motion activities
Understand and respond to a diverse population
Ability to lift to 50lbs, on occasion.
WORK ENVIRONMENT:
The work environment characteristics described here are representative of those an Inventory Control Specialist encounters while performing the essential functions of this job. Reasonable accommodations may be made to enable individuals with disabilities to perform the essential functions. The work environment is normally at a moderate noise level, but these are live areas in hospitals and pharmacies and will have hospital or pharmacy staff present as well, needing to perform their functions. The environment can be small rooms or busy spaces and will require standing for long periods of time. At Syft, the health and safety of our associates and customers are a top priority. Syft is doing its part to prevent the spread of COVID-19 through company-mandated PPE (Personal Protective Equipment) usage and sanitization measures to prioritize the health and safety of employees.
REPORTING RELATIONSHIP:
Reports directly to Field Manager and/or Director of Inventory Operations. The above is intended to describe the general content of and requirements for the performance of this job. It is not to be construed as an exhaustive statement of duties, responsibilities , or requirements. Nothing in this job description restricts management's right to assign or reassign duties and responsibilities to this job at any time.
Job Type: Part-time, hourly, seasonal - travel position to U.S. hospitals
Salary: $11.00 per hour.
EQUAL OPPORTUNITY EMPLOYMENT:
At Syft we believe that the business of business is to improve the state of our world. Each of us has a responsibility to drive Equality in our communities and workplaces. We are committed to creating a workforce that reflects society through inclusive programs and initiatives such as equal pay, employee resource groups, inclusive benefits, and more.
Syft is an Equal Employment Opportunity and Affirmative Action Employer. Qualified applicants will receive consideration for employment without regard to race, color, religion, sex, sexual orientation, gender perception or identity, national origin, age, marital status, protected veteran status, or disability status.
Job Type: Part-time
Pay: $11.50 per hour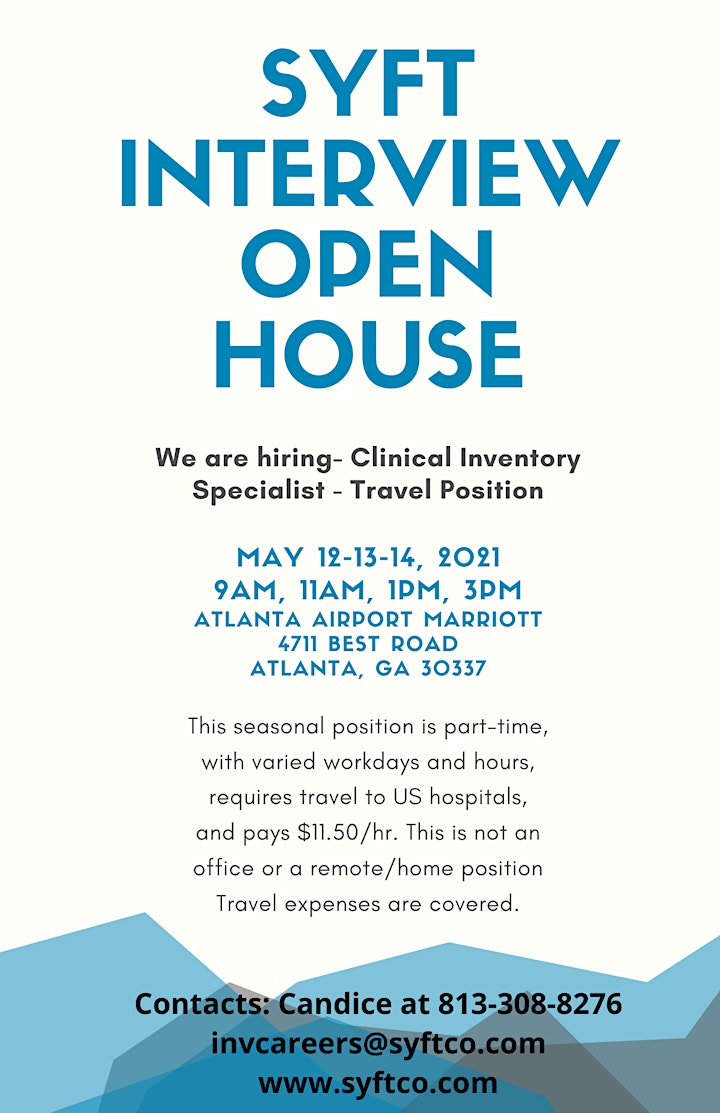 Organizer of Interview Open House- Clinical Inventory Specialist- Travel Position- Syft