Interstitial Interruptions: The Work of Naomi J. Falk, Amy Sacksteder and B...
Description
Interstitial Interruptions: The Work of Naomi J Falk, Amy Sacksteder and Brooks Harris Stevens, in Conversation
This thematic, three person exhibition depicts, re-presents, and reimagines fences and barricades and other symbols of division. Their collective work is inspired by recent and current political events, factions in our country and in the world, and land use and access. Viewers will find immersive, large scale works that engage repetition, labor, and the passing of time. Several pieces evolve as the exhibition progresses, degrading with exposure to air or with interaction with visitors. For example, Sacksteder's silver leafed, hand-cut, paper fence wall installations, allow the entropy of tarnish to continue acting upon the pieces after they leave the studio.Though the pieces in the show are distinct to each artist, the overall installation is collaborative and tailored to the gallery space and architecture of the Detroit Center for Design and Technology.
Detroit Center for Design + Technology and their curatorial partner, Embrace Creatives invites you to the opening of this thought provoking and textural exhibition.
---
Presented by: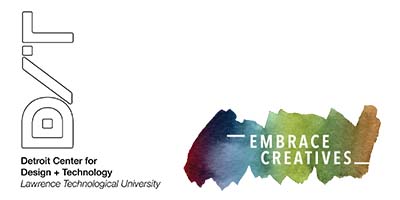 About DCDT

:
The Detroit Center for Design + Technology is the public presence of LTU College of Architecture and Design's transdisciplinary programs on the Woodward Corridor. The DCDT acts as an inclusive platform for the advancement of Detroit's educational, economic and engagement efforts with regard to design, technology and social innovation. The DCDT aligns with local initiatives, programs and organizations that foster and expand the role that design and technology play within our community, growing industry and education.
About Embrace Creatives

:
EC is igniting an empowerment movement for artists through education, connections and opportunities. Like a LinkedIn for Artists, their confidence building, online network connects artists to one another and to commercial art buyers while guiding creative business owners to healthy and strong relationships in a safe space. Free for artists, makers, designers, galleries, retailers, sales reps, architects and anyone who's building a creative enterprise in a mindful way.