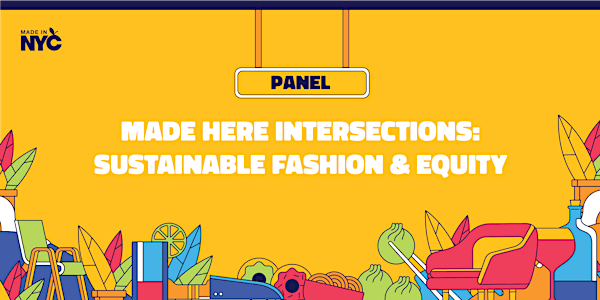 Intersections: Sustainable Fashion & Equity @ The Made in NYC Pop-Up
This panel will explore the intersection between sustainability and gender and racial equity in NYC's fashion world.
When and where
Location
323 Canal St 323 Canal Street New York, NY 10013
About this event
Local fashion industry leaders will discuss the future of sustainable fashion in NYC and how it impacts and is connected to the growth of workforce and entrepreneurship for women and communities of color. This panel will put a spotlight on women leaders in NYC's sustainable fashion world who are contributing to sustainable fashion development and sourcing, entrepreneurship for women and communities of color and how these two topics intersect. Sustainability and equity go hand in hand in the ever-changing NYC fashion landscape. This conversation will touch on challenges, successes and ways to innovate the industry forward.
Moderator:
Lindsay Clinton, Executive Vice President, NYCEDC
Lindsay is a business strategist with 12+ years of international experience in a range of advisory, research, and start-up roles at the intersection of business and social change. She is based in New York and is the Executive Vice President of Industry Initiatives at the NYC Economic Development Corporation. Previously, Lindsay worked with the Aavishkaar-Intellecap Group, a leading impact investing firm focused on entrepreneurship in Asia and Africa. Prior to that, Lindsay spent 5 years working for the think tank and consulting firm, SustainAbility, where she ran the New York office. Her portfolio included finance, technology, pharmaceutical, and food companies, including Barclays, BMW, GE, Nestle, Nike, and UBS. Lindsay has been published in The Wall Street Journal, The New York Times, Fast Company, GOOD Magazine and the Guardian Sustainable Business. She teaches a graduate course at Parsons in New York on sustainable business models.
Panelists:
Ngozi Okaro
Ngozi is the Executive Director of Custom Collaborative. As an advocate for socioeconomic justice she understands the challenges facing women who want nice clothes but whose bodies do not conform to ready-to-wear's template — the majority of US clothing buyers. Ngozi aims to bridge gaps between constituencies: fashion-industry workers who want fair compensation, thoughtful consumers who want quality clothes, and the natural environment.
Whitney McGuire
Whitney is the Co-Founder of Sustainable BK an organization that works to bridge gaps between the sustainability movement and targeted communities education and events. She is committed to fashionably fostering the evolution of sustainability to create an inclusive future for all. She has been recognized as a leader in the field of Fashion Law, as chairwoman of Fashion Law Week, member of the Greater Washington Fashion Chamber of Commerce which established an incubator for emerging designers and later, and as Legislative Aide for lobbyist, Liz Robbins, whose firm was hired to enact legislation that would provide anti-piracy protection for fashion designs. Currently, she is Of Counsel at The Fashion Law Group, P.C., where she advises artists, and corporations on a variety of legal issues affecting their businesses.
Jane Potter
Jane is the Senior Director of Fabric Procurement & Fiber Sustainability for Theory. She is in charge of all production fabric buying and price negotiation for Theory's men's and women's divisions. She focuses on implementing chemical detox and integrating sustainable fibers and fabrics into their core programs.
Sue Rock
Sue Rock is a woman of profound influence in both the fashion and non-profit sectors. She is at the helm of Sue Rock Originals, a sustainable brand creating womenswear, accessories and home furnishings. Working solely with reclaimed fabrics from NYC's garment industry for over 14 years, this business maintains successful sales with brick and mortar retailers in Brooklyn and Manhattan as well as their own online presence.
Who is Made in NYC?
Made in NYC supports thousands of New York City's manufacturers by giving them the tools to grow their companies. We foster local entrepreneurial innovation because we see the value in high quality, locally made goods. We help local brands tell their stories and provide them with a sense of community — reminding our businesses that they are not alone.
Made in NYC is an initiative of the Pratt Center for Community Development, an organization working to build a more just, equitable and sustainable city for all New Yorkers. Made in NYC is generously funded by the New York City Council.
You can shop online at madeinnyc.org or follow us for the latest on NYC's vibrant maker community:
Instagram: @madeinnewyorkcity
Facebook: @madeinnewyorkcity
Twitter: @madeinnyc