Intersections Conference 2014

Friday, March 14, 2014 at 7:00 PM

-

Saturday, March 15, 2014 at 6:00 PM (PDT)
Event Details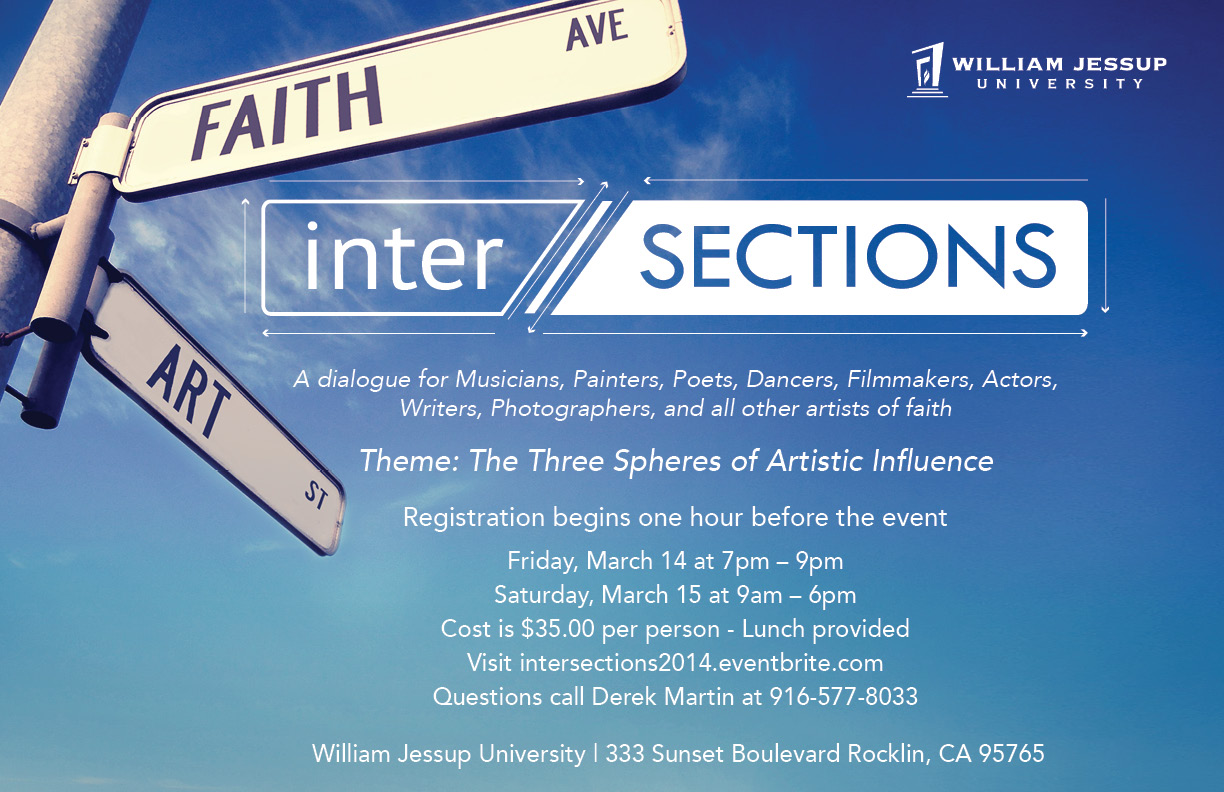 Intersections Conference 2014
Friday, March 14 7:00pm (registration starts at 6pm) - 9:00pm and Saturday, March 15 9:00am (registration starts at 8:30am) - 6:00pm at William Jessup University.
The Intersections Conference is a two day event that celebrates the crossroads of faith and artistry. Artists and people of faith from the bay area to Lake Tahoe will descend on the Campus of William Jessup University in Rocklin, California to discuss cultural creation, engage the challenges of integrating faith and art,  consume new works in various media, and to network with fellow artists and patrons of the arts. The Intersections Conference is guaranteed to lift your spirits, challenge your perspective, stimulate your imagination, and deepen your walk with the Lord. Please join us this March for an incredible time!
Schedule of events:
FRIDAY: Lecture Hall and Breakout Rooms
6:00-7:00 – Registration
7:00-7:45 – Welcome – Chair, WJU Creative Arts - Derek Martin
 -  3 Spheres of Artistic Influence
7:45-7:50 – Break
7:50-9:00 – Breakout #1
Theatre –  Derek Martin — "Realism vs. Antirealism"
Dance – Kelly Archer— "Dance: Perfecting our Craft"
Music – Tom Ruscica— "Team building and Leadership in Music"
Visual Arts – Stephen Scott— "Good Vibrations"
The Church and the Arts— Manuel Luz— "Much More than Music"
Written Arts – Cameron Wilson— "Reading as an Ethical Art"
9:00 – Release and Coffee
SATURDAY: Chapel Warehouse and Breakout Rooms
8:00-9:00 – Registration
9:00-9:15 – Welcome – WJU President, John Jackson and Derek Martin
9:15-9:20 – Break
9:20-9:50 – Manuel Luz—"Seven Habits of the Artist-Friendly Church"
9:50-10:00 – Break
10:00-10:45 – Lyn Lasneski—"Renaissance Remix: Awakening the Creative Genius"  
10:45-10:55 – Pneuma Movement
10:55-11:00 – Break
11:00-11:45 – Rondall Reynoso— "Artist as Theologian"
11:45-11:50 – Break
11:50-12:30 – Shane Grammer
12:30-1:30 – Lunch in the Crossroads Cafe (Provided)
1:30-2:50 – Breakout #2
"Making a living in the arts" Judith Monroe and Kelly Archer
"Getting a Degree in the Arts" Derek Martin, Portia Hopkins, Tom Ruscica
"Arts in and Out of the Church" - Manuel Luz and Stephen Scott
2:50-3:00 – Break
3:00-4:20 – Breakout #3
"Art for Genius' Sake! Essential Visual Thinking Development" - Lyn Lasneski
"Pastoring and Leading Artists" - Manuel Luz
"Smartphone Photography" - Judith Monroe
"Pneuma movement" - Kelly Archer and Pneuma Movement
"Improvisation and the keys to team building" - Derek Martin
"Arts and Healing" - Tiffany Paige
"Women in the Arts" - Irene Matson
"From Concept to Draft: The Writing Process" - Portia Hopkins
4:20-4:30 – Break
4:30-5:45 – Panel Discussion
        Moderator – Derek Martin
        Panel: Manuel Luz, Rondall Reynoso, Shane Grammer, Lyn Lasneski
5:45-6:00 – Dismissal
When & Where

William Jessup University
333 Sunset Boulevard
Rocklin, CA 95765


Friday, March 14, 2014 at 7:00 PM

-

Saturday, March 15, 2014 at 6:00 PM (PDT)
Add to my calendar