What is intersectionality and how does this feature into your current role as a professional?
About this event
How do we understand intersectionality in relation to equal opportunities in the workplace? And is there a link between who you are, where you come from, and how you lead? In this session, we offer a brief introduction to Crenshaw's concept of intersectionality when considering race, gender, age, and disability (1989) in the UK sector or workplace.
This event will touch on a range of issues related to intersectionality and how this is connected to management and leadership skills in the workplace. For instance, we will examine how intersectionality can help us explore and promote insightful leadership awareness through the representation and connection of people from diverse cultural backgrounds within the UK sector. Some examples will include references to leadership and management which aim to promote equality of representation and inclusion of women, in particular, the competing challenges of women from black backgrounds versus those from other ethnic minority groups.
Join us on Monday 4th October, where we will share new insights from ongoing research which examines how intersectionality can help us understand the different needs of people from diverse backgrounds. Building on this we will discuss how professional divides occur through gender stereotypes in the workplace and those who challenge the social norms in their respective fields.
Our speaker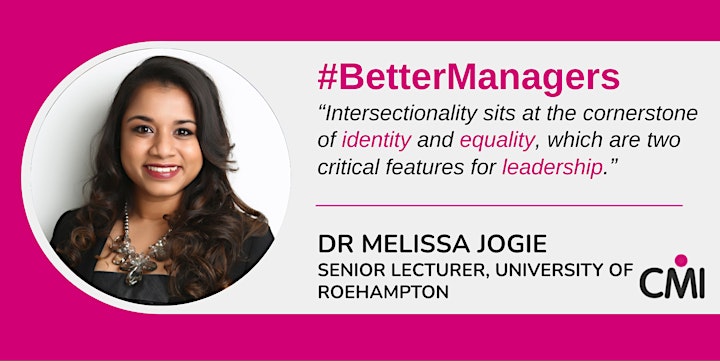 Dr Melissa Jogie
Senior Lecturer, University of Roehampton
Melissa's academic career has evolved through her research and teaching, to encompass a wide range of pursuits under the theme of 'education for social wellbeing'. This theme is underscored by her furthering interests in cultural and intersectional studies, motivation and leadership, and philosophy.
Melissa has proposed a meta-theory of social activism which overarches her forthcoming works on fairness, critical race theory, digital technologies, and postcolonial pedagogy. These new theoretical insights have led to 7 successful research grants (where she leads as Principal Investigator and a cumulative research of approximately £84,000 from 2020-2021). Of these awards her most recent are three recent British Academy Awards (2019-2022), a UKRI intervention grant on domestic abuse and violence against women (2022) and a cross-institutional knowledge exchange funded by the Church of England (2021).
While completing her PhD at the Australian National University (2017), she was awarded a Visiting Fellowship at the University of Oxford (2015). In 2020, she was short-listed for the Academic Lecturer of the Year Award by the Roehampton Student Union. Melissa is currently the Student Success Coordinator for Education Studies and an elected Academic Representative on University of Roehampton's Senate. Externally, Melissa is the Director of Advance HE's 'Diversifying Leadership' programme and a convenor of Comparative and International Education at the British Educational Research Association (BERA). Webpage: www.melissajogie.com | Twitter: @Mjple
For more information about the CMI London Regional Board you can visit the Board's webpage: https://www.managers.org.uk/community/regional-networks/london/
Or you can connect via social media:
Twitter: @cmi_london (Link: https://twitter.com/cmi_london)
LinkedIn: https://www.linkedin.com/groups/5161084/
In the meantime…
If you're a member of CMI, or subscribe to our content, don't forget you can find thousands of exclusive, practical development resources in ManagementDirect. Log in here and search for a topic to get started.
Not yet subscribed?
From free newsletters packed with the latest trends, insights and tips for managers and leaders, to the full suite of invaluable tools and benefits that come with being a CMI member, we've got something for everyone. Visit our website to find out more.