Actions and Detail Panel
Intersection @ The Junction: April Art Walk
Thu, April 6, 2017, 6:00 PM – 9:00 PM EDT
Description
Intersection @ The Junction is a community initiative that unites local businesses and artists to celebrate and elevate Flatbush Junction's diverse and vibrant community through unique in store art installations and a month long neighborhood art walk.
---
Join us for our April Art Walk on Hillel Place! This free community event will include:
Art walk tours and interactive digital tours
Meet and greet the artists and small business owners
Campaign documentary film screening
Business and artist portrait series
Community story map and audio archive
Live music, food, refreshments, and more!
Learn more about Intersection @ The Junction and take the digital tour at www.intersectionatthejunction.com
FEATURED ART WALK LOCATIONS
Hot Bagels & Deli 23 Hillel Place, Brooklyn, NY 11210, will feature artists Asya Dondina and Slava Polishchuk

Northfield Bank 24 Hillel Place, Brooklyn, NY 11210, will feature artist Keka Marzagao

Nostrand Express 2184 Nostrand Avenue, Brooklyn, NY 11210, will feature artist Ashley-Simone McKenzie

Metro Sports 1571 Flatbush Avenue, Brooklyn, NY 11210, will feature artist Jansiel Polanco

Flatbush Medical 1468 Flatbush Avenue, Brooklyn, NY 11210, will feature artist Guy Beckles

Picky Eaters 1456 Flatbush Avenue, Brooklyn, NY 11210, will feature artist Jonathan Desrosiers

Victoria Stennett Realty 1454 Flatbush Avenue, Brooklyn, NY 11210, will feature artist Stephanie Renee Casso

One Price Cleaners 1443 Flatbush Avenue, Brooklyn, NY 11210, will feature artist Dalit Gurevich

Comik Ink 1402 Flatbush Avenue, Brooklyn, NY 11210, will feature artist Darkin Brown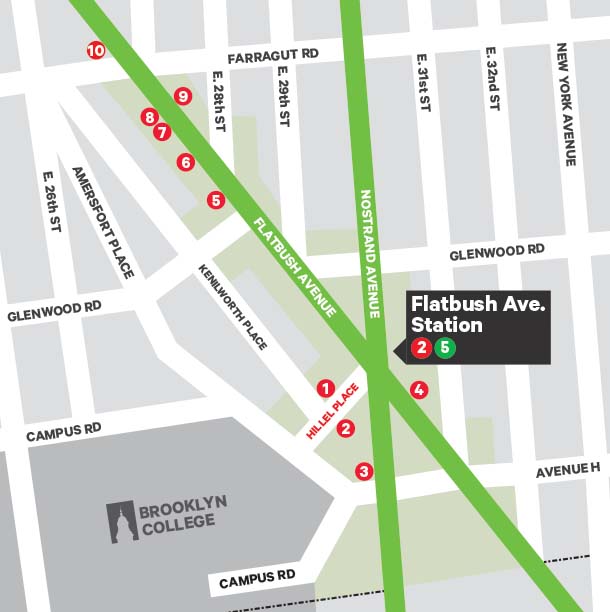 - FREE and open to the public -