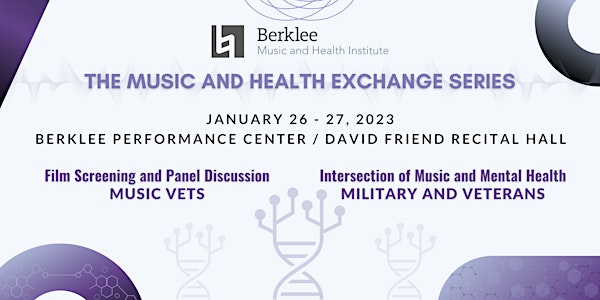 Intersection of Music and Mental Health: Military & Veterans
Join leading experts to explore research and programming focused on music experiences as a viable tool for improving mental health outcomes.
When and where
Location
Berklee College of Music, David Friend Recital Hall 921 Boylston Street Boston, MA 02215
About this event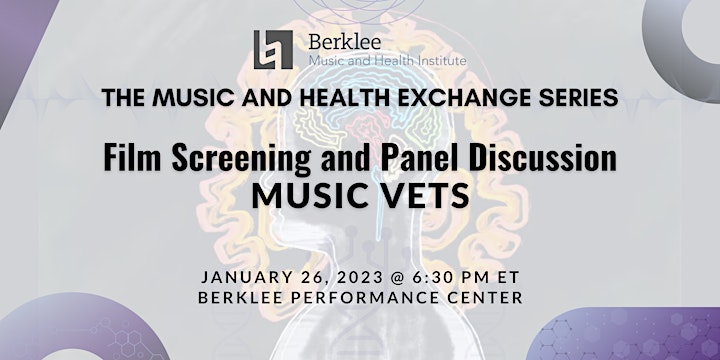 Music Vets Film Screening and Panel
Thursday / January 26, 2023 / 6:00 pm ET / Berklee Performance Center
Brought to you by the Music and Health Institute as part of the Exchange Series, Music Vets tells the story of three proud U.S. military veterans in different stages of recovery from PTSD and/or traumatic brain injuries. Set in the coastal military communities of Southern California and the hustle and bustle of New York City, vets Lito, Ben, and Deborah offer us a glimpse of humanity's resiliency in the face of adversity. Though they each have very different backgrounds and military experience, all three use the therapeutic power of music to cope and recover—unlocking emotions and finding new ways forward.
The stories in the film showcase how music can be incorporated as a non-pharmaceutical alternative or supplement to treatments that are often costly, debilitating, or sometimes even deadly. While the film's focus is on music therapy for military populations, it shows how this under-studied and under-funded treatment can help anyone in crisis, not just veterans.
Following the film will be a special panel discussion with the film's producers and several experts in the area of trauma, music-informed therapy, and veterans.
Moderator:
Joy Allen, PhD, MT-BC: Chair, Music Therapy Department, Berklee College of Music
Panelists:
Jon Kaufman: Co-Director, Music Vets Film; Co-Founder, Ming Media
El Sawyer: Co-Director, Music Vets Film; Co-Founder, Ming Media
Nomi Levy-Carrick, MD, MPhil: Vice Chair, Clinical Programs, Department of Psychiatry, Brigham and Women's Hospital; Co-Chair, BWH Trauma-Informed Care Collaborative; Assistant Professor of Psychiatry, Harvard Medical School
John Bradley, MD, DFAPA: Colonel (Retired), US Army; Director, Mental Health Services, VA Boston Healthcare System; Associate Professor of Psychiatry, Harvard Medical School; Clinical Specialties: Combat Trauma and Suicide Prevention
Rebecca Vaudreuil, EdM, MT-BC: Henry M Jackson Foundation for the Advancement of Military Medicine; Lead Music Therapist, Creative Forces, NEA Military Healing Arts Network
Vic Artiga, MS: Major (Retired), US Army, Bronze Star Medal; Senior Law Enforcement Consultant, Aanko Technologies; Retired community police officer; musician
Please note: While this special film screening event is free and un-ticketed, we do ask you to register in advance so we can ensure there is enough seating. If you would like to request accessibility seating on the basis of a disability please contact the BPC Box Office directly by email at boxoffice@berklee.edu or call 617-747-2261.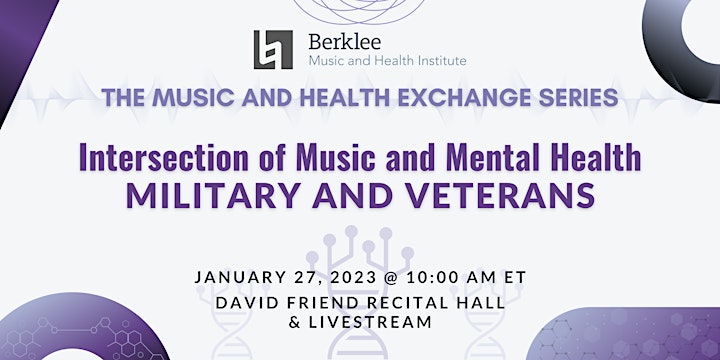 Intersection of Music and Mental Health: Military and Veterans
Friday / January 27, 2023 / 9:30 am - 4:30 pm ET / David Friend Recital Hall
There is a crisis among our service members and veterans that is rarely seen but felt by all those who care for them.
An invisible wound is a cognitive, emotional, or behavioral condition that can be associated with trauma or serious adverse life events. These wounds manifest themselves in military populations as major depressive disorder, post-traumatic stress disorder (PTSD), and traumatic brain injury (TBI). Service members, including veterans, afflicted with these conditions have higher rates of unhealthy behaviors, physical health problems, and mortality. These invisible wounds have a ripple effect in their community and are putting unprecedented strain on families and relationships. This strain contributes to the severity of the service member's disability over the course of time, creating a feedback loop of trauma and despair.
Music based experiences are an engaging, motivating, and affirmative process that improves mental health outcomes and experiences for military personnel, veterans, their families, and their community at large.
From personal enjoyment to structured therapeutic programs, music experiences for vets can:
Improve emotional expression and regulation
Improve speech, motor, and cognitive functioning
Increase awareness of self, including recognizing and validating individual strengths
Increase motivation for and reception to treatment
Create a sense of community
Decrease symptoms of anxiety and depression while boosting mood
Provide a sense of purpose
Enhance overall quality of life
Join leading experts to explore and put forth agendas of action for research and programming focused on the arts as a viable tool for improving the mental health and wellbeing of our military populations.
Presenters include:
Mack Bailey MM MT-BC: Founder, Music Therapy of the Rockies
Brittany Costa MA MT-BC: Soldier, 101st Army Band
Ron Hirschberg MD: Senior Director of Health and Wellness, Project Home Base; Assistant professor of physical medicine and rehabilitation (PM&R), Harvard Medical School; Director of the PM&R Consultation Service at Massachusetts General Hospital
Terry Radigan: GRAMMY-nominated Singer/Songwriter
Rev. Dr. Lynn Smith-Henry: Lt Col US Army Ret., Veterans' Guitar Project
Kristin Starling: Executive Director, Songwriting with Soldiers
K. Maya Story PhD MT-BC: Core Investigator, VA HSR&D Center for Health Information and Communication
Rebecca Vaudreuil EdM MT-BC: Lead Music Therapist, Creative Forces

The Friday Exchange Series event will be livestreamed on https://vimeo.com/showcase/dfrh.
Due to capacity limits, please only register for an in-person ticket if you will be joining us on campus.