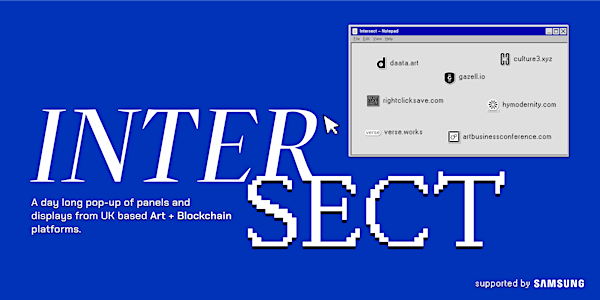 INTERSECT / Art + Blockchain Pop-Up
A day long pop-up of panels and displays from UK based Art + Blockchain platforms.
When and where
Location
Institute of Contemporary Arts - ICA Nash & Brandon Rooms The Mall London SW1Y 5AH United Kingdom
About this event
INTERSECT: Art + Blockchain Meetup, a pop-up event aimed at creating dialogue on art on the blockchain. Timed to NFT London, INTERSECT explores how artists and creators are helping to advance new and innovative use cases for blockchain technology and the overall Web3 ecosystem. The day-long event will bring together NFT and arts organisations, artists, creators and thinkers in an informal setting to encourage cross-pollination of UK-based Web3 art platforms. The pop-up takes place Friday November 4, 2022 from 12:00 - 18:00 at the Institute of Contemporary Art (ICA) a short walk from NFT London at Queen Elizabeth II Centre.
The event is organised by UK partners Daata, Verse, Hymodernity, Culture3, Right Click Save, and Gazellio, all of which are at the forefront of, selling, curating, collecting and writing about art on the blockchain.
The day-long slate of panels and displays is composed of networking opportunities and three panels:
12:00 - 13:00 / Doors Open
13:00 - 14:00 / Art On The Blockchain with Daata, Verse, Hymodernity, and Gazellio
14:00 - 15:00 / Right Click Save In Conversation with Anna Ridler and Alex Estorick
15:00 - 16:00 / Networking
16:00 - 17:00 / Brave New World: How Smart Contracts Are Changing Culture and Society with Culture3's Misan Harriman, Lord Truffington, Patrick Amadon, and Violetta Zironi
17:00 - 18:00 / Networking
During the event, works from the partner organisations will be on display including works from world class artists working in the NFT space. Networking, drinks and a free POAP claim will be running throughout the whole event!
Capacity is limited and entrance is subject to capacity, please choose preferred time slot. For any questions contact us through Eventbrite or on Twitter @daataart