Interruption Show is the stand-up comedy show where DALIA MALEK (BBC, SF Sketchfest, Edinburgh Fringe) interrupts comedians mid-performance
About this event
Fri, Feb 4th, 2022
Doors 7:30 PM
Show 8:00 PM
**FULLY VACCINATED INDOOR EVENT**
Co-hosts: Dalia Malek & Frank Caeti
Featuring:
Robby Hoffman
Dax Jordan
Bri Pruett
Fumi Abe
Xander Beltran
*Lineups subject to change at any time without notice
Interruption Show is the stand-up comedy show where comedian DALIA MALEK & rotating guest co-hosts interrupt comedians mid-performance to ask burning questions, find out what happened next, & dig for backstories behind jokes.
It's a sell-out show and comedy festival favorite that has appeared regularly in LA, San Diego, and the SF Bay Area as a part of the monthly Oakland First Fridays festival. It has traveled to SF Sketchfest in San Francisco, the Ha Ha Harvest Comedy Festival in Portland, and the Edinburgh Fringe Festival in Scotland.
Come see why both audiences and comedians keep coming back to Interruption Show. No two shows are alike!
"...Being interrupted and prompted with insightful questions will have you on your feet, creating on the spot or remembering older material, and fall in love with the craft all over again. Both audiences and acts should be giving the Interruption Show a look."
– Funny Women, UK (Edinburgh Fringe Festival 2018)
"It's great fun to do, and to watch. It creates a really warm atmosphere between performer and audience and opens up the routine and the experience that generated it into surprising new ideas."
– Nick Revell, (BBC writer, actor, and stand-up comedian)
"Egyptian-American comic Dalia Malek, who cut her teeth on the UK circuit, hosts this format where she's essentially the most irritating audience member possible..." -
- Chortle UK, Today's Best Comedy on Demand 2020
Social media:
https://www.facebook.com/InterruptionShow/
https://twitter.com/Interruptionsss
https://instagram.com/interruptionshow
NOTE: This is a **FULLY VAXXED EVENT**. Proof of Vaccination status (plus ID) WILL be checked at the door in accordance with County of Los Angeles requirements for Nightlife Activities. Thank you for doing your part to keep everyone at The Glendale Room safe and healthy. You're doing it right!
For Attendees requiring an Assisted Listening Device, you must submit a written request to venue operator 48 hours prior to listed show start.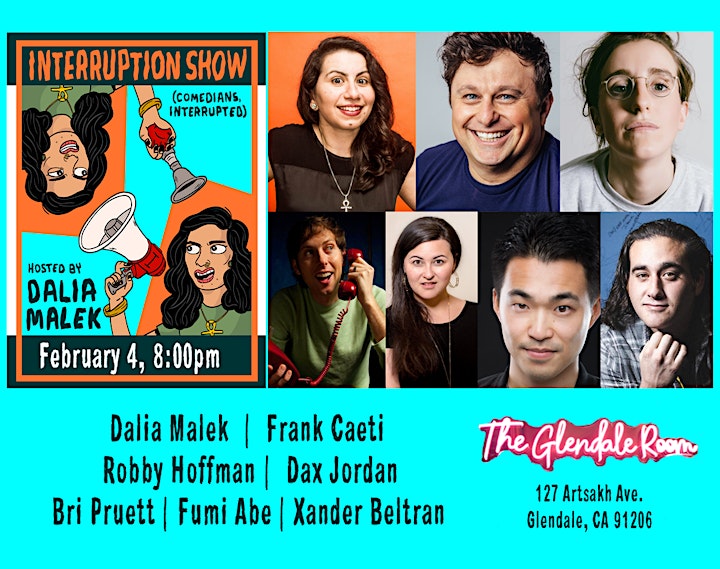 Organizer of Interruption Show