About this Event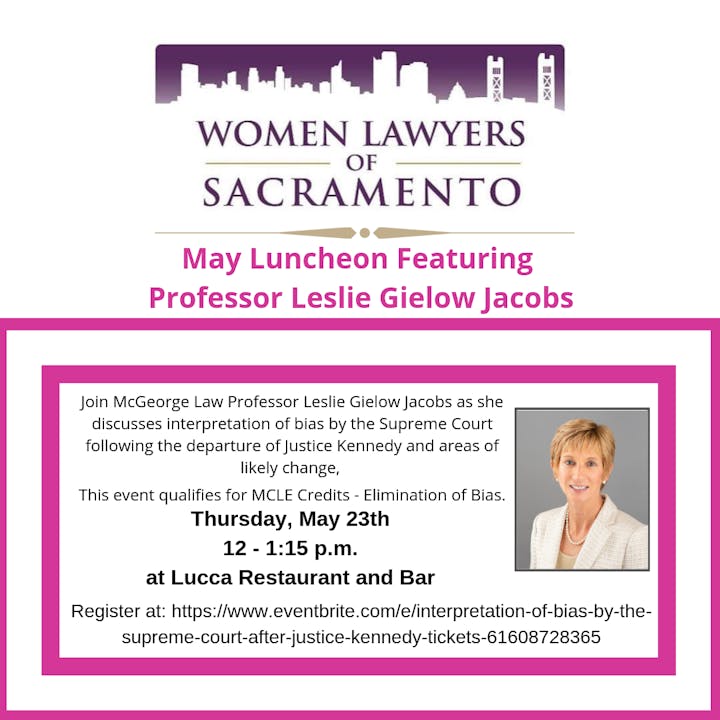 May Luncheon
Featuring McGeorge Law Professor Leslie Gielow Jacobs, Director of the Capital Center for Law & Policy
Featured speaker Professor Jacobs will discuss areas of likely change in the US Supreme Court, including affirmative action; disparate impact liability; voting rights; abortion; gay rights; criminal justice and the death penalty; and the intersection of civil rights with religious liberty and free speech.
This event qualifies for MCLE Credits - Elimination of Bias.
Menu: House Chop Salad with Chicken, Penne with Sausage, Vegetarian Risotto, or Roast Beef Sandwich. Each menu item comes with choice of soda or iced tea.
Cost:
$30.00 - Current WLS members, WLS Past Presidents, and Judiciary
$35.00 - Non-Members
$25.00 - Law Students
*Note: Door tickets may not guarantee entrée of choice.
If sending payment by mail, please make checks payable to WLS, and send with menu choice to:
WLS, Attn: Luncheon
P.O. Box 936
Sacramento, CA 95814
Please indicate registration category on the check.
WLS is charged for cancellations. Payments must be received in advance and are not refundable. Seating at the door is subject to availability.
Questions? Contact Programs Committee Chair, Kim Buchholz, at kim@kbestatelaw.com.
This event is for WLS members and invited guests. WLS reserves the right to refuse admission to anyone whose presence is unreasonably disruptive or who detracts from the safety, welfare, and well-being of other patrons, staff and the establishment itself.