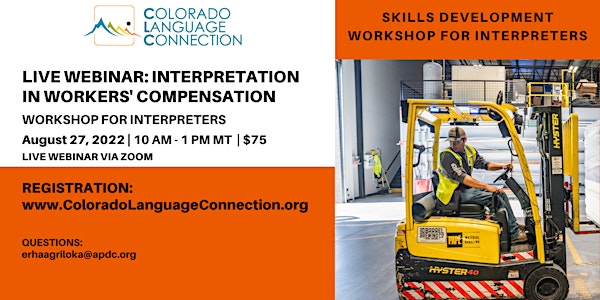 Interpretation in Workers' Compensation
Interpretation in Workers' Compensation
About this event
LIVE WEBINAR: INTERPRETATION IN WORKERS' COMPENSATION
WORKSHOP FOR INTERPRETERS
SATURDAY, August 27, 2022 | 10AM - 1PM MT | $75
This workshop will focus on interpreting in the Workers' Comp system. Participants will learn from a workers' compensation claimants' attorney. The workshop will provide a brief introduction to the work comp system with a focus on unique challenges and expectations of interpreters.
Workshop Objectives:
• Give interpreters an understanding of the work comp system
• Showcase opportunities available for interpreting in work comp system
• Reference to important medical, legal, and employment terminology commonly used
• Gain confidence and learn best practices
This workshop is ideal for aspiring and working interpreters interested in learning about administrative court settings, vocational interviews, mediation processes, and workers' compensation medical appointments. Upon completion of this workshop, participants will receive a certificate of attendance from Colorado Language Connection.