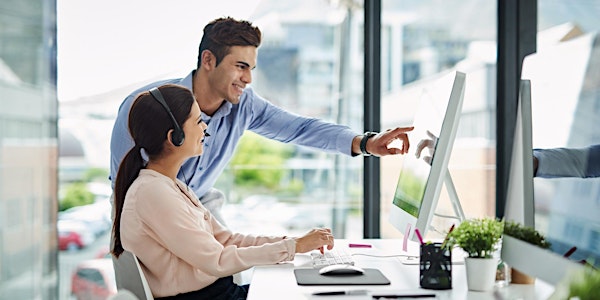 Interpersonal Communication Skills
When and where
Location
Downtown Works 550 W B Street 4th Floor San Diego, CA 92101
Description
This workshop will help you understand: the importance of effective communications; review models of, and barriers to, communication in a diverse work force; become more aware of non-verbal messages; learn and practice active listening.
Learning objectives for this session include how to:

Identify the major barriers to communication and develop strategies to overcome them

Interpret the level of others' communication and move the discussion to a place of common understanding


Use techniques that facilitate high quality "dialogue" with others

Flex communication styles based on the situation
(Lunch served from 12:00 p.m. - 12:30 p.m.)

Who should attend?
Anyone who wants to know the difference between what is said; i.e. words and how it is said; i.e. the non-verbal messages sent through tone of voice, facial expressions, gestures and body language.
Speaker Bio
Nuala Campany has over 20 years of organization and talent development. She has a Ph.D. in human and organization systems and her experiences around the globe include leading change management initiatives to support organization transformation efforts, the implementation of team-based systems, Six Sigma, and lean manufacturing. In addition, she is an expert consultant in the areas of leadership development, team effectiveness, talent management, organization design and effectiveness.
Leadership and Management Essentials 1-hour Sessions:
In today's competitive job market, it's not only important to have technical skills and expertise, but also strong soft skills. Employers are looking for self-awareness, communication skills, and the ability to work collaboratively among many others.
The Leadership and Management Essentials offerings will help professionals develop the strong leadership and business acumen essential for professionals across all industries. Through engaging, 1-hour sessions, you will be able to implement your learning immediately upon completion. All sessions are complimentary and refreshments will be served.

This complimentary session is provided by UC San Diego Extension in collaboration with Downtown Works.



UC San Diego Extension serves the critical lifelong learning and skill development needs of individuals, organizations and the community. We do this through continuing education, certificate and degree-related programs; community initiatives that support economic and social development; and a wide array of public- service lectures, forums and special events delivered both on and off campus and through print, internet, ratio and television.


Downtown Works is a premium, curated co-working space combining inspiring open space interiors, private offices, a roof-top lounge, as well an in-house accelerator program. We believe bringing people together fosters increased work productivity and work/life satisfaction. The ownership and staff are committed to offering supportive, value-add events, and workshops lead by industry experts.