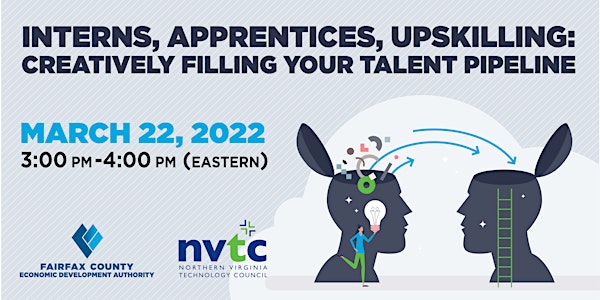 Interns, Apprentices, Upskilling: Creatively Filling Your Talent Pipeline
.
About this event
With over 140,000 open jobs across Northern Virginia and recruiting challenges continuing to grow, creatively filling your talent pipeline is more critical than ever.
Join the Fairfax County Economic Development Authority (FCEDA) in partnership with the Northern Virginia Technology Council, Filling the Tech Talent Gap Community as we unpack the benefits of hiring interns, building apprenticeships, and upskilling existing employees. Hear a best-practice use case from Accenture, which committed to hiring 20 percent of its entry-level employees through apprenticeships. And, our expert panelists will provide valuable insights, unlock new thinking, and deliver actionable strategies.
Key takeaways for HR, workforce development and C-suite leaders include hiring resources, funding sources and upcoming fairs where the talent is delivered to you for screening and interviews. Register Today!
Agenda:
3:00 PM - Welcome Remarks
Mike Batt, Director Talent Initiative, Fairfax County Economic Development Authority
3:02 PM - Latest Workforce Talent Stats Update for the Region
Mike Batt, Director Talent Initiative, Fairfax County Economic Development Authority
3:07 PM - Benefits and Best Practices of Building an Apprenticeship Program
Katherine Cruz, Managing Director, Talent & Organization, Executive Sponsor, Greater Washington Apprentice Network, Accenture
3:22 PM - Hire Interns, Build Apprenticeships & Talent Development Solutions
Crystal Thrower, Registered Apprenticeship Consultant, Virginia Department of Labor and Industry, Division of Registered Apprenticeship
Verna Brown, Senior Workforce Consultant, ICF, Lead4IT Program
Mary Claire Kraft, Manager, Employer Outreach, University Career Services, George Mason University
Dana Fallon, Interim Director, Employer Engagement and Career Services, Northern Virginia Community College
Moderator: Marisa Krafsig, Senior Vice President and Chief Human Resources Officer, IntelliDyne
3:37 PM - Q&A with Experts
3:47 PM - Resources & Call to Action
Mike Batt, Director Talent Initiative, Fairfax County Economic Development Authority
Gregg Hampton, Senior Director of Member Experience, Northern Virginia Technology Council
3:52 PM - Closing Remarks
Mike Batt, Director Talent Initiative, Fairfax County Economic Development Authority
Our Speakers: