Description
The Internet Sales 20 Group is a 3-day Workshop specifically designed for Automotive Sales professionals to experience the latest, most advanced techniques, strategies, and best practices. It's also the place to see cutting edge vendor services and software. Expect to find GM's, Dealer Principals, Internet Directors in attendance. If YOU are an Automotive professional, you will definitely find the experience invigorating, empowering and an extremely fresh outlook on the future of Automotive Internet Sales.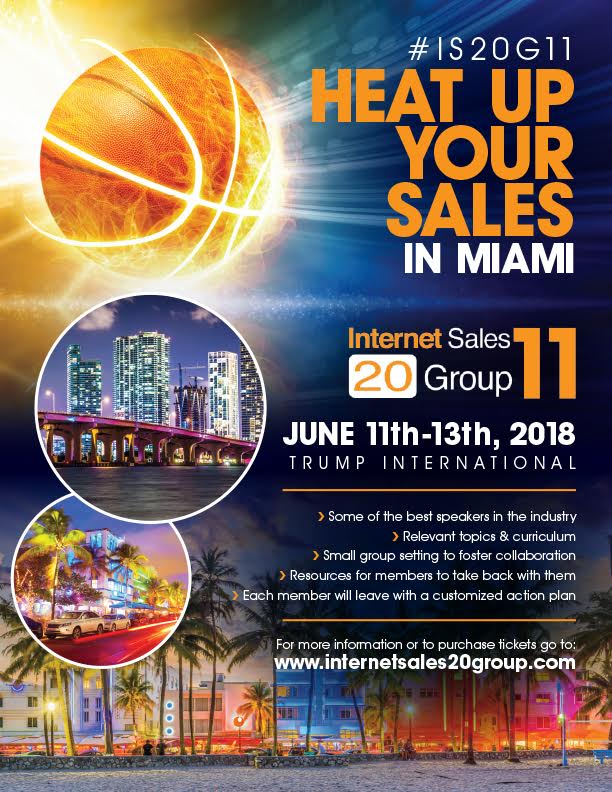 T

he following will help attendees maximize the IS20G11 experience:
SET

clear and defined goals
Ensure you can

MEASURE

your own progress.
Determine what it will take to make your goal

ATTAINABLE

.
Avoid anything that is not

RELEVANT

to your goal.
Associate a

TIME

frame so you can hold yourself accountable.
The GOAL is to address REAL problems and provide measurable and attainable RESULTS.
REGISTRATION INCLUDES:
Breakfast for all 3 days

Lunch for all 3 days

Dinner on the first night

VIP Networking event

Cocktail hour on the beach night 2

Participant guide (serious workbook)

Internet Sales 20 Group composite

Individual and custom exit strategy and implementation plan

Free Personalized strategy Session from Program sponsor Dealer Synergy
Click here to SEE WHOS SPEAKING
Click here to SEE SPONSORS AND EXHIBITORS
11 AMAZING REASONS TO ATTEND INTERNET SALES 20 GROUP 11
1. Curriculum: IS20G is designed after a traditional 20 Group with one clear track and relevant, current topics.
2. Strict Rules: There are no sales pitches from speakers for a stress and judgment-free environment.
3. Franklin Covey: Learn the 7 Habits of Highly Effective People from the only certified FranklinCovey trainers in the industry.
4. Intimate: With a small group setting, you'll be inspired to share ideas, ask questions and collaborate.
5. Composite: The first 20 registered dealerships are included in a benchmark composite - a $3,000 value, FREE!
6. VIP Event: Party like a rock star and network at the luxurious hotel. Guest performances, dancing, dinner, drinks and more!
7. Interaction: Compare and share information with dealers, sales professionals, and industry experts.
8. Action Plans: Each member leaves with a customized plan to help implement the information gained.
9. Resources: Resources are available for all members - blog posts, tutorials, presentations, videos and more.
10. Elite Speakers: Only the most sought-after subject matter experts are invited to present at IS20G.
11. Event Follow Up: Members are contacted by moderators and accountability partners after the event to ensure success.
There are no refunds for this event but if you do need to cancel you can use 100% of your credit towards another Internet Sales 20 Group Event.
Ryan Alford

Chief Marketing Officer of DOM360

Essential Marketing Tools of the Modern Dealership

Jeremy Anspach

PureCars

Chairman & Founder

Brian Barlow

CEO of Pineapple Society

"Marketing Like Garth Brooks 101"

Karen Bradley

CEO, Dealer Synergy

Stop Putting Second Things First

Jeff Clark

Vice President of Sales

ActivEngage

Sean V. Bradley, CSP

Founder & President, Dealer Synergy

"The 11 Habits to Knock Out the Competition"

Jonathan Dawson

Sellchology

Automotive Sales Trainer, Consultant, Coach, and Author

Todd Dearborn

Internet Brands

Vice President of Sales

Shaka Dyson

Founder and CEO

Dealer F&I University

Toni Anne Fardette

Business Development Director, Atlantic Auto Group

"Is the People Problem You?" Mindset vs. Skillset

Scott Pechstein

Vice President of Sales, Autoweb

Phone and Internet: Still the New Showroom!

Ken Potter

President, Build A Brand

Personal Branding - What is it, and Why is it Important to Your Dealership?

Jason Price

President, Covideo

Drive More Showroom Traffic With Video – Best Practices for Implementing a Successful Video Strategy at Your Dealership

Ali Reda

Sales, Les Stanford Chevrolet

2018 Guinness Book of World Records Holder for the #1 Car Salesman in the World with 1,580 Units Delivered in 2017

Adam Rouff

COO, DigiSphere Marketing

SEO - Back to Basics

Matt Weinberg

Drive Motors

SVP of Consumer Experience

LA Williams

Dealer Synergy

Director of Training

Kerri Wise

TrueCar

Vice President of Dealer Training
TO SEE THE REST OF THE IS20G11 SPEAKERS CLICK THE LINK BELOW