Internet of things Mash-up Day 23rd of July, University of Oxford
When and where
Location
Wolfson Building Parks Road Oxford OX1 United Kingdom
Description
Internet of things Mash-up Day
23rd of July University of Oxford
Workshop Day for IOT Device Vendors
Develop interoperable drivers for your IOT/M2M devices
webinos corporate supporters
Practical Interoperability of Devices - Port your Device onto the Open Source Framework - Getting Your Device Working with a wide Ecosystem with Expert help - Facilitating Programmatic Access and Control for Your Devices - Securely Sharing Data Between Different Devices. Creating Data Mash-Ups between Different Devices and People.
A FREE one-day event run by the webinos consortium where you can be briefed on state-of-the-art Internet of Things and Machine to Machine technologies. The day will be split into two halves
Morning: A series of brief talks given by industry experts. Rapidly get up to speed with some of the most significant developments in the IOT/M2M/sensor industry
Afternoon: webinos developers will give one-on-one consultation on deep technical issues, and for those bringing devices to the event, hands-on assistance working with and integrating the code
Agenda:

Links to presentations on item titles.
9:30 - Reception and Registration of Companies and Devices
10:00 - World Wide Web and the Internet of Things W3C briefing on the Web of Things Community Group and ongoing standards work on richer access to devices as an alternative to developing with native SDKs -Dave Raggett, W3C
10:20 - Security Challenges for Internet Connected Devices - John Lyle, University of Oxford
10:40 - Coffee and Demos
11:00 - Introduction to the webinos architecture Architecture 101: main concepts - core benefits of a distributed IOT architecture - Alan Baldwin, Samsung
11:20 - 28 webinos APIs and how to extend them An introduction to the rich set of remotable JavaScript API and how to create new ones - Claes Nilsson, Sony Mobile
11:40 - webinos for IOT and M2M Looking at the three different architectures for IOT integration - Nick Allott, UbiApps
12:00 Participant presentations Each attendee is given a slot (approx. 5 mins) to present their device or service. To explain what it does, the benefits, and the value they see in a wider ecosystem interaction
12:30 Interactive Device Workshop Review of presentations, exploration of the practicalities of integration Practical introduction to the afternoon activities Introduction of the webinos foundation – and the formal webinos device porting program
12:45 - Lunch and Demos
14:00 - Practical porting and one-on-one consultationsHands on technical workshop. Develop webinos drivers for your devices.
You are welcome to also attend the meeting on Wednesday 24th and Thursday 25th July to complete your project and join in with the webinos members
What type of companies should attend?
Device manufacturers: Any of the following device manufacturers are strongly recommended to attend
TV, Speaker manufacturers
Telematics black box vendors
Personal navigation devices
Health monitoring devices
Home automation devices
Security equipment vendors
Smart grid, Eco plug manufacturers
Suppliers of reference development kits and chipset manufacturers
Who is it relevant for: Application developers
Any application developers that has an interest in working with a broad spectrum of devices and taking live data feeds from connected sensors. For example, driver and vehicle diagnostics, usage-based insurance, home automation controllers, health monitoring services, and eco-consultancies.
This event is free. You will get free implementation consultancy, meet with like minded people and be part of the expert briefing sessions. The value of the technology is 'ecosystem benefit'. You will make your device connect with others and experience interoperability with the Apps and Services which run across the open source webinos platform.
Demos Available:
TV Demos: Integrated multi device TV and multmedia consumption, Making use of Raspberry Pis, Androsticks, mobile remote controls and Sat>IP devices.
Integrated vehicle demos: Including head unit integration and black box systems and ODBII interfaces.
Wireless health devices: Blood sugar monitors, wireless scaes and activity monitors.
Home automation demonstrations: Lighting controls, thermostatic controls.
Reference board kits: Including the obligatory Arduino and Raspberry Pi installations.
At the event you will see how all these data feeds from diverese types can be "mashed up" from local and remote data sources and configured and consumed by a wide spectrum of simple to write applications.
A brief primer for the event, which goes into more detail about the technology and activities on offer, is available here.
Why should you attend?
webinos technology is free and open source, developed under a Royalty Free IPR regime - reduce cost of internal development - reduce your potential IPR exposure
webinos provides state of the art high security assurances to sensor and device deployments
interoperable protocols and APIs allow you to rapidly build strong ecosystems of complementary devices, applications and services
address new markets with new applications that transcend typical industry and technology by getting diverse devices connected to each other
a privacy sensitive framework - privacy concerns are one of the biggest concerns wiht IOT deployments, webinos supports a strong consumer centric privacy model
find out why the following companies think its important......
What Do I need To Bring on the Day?
Any devices you would like to try and port to webinos
SDKs you have available to help with development
An active brain and open mind
What Will I Go Home With - What Will I Achieve By Coming?
A working webinos integrated devices
The webinos SDK, full open source stack
A full understanding of technical details and benefits of webinos
Free registration of your devices or applications on the webinos compatibility database
Information & support on joining the webinos foundation
Why are we Running this Event?
As an open source project we are keen for feedback. We want new compatible devices to seed the ecosystem. We welcome new members.
Selected Articles
Background Info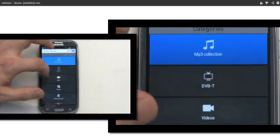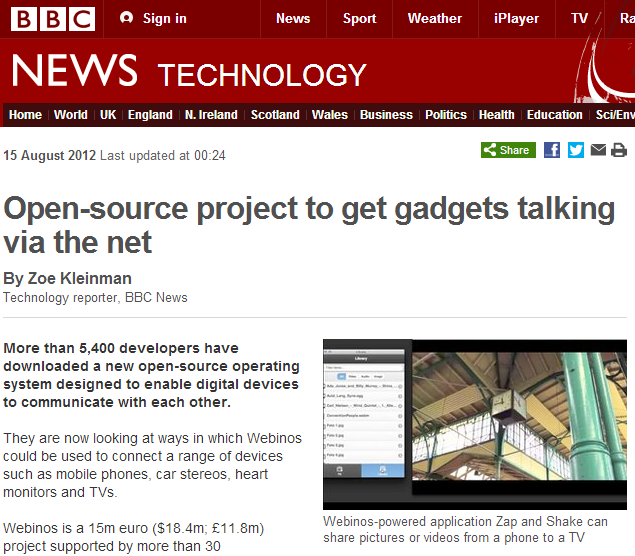 Existing webinos members
Logistics
Location: The event will be taking place in the Department of Computer Science, at The University of Oxford.
Department of Computer Science,
University of Oxford,
Wolfson Building,
Parks Road,
OXFORD,
OX1 3QD UK
Please use the OERC entrance to the Department of Computer Science, which can be found on Keble road. The following link shows the correct entrance on Google Street View: http://goo.gl/maps/KKx46
Contact: John Lyle - john.lyle@cs.ox.ac.uk
Accommodation:
For your stay in Oxford, there are a number of convenient options that will provide you with walking-distance access to the venue.
Over the summer, undergraduate students vacate their colleges, leaving many empty rooms available for overnight bookings. These are centrally located, and often include breakfast. They are ideal for single occupancy, though occasionally they also have double rooms. They are not always family-friendly, as guests under 18 are often not allowed, so please be aware of this when booking. There is a booking hub that will connect you to all the available rooms in all of Oxford's colleges here: http://www.oxfordrooms.co.uk/ Keble college is an excellent option, as it is just across the road from the Computer Science Department.
For those requiring more space, we suggest the Best Western Linton Lodge about a 15 minute walk away. This is a more comfortable option for families. Another possibility is the Cotswold Lodge, which is a bit more upscale and a few blocks closer to the department.
Finally, a good general resource is http://www.visitoxfordandoxfordshire.com/ . Here you can find more information about accommodation, as well as dining options and things to do around Oxford, if you are planning a longer stay.