Description
In deze technische workshop van drie avonden bouwen we samen aan een voorbeeld toepassing van Internet of Things. Door elke stap zelf te bouwen ontdek je de fijne kneepjes van deze technologie. Je ontdekt welke vaardigheden het beste aansluiten bij jouw talenten.
Wat wij in drie jaar voor je hebben ontwikkeld, dat kan jij nu in drie avonden bij ons oppikken!
Voor iedereen
Onze workshop kan je volgen zonder enige voorkennis – mensen van alle leeftijden en achtergronden gingen je voor!
De workshop
Na een eenvoudige soldeeroefening leer je ook Arduino programmeren. Uiteindelijk kan je zo ook een GPS tracker bouwen. Zoals je van ons gewend bent zullen we de workshop aanpassen aan jouw eigen ervaringsniveau. Zo heeft iedereen een eigen persoonlijke Challenge.
In een workshop van 3 avonden leren we onder andere:
Solderen van electronica
Eerste stappen in Arduino programmeren
Het bouwen van een GPS tracker
De draadloze Internet of Things communicatie via Lora
Het laten verschijnen van jouw data op het scherm
Hoe hebben wij (en anderen in Alkmaar) deze technologie in de stad toegepast
Wat kan jij nog meer met de "Junior-IOT-in-a-box werkset"
Tijdens de workshop zie je dat sommige deelnemers éxtra technisch aan de slag zijn… Perry vertelt in dit filmpje zijn verhaal: https://junioriot.nl/perry-vertelt-over-junior-iot/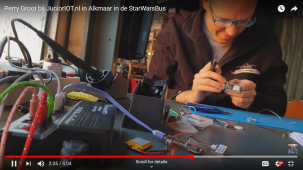 Wat krijg je mee
Alles wat je maakt zal je mee naar huis kunnen nemen. Wij zorgen voor alle spullen inclusief trilrobot, Arduino Nano, Arduino Lora32u4, GPS module, batterij, kleinmaterialen en eventueel een sensor.
Deelnemers zorgen zelf voor wat lekkers bij de koffie.
Wanneer?
De workshop bestaat telkens uit een reeks van drie avonden, en op eventbrite schrijf je je in voor de eerste datum in de reeks.
Tijd is elke avond: 19.30 – 22.00 uur
Je kunt de details nog een keer nalezen op https://junioriot.nl/iot-voor-beginners-2019/
Locatie
Junior IOT Bus
Pettemerstraat 15
1823 CW, Alkmaar
Naast Hal 25, linksachter op het evenemententerrein
Kosten
De kosten bedragen 90 euro voor de drie avonden inclusief alle materialen, koffie en thee. Via Eventbrite betaal je alvast 30 euro af om zeker te zijn van je plaats. De rest van het bedrag is gereserveerd voor de onderdelenset, totaal 60 euro. Dit mag je in de bus afrekenen. Mocht het bestellen via eventbrite niet lukken, stuur dan een email aan info@juniorIOT.nl
Neem je zelf iets lekkers mee?
Wist je dat:
Je na deze training van harte welkom bent op ons IOT Café?

Deze is om de maand op een zaterdag avond, en hier kan je met mede deelnemers verder aan de slag met je project.
Tegelijk is er een Junior IOT inspiratie avond en een onderwijs netwerk momentje.
Overigens is iedereen dan welkom, ook zonder training.
Kijk op JuniorIOT.nl voor details.

Je de voorgaande versie van deze workshop kunt nalezen op: https://junioriot.nl/iot-voor-ladies/
De apparaatjes die jullie bouwen worden ook in onze andere projecten gebruikt.
De workshop iedere keer verschillend is? Soms kijken we meer naar het programmeren met de arduino, en andere momenten gaan we aan de slag met Big Data analyse tools om te kijken naar de tracker data van afgelopen jaar.