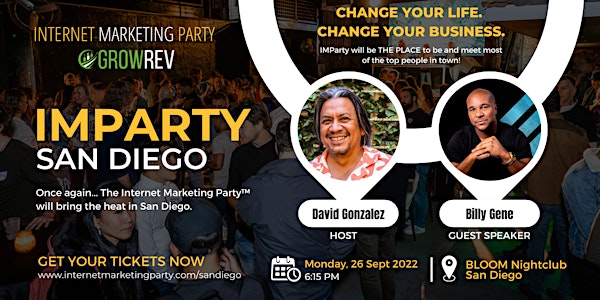 Internet Marketing Party - San Diego (Sept 26, 2022)
IMParty San Diego on Sunday, Sept 26, 2022
When and where
Location
BLOOM - Bassmnt club 919 4th Ave. Ste. 100 San Diego, CA 92101
About this event
Once again... The Internet Marketing Party™ and GrowRev will bring the heat in San Diego.
Every year, it's the party of the year… and this year is no different.
We know that it's highly likely this year's IMParty will sell out. So grab your ticket now, while it's fresh on your mind.
Change your Life. Change your Business.
And if you had something else on your schedule - change your plans!
You are not gonna want to miss this party.
Get tickets to the IM Party San Diego on Monday, September 26, 2022 because it's the only place to be. You can secure your admission here.
BTW – Between the vibe and buzz that's building and having this be the first event many people are attending in over a year, this will be an experience you will be able to "brag" about for years.
Get your ticket now.
IMParty will be THE PLACE to be and meet most of the top people in town!
Million dollar deals have been made at the IMParty, starting with a handshake & good vibes. Don't miss this chance to be in the room with some of the heaviest hitters in the biz.
**You MUST be 21 and over *