Internet Commerce Entrepreneurs: ICE eBusiness Conference in Atlanta

Saturday, October 6, 2012 at 7:00 AM (EDT)
Event Details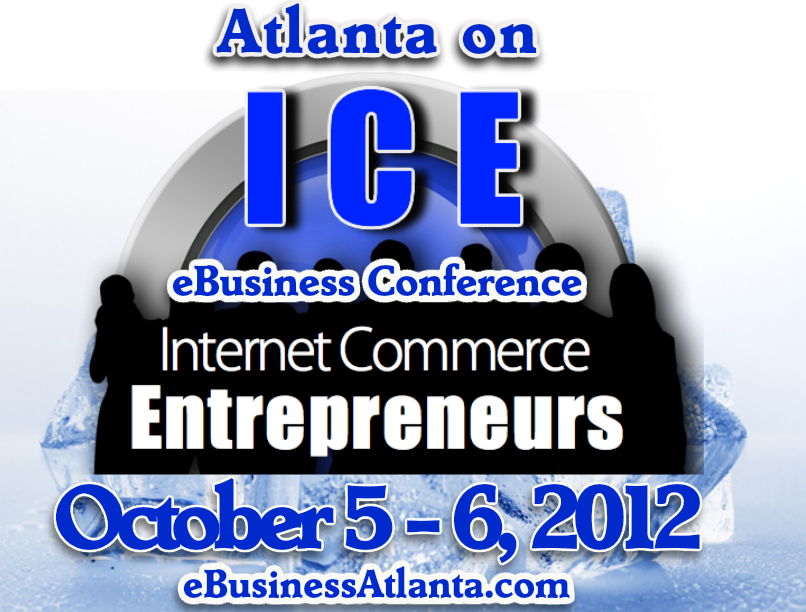 Let's face it! The best way to learn how to do something is to talk with people who are already doing it successfully!  

YOU

need to get together with people who are making

MILLIONS

at doing what you want to do and let them give you their secrets of how they're

DOING IT

!
9 Masterminds
Network live and connect directly with nine of the best minds in eCommerce, Internet Marketing, Promotions, SEO, Web Development, Conversion and eBusiness today. 
Two Days
Whether you've been selling on the Internet forever or if you're just getting started taking your bricks and mortar into cyberspace or you're just about to launch your first ebusiness venture, you want to have the best people giving you the best and latest information out there to help you get the biggest bang for your buck!    
 
Only 50 Seats!
Register NOW so you will not miss out:
Get intimate, face-to-face time with the thought leaders, successful epreneuers and eCommerce experts in a roundtable session. Ask Questions? Get Answers!

.Learn the best methods for marketing and promoting your website and your products.

Learn how to develop online marketing initiatives and channels.

Get a handle on managing computer networks that enable customers to make secure and private financial transactions.

 Learn how to benchmark the important key metrics that measure ebusiness success.

Learn the best tools to track and measure your social marketing efforts.

Study a full curriculum of the most exciting and innovative eCommerce case studies.

Find out the key elements that go into a successful ecommerce website

and improve your website conversion rate.



Learn From the Best!

Keynote Speakers

Colin Sebastian – Senior Research Analyst, Robert. W. Baird & Company

Rick Watson, eCommerce General Manager, Barnes & Nobles

 

Featured Speakers

Eric Yonge - President &Creative Director - EY Studios

Al Loise - Marketing Director for Vayu Media.

Chris Green - Author of Retail Arbitrage and founder of FBA Power

Troy Nalls – Third Cousin Media

 

MC/Featured Speaker

Jacqueline Knight, Managing Partner, Knight Owl Communications

Hoot n' Holla Online Communications

 

Hosts and ICE Co-Founders

Brandon Dupsky, eCommerce Multi-millions in sales

John Lawson, ColderICE Media, ColderICE eCommerce Education


Friday 10/5


7:00 pm - 10:00 pm  - Networking Welcome Reception





Saturday 10/6




7:30 am - 8:00 am - Registration




8:00 am - 5:00 pm - Conference




5:30 pm - Closing Ceremony, Giveaway Drawing & Awards

 
For Sponsor opportunity contact:
INFO@InternetCommerceEntrepreneurs.com
About ICE: -  Internet Commerce Entrepreneurs (I.C.E.) is a 'members only' trade association designed by eCommerce experts to give eCommerce vendors, 3rd party marketplace sellers and traditional retail owners who market online access to the very latest information, technology advice, software picks, insider marketing, SEO secrets, online sales strategies, customer acquisition information and a wealth of educational and development resources to help take your internet presence  to the next level.
Have questions about Internet Commerce Entrepreneurs: ICE eBusiness Conference in Atlanta?
Contact the organizer