Description
For 20 years, the Internet Archive has been capturing the Web-- that amazing universe of images, audio, text and software that forms our shared digital culture. Now it's time to celebrate and we're throwing a party! Please join us for our 20th Anniversary celebration on Wednesday, October 26th, 2016, from 5-9:30 pm.
We'll kick off the evening with drinks, tacos and hands-on demos of our coolest tools. Come scan a book, play in a virtual reality arcade, or try out the brand new search feature in the Wayback Machine. Plus we've commissioned works by amazing artists building new creations from the material in our collections.
Starting at 7 p.m., Paul D. Miller aka DJ Spooky, will perform a short, original musical montage drawn from the Internet Archive's audio collections. We'll look back on some of the defining digital moments of the past 20 years, and explore how media and messaging is impacting the 2016 Election.
And to keep you dancing into the evening, DJ Phast Phreddie the Boogaloo Omnibus, will be spinning 45rpm records from 8-9:30. We hope you can join our celebration!

Event Info:
Wednesday, October 26th
5pm: Drinks, tacos, and hands-on demos
7pm: Program
8pm: Dessert, Dancing and more Demos
Location: Internet Archive, 300 Funston Avenue, San Francisco, CA 94118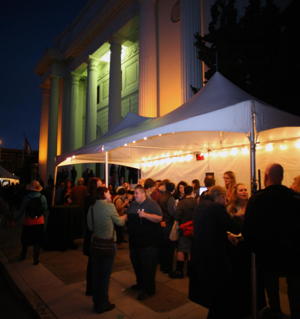 PUBLIC TRANSPORTATION:
The closest BART station is Civic Center, and then an Uber or Lyft ride. You can also take BART to Montgomery or Powell Stations, then walk to the 38-Geary bus line, and take it headed West. We are located close to many MUNI bus lines, including the 1-California, 2-Clement, 38-Geary and 28-Park Presidio lines.
PARKING:
Parking in the Richmond District is tight! So consider coming via public transportation. Be sure to leave plenty of time to park!
Parking around the Internet Archive is unmetered, but has a two-hour limit until 6 p.m.. There is all-day unmetered parking between Geary and California, and above 16th Avenue.
Closest aid parking available at the Geary Mall Garage on 381 16th Ave San Francisco, CA. More information here.
For a map of all-day, paid lots in the area: Parking Map