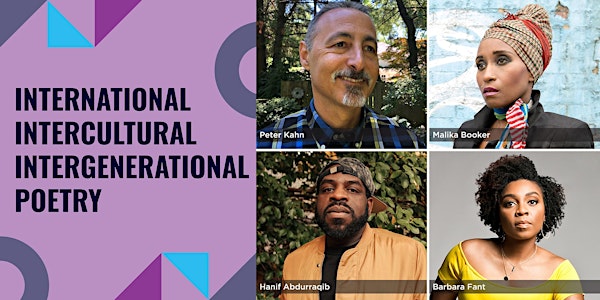 International/Intercultural/Intergenerational Poetry
Select students will share the stage with local poets Barbara Fant and Hanif Abdurraqib, along with Malika Booker as headliner.
When and where
Location
96 S Grant Ave 96 South Grant Avenue Columbus, OH 43215
About this event
International/Intercultural/Intergenerational Poetry
Friday, Sept. 23 | 7 p.m.
Main Library, Siemer Family Reading Room
This special after-hours event will include readings by students and educators from Denison University, Wellington High School and Centennial High School. Student readers will have participated in writing workshops with poet-educator Peter Kahn and Black-British writer Malika Booker. Select students will share the stage with local poets Barbara Fant and Hanif Abdurraqib, along with Malika as headliner.
About the Speakers
Malika Booker is a Creative Writing lecturer at Manchester Metropolitan University, a British poet of Guyanese and Grenadian parentage, and co-founder of Malika's Poetry Kitchen (a writer's collective). The collective has supported beginning and emerging poets from marginalized backgrounds for over 20 years. Her pamphlet Breadfruit received a Poetry Society recommendation, and her poetry collection Pepper Seed was shortlisted for the OCM Bocas prize and the Seamus Heaney Centre prize for first full collection. She is published with the Poets Sharon Olds and Warsan Shire in The Penguin Modern Poet Series 3: Your Family: Your Body. The Anthology - Two Young, Two Black, Too Different, Poems from Malika's Poetry Kitchen was recently published to celebrate Malika Poetry Kitchen's 20-year anniversary. Booker and Shara McCallum recently co-edited the recent issue of Stand Journal curating an anthology of poems by African American, Black British, & Caribbean Women & Identifying Writers.
Peter Kahn began teaching English in 1994 and began working as a Spoken Word Educator in 2003 at Oak Park/River Forest High School until his retirement in June 2022. His students can be seen in Louder Than a Bomb and America to Me. A founding member of the London poetry collective Malika's Kitchen, he also co-founded the London Teenage Poetry Slam. In addition, as a Visiting Fellow at Goldsmiths-University of London, created the Spoken Word Education Training Programme. Peter was a featured speaker at the National Council of Teachers of English's annual convention and runner-up in the NCTE and Penguin Random House Maya Angelou Teacher Award for Poetry. Along with Patricia Smith and Ravi Shankar, he edited The Golden Shovel Anthology: New Poems Honoring Gwendolyn Brooks. Along with Hanif Abdurraqib, Franny Choi, and former student Dan "Sully" Sullivan, he edited Respect the Mic: Celebrating 20 Years of Poetry from a Chicagoland High School, deemed "Electric and Expansive" by Kirkus Reviews. Peter's 2020 poetry collection, Little Kings has poems featured in The London Guardian and The Forward Book of Poetry.