Description
Join us for the world famous annual International Yoga Festival in 2020 -- uniting yogis of every culture, colour and creed together in a one-world yogic family, expanding global consciousness, and bringing healing to the planet, one person at a time!
Come, Connect, Embrace, and Evolve
Come home to Rishikesh, the birthplace of yoga, the home of the ancient yogis, sages and seers. Each year the International Yoga Festival grows and expands, embracing more and more people from more and more countries around the world. In 2019 we had nearly 2000 participants from almost 100 countries!
Connect with like-minded, conscious yogis and paradigm-shifters from every part of the world. Whether you are already undergoing a personal transformation or are in search of transformation, whether you are already an active co-creator of your own divine life or you would like to become one – the Festival is for all! Befriend a community that becomes family for life.
In the 7 day immersion and celebration, you have the opportunity to embrace every major style of yoga, learn from enlightened Spiritual Leaders, Master Yoga Teachers, Evolutionary Thought Leaders, and Wellness Specialists from the around the world. Awaken to the best version of yourself and ignite your inner light through this not-to-be-missed event at Parmarth Niketan Ashram, the largest ashram in Rishikesh and one of the largest interfaith yoga institutions in India.
The programme offers an extensive schedule of possibility, starting with Kundalini sadhana at 4 a.m. for the intensely committed and ending at 9:30 pm with traditional cultural song and dance, kirtan and enlightened entertainment on the banks of Ganga. You can customize each day as per your personal needs. We also have a Sacred Sound Stage for you to come, unwind and awaken through the power of sound.
Come Home to the Himalayas…. Awaken, Connect, Discover a New You.
Come bathe in the energy of the towering Himalayas and majestic Ganga River. As you sit and watch the flow of the river, you'll connect deeply with your own inner divine flow.
Please help us share this event with your whole yoga community on Facebook, Instagram and Twitter
For 2020, give yourself the best gift in the world– the gift of yourself, awakened and illuminated at this life-transforming event!
We look forward to welcoming you to your Himalayan home,
The IYF Team
#IYFParmarth #IYF2020
The International Yoga Festival is organised by Parmarth Niketan Ashram in association with the Ministry of AYUSH, Incredible India, Ministry of Tourism, Government of India.
FAQs
What other options are there to register for tickets for IYF 2020?
Eventbrite is currently the only way to purchase tickets for International Yoga Festival 2020 held at Parmarth Niketan Ashram. There may also be some tickets to purchase on location at Parmarth Niketan each day of the festival, subject to availability.
Are there discounts for Indian Citizens?
Yes! We offer a significantly reduced pass for Indian resident citizens (ID required). For the Indian citizen week pass, accommodations are included.
Where is the International Yoga Festival held?
The International Yoga Festival is held every year at Parmarth Niketan Ashram in Rishikesh, Uttarakhand, India. To learn more about Parmarth and how to get there, click here. Please note: IYF's venue is ONLY at Parmarth Niketan, not at any other locations throughout Rishikesh.
What are my transport options getting to the event?
The Ashram is a 45 minute taxi ride from Dehradun Airport and 1 hour from Haridwar Junction Station. There are plenty of taxis available at both locations. We have received the following rates from a local taxi firm based in Rishikesh--meant to serve as a guide:
Haridwar Junction to Parmarth Niketan (or return) - Rs 1200 - small 4 passenger car/Inova - 1600
Dehradun Airport to Parmarth Niketan (or return) - Rs 1200 - small 4 passenger car/Inova - 1600
Delhi to Parmarth Niketan (or return) - Rs 4000 - small 4 passenger car/Inova - 6000
For those who wish to go sightseeing during their stay, here are the rates for a local taxi booking:
Parmarth Niketan to Neelkanth Temple (including return) - Rs 1800
Parmarth Niketan to Kunjapuri Temple (including return) - Rs 1600
Parmarth Niketan to Vashistha Cave (including return) - Rs 1600
Parmarth Niketan to Mussoorie (or return) - Rs 2500
For transportation questions or assistance, please email Biju (Bijendra Singh) at iyf2020.transport@gmail.com, mobile +91-9411196601.
What is included with my accommodation booking?
Accommodation is provided from 2pm on February 29 until 12pm on March 8. The Ashram will provide you with mattresses, pillows, pillow covers, sheets, blankets, and towels. We also have a laundry service available at a minimum fee. We ask that you bring your personal toiletries and in an effort to keep the environment clean, please be mindful that your products be as environmentally sound as possible.

Can I have a single/private room?
All accommodation is shared due to the popularity of the event and also to encourage community living and mutual support during the festival time. No single occupancy rooms are available. When booking, please note if you wish to share with anyone and we will do our best to accommodate this, however this cannot be guaranteed. Unless requested otherwise, all rooms are arranged on a same-sex basis.
Do the rooms have hot water?
Yes – in all rooms. If your room has a geyser please turn it on 30 minutes before showering and switch off immediately after use. Please help conserve! Other rooms have solar heated water which is instantly available.
What is included with my ticket?
All registration options include meals, hot drinks, classes, lectures and performances. In an effort to keep our waste to a minimum, please bring a reusable water bottle. We have filtered water machines throughout the Ashram at no charge.

Are there discounts for group bookings?

Yes! Discounts of 10% off all full week passes are available for groups of 20 or more (the discount is reflected on the prices online).

I wish to stay at the ashram before the festival / after the festival
We are offering selected dates via Eventbrite to be booked in with your festival pass.
For reservations before Feb 26, 2020 or after Mar 11, 2020, please contact our Reservations Team through www.parmarth.org/reservations

I wish to attend a yoga retreat before the festival / after the festival
You are able to book onto our pre and post festival yoga retreats at the same time when purchasing your festival pass via Eventbrite.

Do I need to bring my own yoga mat?
You are welcome to bring your own yoga mat, however, there will be mats available to purchase at the festival and also complimentary mats available for use at each class.
Where can I eat & what are the dietary options?
Dining facilities are set up in the back Yoga Garden for all IYF participants. All food is vegetarian. Vegan options will include dal, rice, salads, vegetables and fruits. Please remember that we sometimes host 1,000 guests or more, and it may not be possible to have everyone like everything that's offered at the meal times. Please note: In respect for the traditions of the ashram, within the ashram the following food/drink are strictly prohibited: drinking intoxicants, eating egg or other non-vegetarian foods. We also recommend that you refrain from eating onions and garlic.
Can I purchase tickets for a specific day?
Yes! Our Day Passes give access to 1 specific day of IYF 2020 which includes all classes, workshops, lectures, and performances from Mar 1 - Mar 7 including our Opening & Closing Ceremonies, along with the meals.

Can I change details on my booking?
Yes, you can update the details in your booking directly via Eventbrite up to 1 month prior to the event.

Can I purchase passes at the door?
We strongly encourage those interested to purchase your passes in advance to avoid delayed entrance and due to the increased popularity of this event. If passes are still available, onsite purchases can be made by cash (rupees, dollars or sterling) or credit card.

Are there guidelines on what to wear in an ashram?

Be sensitive and respectful, dress as modestly as possible, especially during the Aarti. In respect to the traditions of our ashram, shoulders and knees should always be covered at all times, including in classes. See-through clothing is not allowed, and tight/revealing clothing is discouraged.
Are there laundry facilities?
Yes, we have a laundry room located in the Saraswati Block. Please be sure to confirm the number of items being dropped off along with your room number. Laundry is usually ready within 24 hours, but if it is rainy it may take 48 hours. Please note: in Indian custom, undergarments are to be washed personally.
How can I meet with Pujya Swamiji for darshan/blessings and/or the havan (fire) ceremony before Aarti?
At our IYF registration & help-desk, there will be sign-up sheets for both these events.
When will the schedule be released?
While we would love all teachers to be with us for all 7 days, regrettably many can't. We're sure you can appreciate that with the large number of teachers, classes and days that we need to coordinate, it isn't always possible to confirm an exact date when a schedule will be released, however, it is likely to be shortly before the Festival opens. Our website will be updated periodically with confirmed presenters, spiritual leaders and performers. There are three (3) great ways to get notified of latest updates on IYF 2020: 1) Download the "IYF at Parmarth Niketan" app, 2) "Like" our Facebook page, and 3) sign up for our newsletter via our website.
List of presenters and schedule is subject to change at short notice.
Do I need to attend every class?
While we encourage you to participate fully in the Festival, attendance is optional.
How do I become a country ambassador?
The first person to register from each country will become a country ambassador.
Will there be any opportunities for participants to perform?
Yes! We are excited to announce that this year at the International Yoga Festival there will be a special time in which delegates of each country can offer a cultural demonstration of yoga, dance or song to highlight the cultural richness of their country. This is, of course, completely and fully optional and up to the representatives of each country. For those interested in taking part in this, please complete the form on our website with your details and an outline of what you would like to present as well as how many in your group. Our team will contact you regarding this, closer to the Festival. (Guidelines apply.)

I have received a higher charge on my card than expected.
International transaction fees may apply. Please check with your banking institution.
I am getting an error when inputting my card details.
Some credit cards/banks won't allow transactions in a different currency. Many times this is an effort for the banking institution to prevent fraud, or simply because it costs a lot to do it. Please check with your bank to be sure you're able to make international transactions with your card.
Where can I receive medical attention?
We have our own clinic with dispensary onsite called Parmarth Niketan/Swami Shukdevanand Charitable Hospital. Hours are Monday to Friday, 10am to 12pm and 3pm to 5pm. If you require attention outside these hours, please go to the Help Desk and someone will contact the resident doctor. It is always advisable to carry any regular/prescription medicines that you take in the amounts you will need, instead of trying to find them here.
Are there safety precautions I should take?
While Rishikesh is a safe place in general, it is inadvisable for females to travel alone into deserted areas day or night. It is not safe to venture into the forest before dawn or after dusk as wild elephants and leopards inhabitat this area. If any local tells you they want to do Astro-readings, healings, etc. & say they will come to your room, this is a definite NO. We do not offer these services, so we do not allow this at the Ashram. No unauthorized guests allowed in guest rooms at any time.
How can I donate to the ashram?
You can make an additional donation to the Ashram when booking your IYF pass. If you wish to make donations when at the Ashram, please only do so at the main reception desk. Also, make sure to receive your receipt (even if you don't require it). Please do not tip anyone, as this is against the Ashram Policy.
Where can I give feedback on future festivals?
We will be giving out Feedback Forms during the festival. Please keep your mind open to improvement, and fill them in. We require that you fill this out before receiving your key deposit if you are staying at the ashram & will be providing a Certificate of Attendance upon completion.

Refund Policy
- No refunds are possible for cash, cheque, bank transfers or money orders.
- Refunds can only be granted for online donations by credit card under the following schedule:
- Before January 1, 2020: donations are fully refundable, minus a $75 processing fee per person;
- From January 1, 2020: 50% of full donation, per person, is refundable.
- From February 1, 2020: NO refunds are possible.
- You can also transfer your ticket to another person, at no charge, before February 1, 2020. Ticket transfers are not possible after this date. Transfer requests should be made in writing by the original purchaser to info@internationalyogafestival.com with full details of the person who the ticket is being transferred to.

Terms and Conditions
- All fees are per person / per registration.
- We cannot modify / discount residential packages for partial stay or participation for any reason.
- Accommodation and meals before and after the festival are additional.
- There is no guarantee of room type / preference at any point, however we will do our best to accommodate all requests.
- By purchasing your IYF ticket and collecting your wristband from our Registration Desk, you accept the following Terms & Conditions:
- Parmarth Niketan and it's representatives shall be not held liable for any injury, damage, loss, delay or irregularity that may be occasioned for any reason by guests attending IYF, including but not limited to: death, personal injury, illness, delay or cancellation of scheduled performances and loss of or damage to personal property.
- Your wristband must be worn to gain entry & re-entry to venues and performances. Any wristbands removed or damaged will be consider null and void and will not be replaced. Parmarth Niketan has the right to prohibit anyone without a wristband from gaining access to any of the festival venues.
- All participants grant the International Yoga Festival & Parmarth Niketan the rights to utilise the participant's image, likeness, actions and statements in any live or recorded audio, video, film, or photographic display or other transmission, exhibition, publication or reproduction made of, or at, the Event in any medium or context for any purpose, including commercial or promotional purposes, without further authorisation or compensation.


Top Tier Room (Ganga facing option)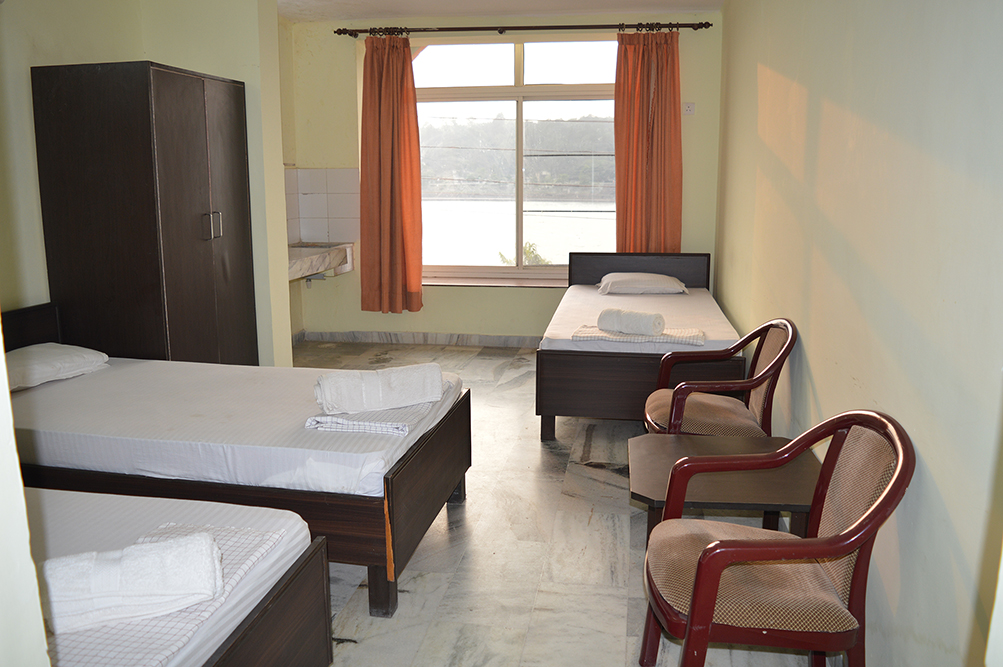 Top Tier Room (Garden view)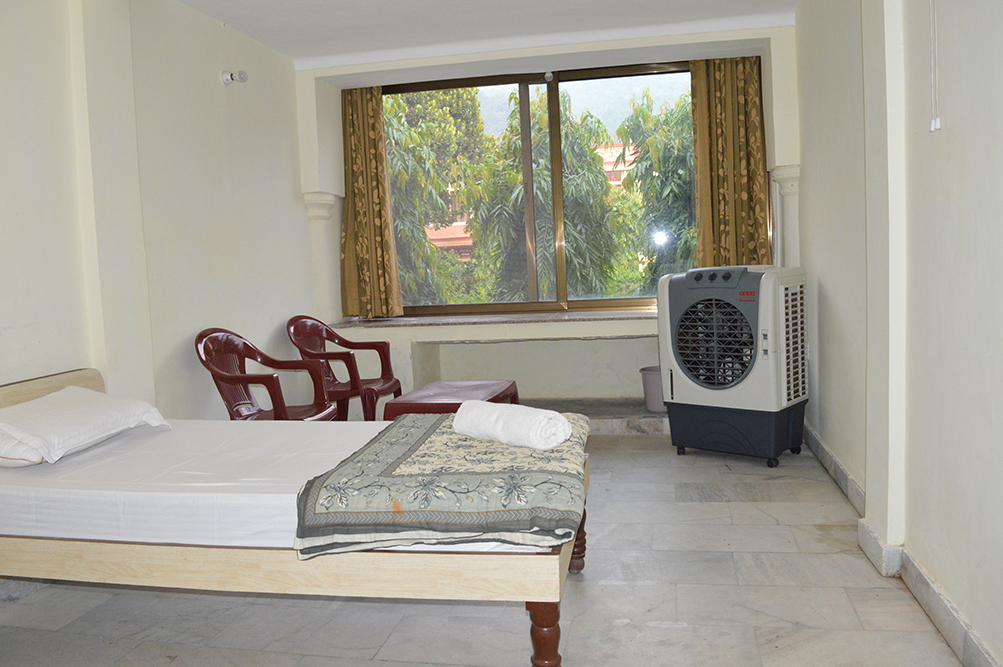 Top Tier Bathroom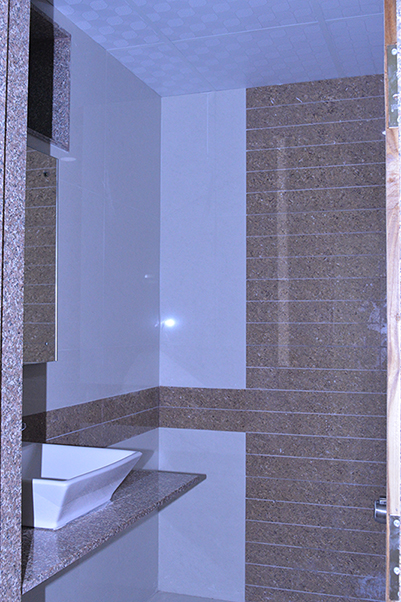 Middle Tier (Himalaya view)


Middle Tier (Yoga Village Room)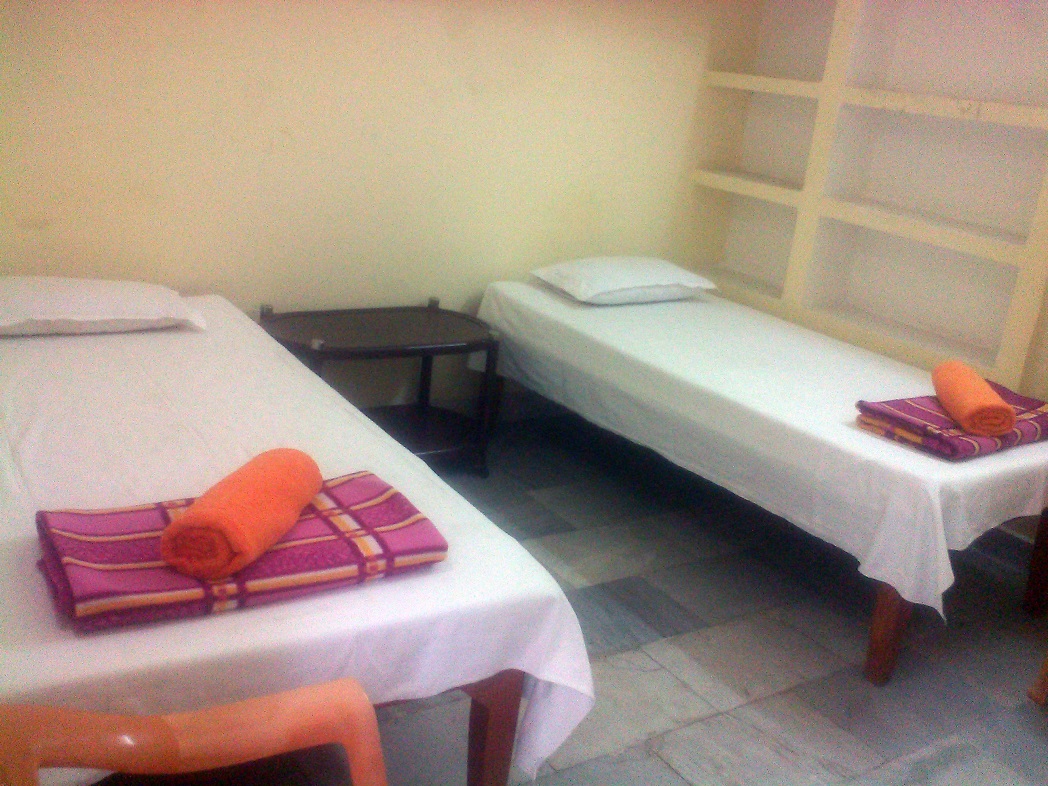 Courtyard Room (overlooking the ashram courtyards - variety of room sizes)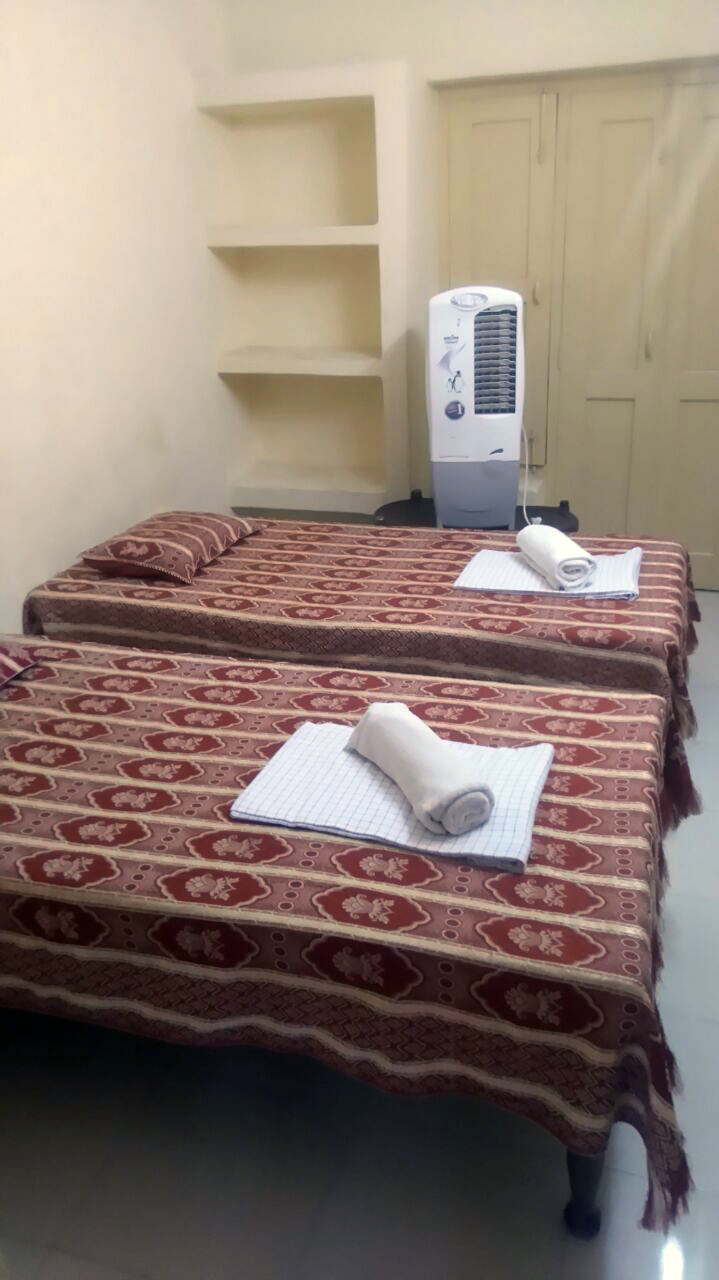 Courtyard Room (overlooking the ashram courtyards - variety of room sizes)