Description
DU A LA VENUE DU PAPE DANS NOTRE REGION JE REPOUSSE L'HEURE DE COMMENCEMENT DE CET EVENEMENT AFIN DE VOUS LAISSER ASSEZ DE TEMPS POUR VENIR ME TROUVER SANS STRESS ET PROFITER DE CETTE BELLE SOIREE QUI NOUS ATTEND. PRENEZ UN PEU DE MARGE TOUT DE MEME AU VU DES ROUTES FERMEES AUTOUR DE L'AEROPORT. A JEUDI!!! N'OUBLIEZ PAS D'AMENER UN TAPIS DE YOGA....
DEPENDANT D'UNE METEO CLEMENTE...
Rejoignez-moi pour un cours de Yoga gratuit dans le jardin autour de la piscine pour célébrer la journée Internationale du Yoga.
Dans l'esprit de la célébration et pour bien démarrer l'été vous pouvez choisir d'amenez de quoi partager à grignoter et à boire pour après le cours.
OUVERT à TOUS
Je me réjouis de vous retrouver,
Nadine
---
DEPENDANT ON THE GOOD WEATHER...
Join me for a free Yoga class in the Garden around the pool to celebrate International Yoga day.
In the spirit of celebration and for a good start to the summer you might choose to bring some drinks and snacks to share for after the class.
OPEN TO ALL.
looking forward to seeing you.
Nadine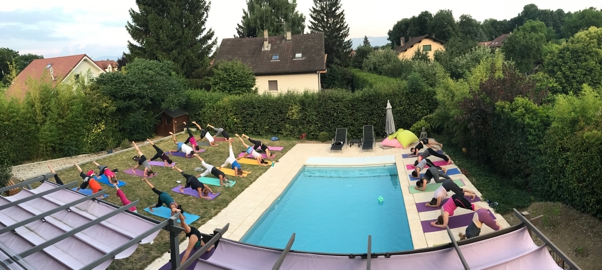 Last Year's event...