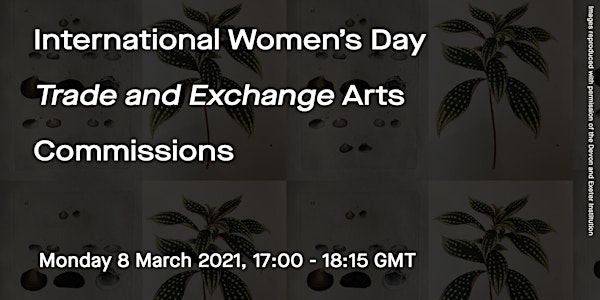 International Women's Day - 'Trade and Exchange' Arts Commissions
Join artists Naomi Hart and Emma Molony as they discuss their art commissions with leading academics Dr Ceri Lewis and Dr Rebecca Lovell.
About this event
Trade and Exchange is a new arts commission that aims to delve into Exeter's history and explore its future as an innovative, sustainable and resilient, carbon neutral city. Two artists, Naomi Hart and Emma Molony, will each take over an empty shop window in Exeter's city centre and create temporary works of art. Inspiration for these artworks is derived from the theme of 'trade and exchange' and the collections at the Devon and Exeter Institution (DEI). Naomi is interested in the Exe estuary and marine biology, looking at the vital part that shells and shellfish play in our lives and the impacts on them of ocean acidification and environmental change; Emma is interested in the Veitch Nurseries founded in 1808, the prolific Victorian biologist and botanical artist, Marianne North, and the introduction of plant species from around the globe to Exeter.
In developing their commissions, both artists discovered stories in the DEI about 18th and 19th century research into the natural world where women's contributions were marginalised.
To mark International Women's Day, Arts and Culture University of Exeter has invited the artists to speak about their new commissions, and two leading academics from the University of Exeter, Dr Ceri Lewis and Dr Rebecca Lovell, to speak about their relevant research in the natural and social sciences.
This event will be hosted by Sarah Campbell, Associate Director for Arts and Culture, University of Exeter (UoE)
The speakers will be:
Naomi Hart, artist, and Dr Ceri Lewis, Associate Professor in Marine Biology (UoE)
Emma Molony, artist, and Dr Rebecca Lovell, Research Fellow at the European Centre for Environment and Human Health (UoE)
The Trade and Exchange commissions were originally planned for installation in January 2021 but due to the pandemic lockdown they will now be on show from April. The lead partner for Trade and Exchange is Exeter Culture and is generously funded by the Liveable Exeter Programme, managed by Exeter City Council, and the Next Chapter project at the Devon and Exeter Institution, funded by the National Heritage Lottery Fund.
About the speakers
Naomi Hart is an artist whose work looks at human interaction with the environment, especially themes around elements, journey and memory. Her work ranges from intricate drawings and paintings to large-scale installations. Naomi was Leverhulme artist in residence with glaciologists from Sheffield University and the University of Norway in Svalbard and exhibited the work at the Royal Geographical Society in London.
Dr Ceri Lewis's research interests lie in understanding how marine invertebrates adapt and survive in a changing and increasingly polluted marine environment, and the potential impacts of environmental change on their physiology and reproduction.
Emma Molony is a Devon-based interdisciplinary printmaker. Her work combines different printmaking processes (eg screenprint and relief print) and works with animation and 3D installations. She designs and makes wallpaper, delivers printmaking workshops and explores experimental ways of printmaking without a press.
Dr Rebecca Lovell's research focuses on understanding the ways people can benefit from proximity to and contact with 'natural' environments. She is specifically interested in the health and wellbeing benefits of higher quality and bio-diverse spaces and places.
This event will be held online using Zoom. You will be sent the Zoom link prior to the event.
Please note this event will be recorded.
Images reproduced with permission of the Devon and Exeter Institution:
Illustration of shells by Elizabeth D'Orville, published in Testacea Britannica: a Natural History of British Shells, Marine, Land, and Fresh-water, George Montagu (1803)
Beautiful Leaved Plants, E. J. Lowe, (1872). Illustration by Alexander F Lydon, Benjamin Fawcett
Data Protection and Privacy
To aid organisation of this event, attendee information may be shared with relevant staff in the University e.g. a list of attendees could be provided to the University host, guest speaker.
We will store your information securely, so that we can communicate to you about the event (e.g. cancellation of event, changes to the itinerary, a satisfaction survey).
We delete our access to personal information on Eventbrite after 6 months.
More information on the University's privacy policies can be found here.
For more information on Eventbrite's own privacy policy, please visit this page.

Organizer of International Women's Day - 'Trade and Exchange' Arts Commissions