Description
"Petals in the Dust is a masterpiece of documentary filmmaking. It is an absolute must-see. It will catalyze and strengthen many more initiatives on behalf of the female gender." - Don Schwarz, author and film critic
On the occasion of International Women's Day, we are excited to host a screening of the award-winning documentary Petals in the Dust at the Roxie theater followed by a Q&A with Nyna Caputi, Producer and Director of the film and also founder of The Expat Woman.
Petals in the Dust is a feature-length documentary about the escalating gender discrimination and violence in India and in the Indian diaspora in the US and Canada. The film premiered at the San Francisco Doc. Festival and also won Best Documentary Film at the SF Global Movie Festival in Silicon Valley as well as Best International Documentary at the Vancouver International South Asian Film Festival.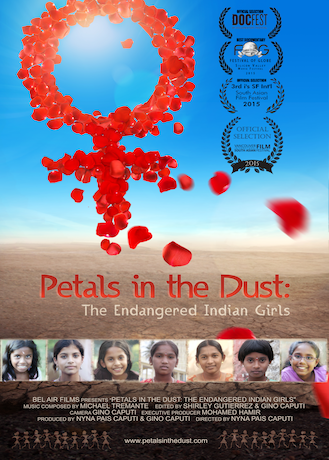 Synopsis
Did you know that 50 million girls and women were killed in India in the last century simply because they were female? That is more than the number of people killed in World War I and II.
A patriarchal mindset, a preference for sons and a deep-seated intolerance combined with growing materialism and technology has led to the murder of 50 million girls and women in India in the last century. They continue to lose their lives to infanticide sex-selection, starvation and medical neglect, dowry deaths and brutal gang rapes.
Shot over 7 years in India, the US and Canada, Petals in the Dust sheds light on how this misogyny and genocide continues in this century not just in India but in Indian communities in North America and offers captivating stories from women of different social-economic backgrounds who have lost daughters, who have successfully fought for the lives of their daughters or their own lives, and one who survived her attempted infanticide.The filmmaker also interviews public health experts and activists on the front lines.
The filmmakers hope this film can create dialogue and get people involved in helping end misogyny and gender violence in India and across the globe.
For more information visit Petals in the Dust website
#StandwithPetals to end gender violence