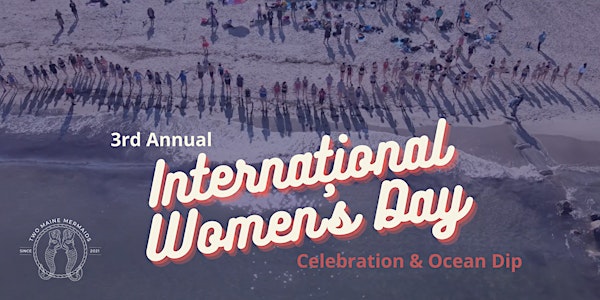 International Women's Day Ocean Dip & Celebration
Celebrate International Women's Day with a Cold Water Dip!
Date and time
Sunday, March 5 · 12 - 1pm EST
Location
Willard Beach Willow Street South Portland, ME 04106
About this event
Welcome to our third annual International Women's Day Dip!
International Women's Day (IWD) is a global day celebrating the social, economic, cultural and political achievements of women. The day also marks a call to action to create a diverse, equitable, and inclusive world. Groups come together worldwide to celebrate women's achievements, raise awareness against bias, and take action for women's equality!
The Two Maine Mermaids annual IWD Dip is an event where we gather to celebrate women for their strength, magic, love and capacity. We join communities, extend hands to all, and unify together to walk boldly into the icy ocean for a massive cold water dip! Stepping into the ocean we meet adversity with laughter, difficulty with support, and stress with play.
IWD is one of our favorite dips and by far the largest. This year, to make a bold statement of support for women, we have a lofty goal - we are going to cover Willard Beach end to end with Cold Water Dippers! Together, we want to cover 2,100 feet of shoreline and walk hand-in-hand into the water. We'll need at least 381 folks to join us for this event! So invite a friend, neighbor, cousin, and coworker!
Let's do this!
RESCHEDULED TO SNOW DATE!!!!
Date: SUNDAY, March 5th
Gather: 12:00 pm
Dip: 12:30 pm
Here are a few dip tips:
Bring a towel, protective water footwear, and a hot drink to sip on after your dip
Wear warm layers that you can get on and off easily
Bring an extra towel or blanket to lay out your layers before you get in the water for easy changing post dip
Please read your order confirmation email carefully as it has a lot more safety & logistics about the day!!
The Two Maine Mermaids mantra is to Create Community! Spread Joy! and Connect through Nature! Sign-up here to stay in the loop on all the Two Maine Mermaids news.
We are so grateful to have amazing lead sponsors for our 3rd Annual International Women's Day Celebration & Ocean Dip! Thank you, Jes Wallimann & Katie Brooke of Vitalius Real Estate Group for being proud supporters of this event! Please get in touch with Jes and Katie if you're looking to make moves in the area!
Want to spread the word about this event?! Click HERE to access our media kit and share the "I'm Dipping!" graphic and link to this eventbrite on your social media!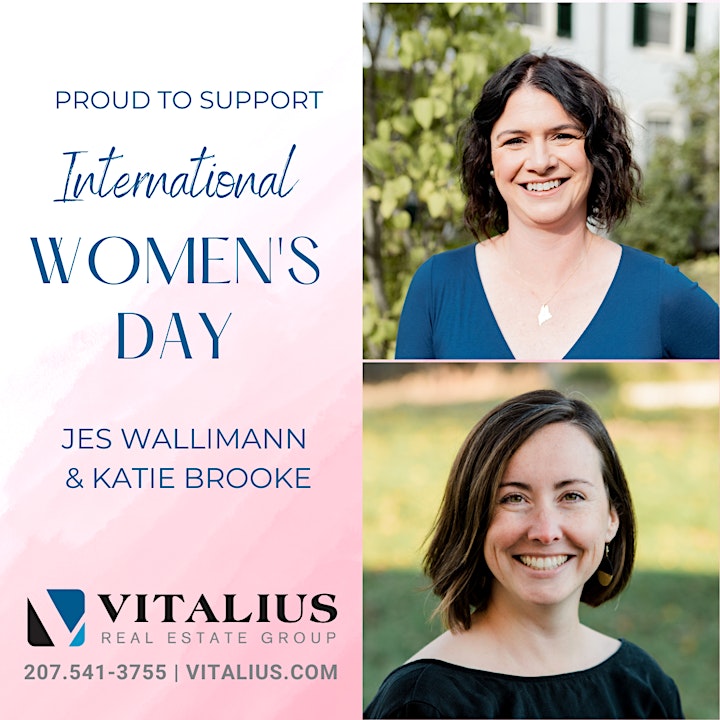 PARKING
Park at Southern Maine Community College (see map below). If you are able bodied, plan on parking over at SMCC (for GPS purposes use 95 Campus Center Drive, South Portland, ME 04106 and park anywhere nearby). Head towards the ocean and follow the Spring Point Shoreway Path to any entrances/stairways down to Willard Beach (marked on the map). Let's leave spaces at the parking lot on Willow Street (46 Willow St #2, South Portland, ME 04106) for folks who might need extra help to and from their cars. There is plenty of student parking at SMCC, and we've been in touch with the school for permission to park there for the event. Consider carpooling with your besties! Leave yourself plenty of time to find parking and get to the beach to enjoy the day. If the weather is less than ideal, consider having an extra dance party in the car before heading down to limit your exposure to the elements before the dip. If you have to park on residential streets please be mindful (and obey) parking signs and driveways. Willard Beach is in a highly residential area so please be considerate of the neighbors!