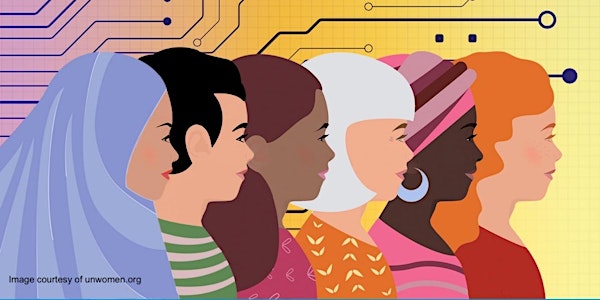 International Women's Day: Innovation and Technology for Gender Equality
A hybrid event celebrating International Women's Day, discussing innovation, technology, and education for achieving gender equality.
By UNA Mid-Pacific Region
Date and time
Sunday, March 12 · 12 - 2pm PDT
Location
Online or In Person at Santa Clara University Sobrato Campus for Discovery and Innovation South Wing, First Floor Room 1302 Santa Clara, CA 95053
About this event
What's the status of Innovation, Technology, and Gender Equality?
Join the UN Association of Silicon Valley on Sunday, March 12 as we celebrate International Women's Day with a hybrid panel discussion at Santa Clara University. This panel will discuss innovative technology and trends that are currently available to promote gender equality and digital access for everyone, both here and abroad. Join us as we hear from journalists, non-profit directors, CEOs, academics, and other experts in this field.
There are two ways to participate, and both are free of charge.
In person at Santa Clara University, Sobrato Campus for Discovery and Innovation, Room 1302
Online via Zoom. Details for joining Zoom will be shared before the start of the event
Co-sponsored by:
UN Association Silicon Valley
Santa Clara University Society of Women Engineers
With support from:
UN Association MidPeninsula
UN Association Northern California
UN Association Davis
UN Association East Bay
UN Association Golden Empire
And Other Northern California UNA Chapters
AAUW Davis
Santa Clara University School of Engineering
The United Nations Association is a grass-roots, non-partisan volunteer organization with over 200 chapters across the country. We work in our local communities to educate, support and advocate on behalf of the United Nations and the many global issues that is addresses.
This year's United Nations' International Women's Day theme is DigitALL: Innovation and Technology for Gender Equality. This theme aligns with the UN's 67th Session of the Commission on the Status of Women (CSW-67) theme of innovation and technological change, and education in the digital age for achieving gender equality and the empowerment of all women and girls.
Speaker Bios (alphabetical order)
Bonita Banducci teaches both Gender and Engineering at Santa Clara University's Engineering School's Graduate Program in addition to a class in Diversity and Innovation in STEM. She has contributed to Women in Technology International's 2022 Glass Ceiling Report and is a Founder of the Global Women's Leadership Network. She focuses on eliminating investment bias and trains venture capital firms and tech companies on this topic. In addition, she represented Santa Clara County's Commission on the Status of Women at the UN NGO World Conference on Women in Beijing.
Julia Boorstin is CNBC's Senior Media & Tech Correspondent and has reported for the network since 2006. In 2022, she authored the bestselling book When Women Lead: What They Achieve, Why They Succeed, and How We Can Learn from Them. In 2013 she created and launched the CNBC Disruptor 50, an annual list highlighting companies transforming the economy and challenging established industries. She helped launch and now leads CNBC's 'Closing the Gap' initiative focusing on people and firms addressing gender and diversity challenges. She previously worked at Fortune magazine, CNN, and is a graduate of Princeton University.
Julie Clugage is the Co-Founder and Executive Director of Team4Tech, a nonprofit focused on advancing quality education for under-resourced learners around the world. At Intel, she was Chief of Staff for corporate affairs and launched their Education Service Corps, connecting Intel employees with non-profit organizations in developing countries. She previously worked at the World Bank and USAID and holds an MPA from Princeton and an MBA from UC Berkeley.
Mei Lin Fung is the Chair and Co-Founder with Vint Cerf of the People Centered Internet. She serves as Co-Chair of the UN Commission on the Status of Women (CSW) on the Expert Roundtable on Digital Innovation for 2023, is an Advisory Member of the ITU, and is currently a Fellow at the Hasso Plattner Institute. Her professional experience includes tenures at Shell Australia, Intel, Oracle, and the US Department of Defense. She sits on the IEEE Executive Committee and has addressed the World Bank and the World Economic Forum on digital economics. Originally from Singapore, she holds an undergraduate degree in Pure Mathematics from ANU and an MBA from MIT.
Dr. Sharon Hsiao is an Assistant Professor and the David Packard Endowed Junior Fellow in the Department of Computer Science & Engineering at Santa Clara University. Her research focuses on educational technologies, computational modeling, visual analytics, and adaptive technology for personalized learning. She is involved with international research groups and has been published extensively in academic journals.
Patricia Murillo is the Chief Learning Officer for the organization How Women Lead, reaching over 15,000 executive leaders nationally. She has over twenty-five years of global leadership in nonprofits and has coached hundreds of executives in leadership development. Her focus is on creating organizations and learning communities that inspire and connect people to a larger purpose.
Dr. Tonya Nilsson (Moderator) is a Senior Lecturer in and Vice-Chair of the Department of Civil, Environmental and Sustainable Engineering. She has conducted research on teaching methods, student engagement, and content retention, with a focus on underrepresented students in engineering. She has also helped facilitate national teaching workshops for engineering faculty for 20 years. She has won numerous teaching awards at Santa Clara University.