Description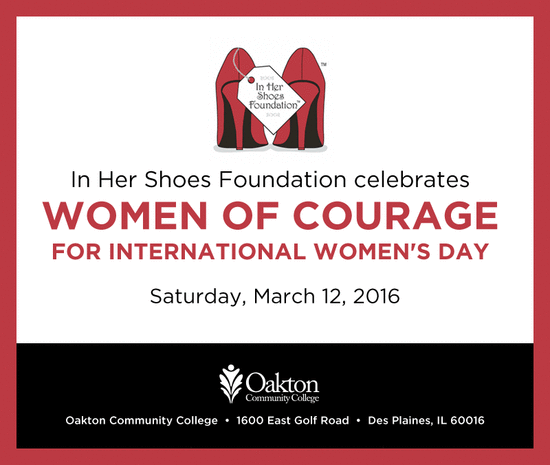 The objective of the International Women 's Day Conference is to inform and empower college-age and working women. A variety of speakers and workshops will cover topics ranging from practical advice about how to navigate the workplace to developing healthy relationships and embracing one's gender identity. The Keynote Speaker is Dr. Stacee Reicherzer whose topic will cover: "Women's Self-Sabotage on the Road to Success."
Light Breakfast and Lunch provided
Entrance is free for Oakton Students and Faculty with valid ID. Ticket is REQUIRED
$25 General Admission
$15 In Her Shoes Foundation Members (use code IntWomensDayIHSF12)
Free for Oakton Community College Students and Faculty with ID (use code OaktonWomenDay2016)
Speaker Line-up:


Keynote Speaker: Dr. Stacee Reicherzer "Women's Self-Sabotage on the Road to Success"


Guest Speakers:


Renée Bolton: "Survivor: The Mental, Physical, and Emotional Struggles of Abuse."


Erin Dubich "7 Feminine Superpowers: Use Them to Rock Your Work and Your Life."


Maggie Zayas: "Reclaiming Me"


Karolina Buczek: "Setting Goals: Choose Where You Want to Go In Life."


Donna Smith-Ballinger: "The Only Thing That's Constant is Coffee: Transformational Leadership."


Jillian Johnston: "Fempower Yourself: Transforming Your Life Through Self-Love and Empowerment."


Alexandra Eisenberg: "Creating Community: A Female Affair"
Karishma Kamath & Bev Sleep: "Understanding Rape Culture and Gender Socialization in the U.S."
Shannon Sloan-Spice PhD: "Feminine Individuation: A Quest for Sovereignty"