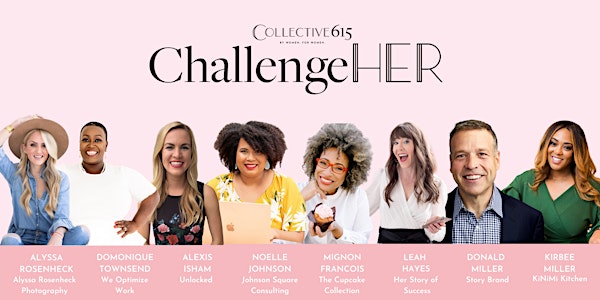 International Women's Day ChallengeHER to Change Nashville
COLLECTIVE615 INTERNATIONAL WOMEN'S DAY celebration with an exceptional line-up of speakers & vendor experiences!
When and where
Location
Ozari 3814 Charlotte Avenue Nashville, TN 37209
About this event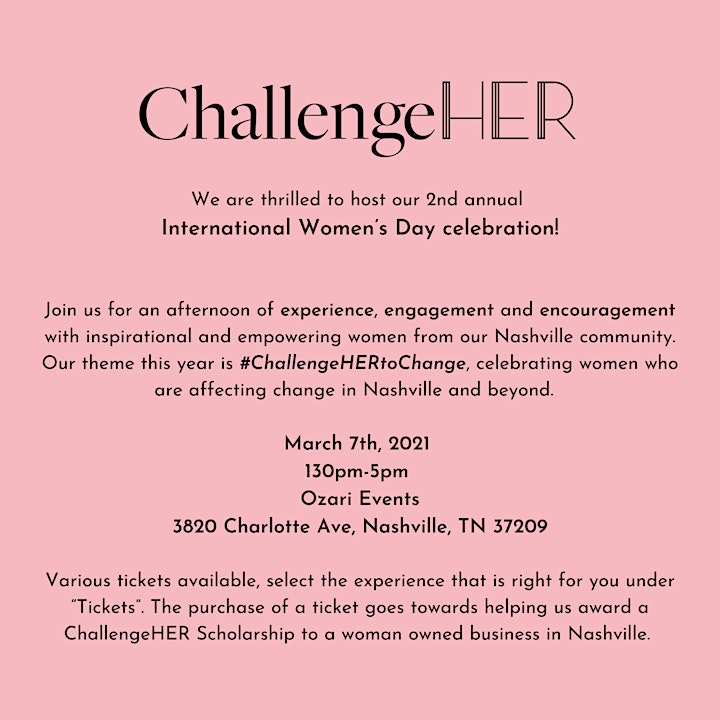 What is #ChallengeHER?
ChallengeHER is about intention and showing up to create change. We are bringing to the stage a line-up of Nashville's biggest movers and shakers who are contributing and providing opportunities to women in business.
GIVE BACK by attending IWD Celebration:
50% of your ticket investment helps us award a ChallengeHER Scholarship to a SHE/HER business owner of color in Nashville who's business has been negatively impacted by the March 2020 tornado, Covid-19 and/or the Christmas Day explosion downtown. The scholarship gives the recipient(s) a full time membership at Collective615 including financial support to invest in other women to help them scale their business.
You can nominate a female business owner for a scholarship, apply for a scholarship or become a sponsor by visiting ChallengeHER615.com
IWD Celebration:
Welcome our Special Guests:
Host Alyssa Rosenheck Author & Photographer of The New Southern
Live Podcast with Leah Hayes CEO & Host Her Story of Success in a panel discussion with Domonique Townsend Founder of We Optimize Work, Alexis Isham Co-Founder & Co-President Unlocked, and Mignon Francois Founder & CEO The Cupcake Collection
Keynote Donald Miller Speaker, Podcast Host, Author, CEO Story Brand and Creator of Business Made Simple University in conversation with Kirbee Miller Owner & Chef KiNiMi Kitchen
Training with Noelle Johnson CEO & Founder of Johnson Squared Consulting - Diversity, Equity & Inclusion
Event Agenda:
Reminder: arrive early to ensure enough time for your COVID-19 screening by TN Event Health for all guests upon arrival
Complimentary valet
11am - 12pm Diversity, Equity & Inclusion Training with Noelle of Johnson Squared Consulting (separate ticket purchase)
1230pm-130pm Early admission for CEO & DIRECTOR ticket holders to allow time to engage vendor experiences
115pm Doors Open ALL TICKETS
130-2pm Intro & Ice Breaker
2-230pm ChallengeHER Scholarship Program introduction
230-330pm Interview Panel Leah Hayes + Domonique Townsend + Alexis Isham + Mignon Francois
330-4pm Intermission Social Distancing Mix + Mingle
415-515pm Keynote Donald Miller + Kirbee Miller
515-6pm Vendor Experiences Open
**Not sure what experience you are looking for? We get it! See below for more information.
***VIRTUAL guests may view the event LIVE from the comfort of their homes by connecting on our FACEBOOK PAGE at 2pm on Sunday, March 7th.
****Special Thanks goes to our Member Sponsor
Ticket Experiences:
Reminder there are a limited number of tickets per level; this ensures we are able to comply with all CDC guidelines and keep our guest's safety as our #1 priority. The purchase of a ticket helps us award a ChallengeHER Scholarship to a woman owned business in Nashville, who has been affected by the March, 2020 tornado, COVID-19 or Christmas Day explosion downtown.
"Women Supporting Women"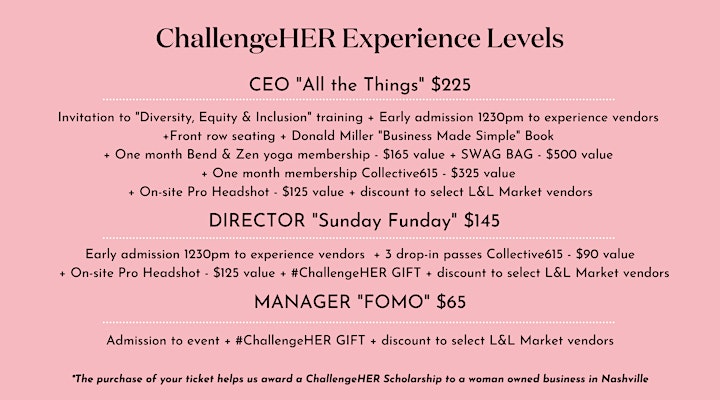 COVID-19 Unsure if you are ready to attend a live event? We get it. Showing up to an event with people you don't know in a pandemic can be scary and uncertain. Which is why our committee of bada*s event professionals are doing everything we can to deliver an exceptionally safe and healthy environment for all of our guests.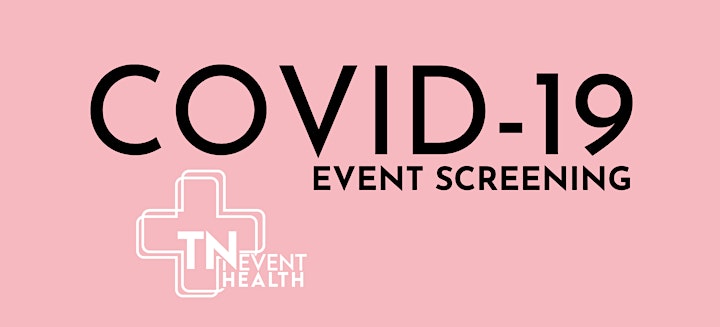 Here is how we are working (along with the TN Health Department) to ensure your safety:
Working directly with the TN HD to ensure full compliance with COVID_19 guidelines
Obtain approval from The TND to conduct an in-person experience within the parameters set to keep our guests safe, capacity compliance not to exceed 25% of the the event space capacity
COVID-19 Screening process for all guests and speakers facilitated by TN Event Health as first point check upon prior to entering the event
Masks required by all guests during the event
Sanitizer is supplied to all guests
Professional sanitization service throughout the event
Minimal physical contact touch points
For additional questions: check out our FAQ page! (coming soon)
Thank you to the following Vendor Sponsors, who helped make this event possible: more coming soon...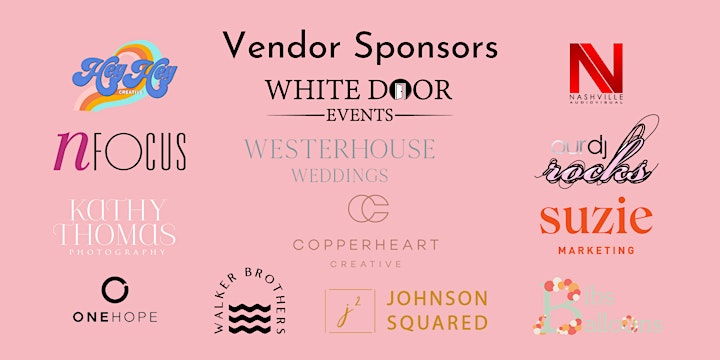 Vendor Experiences: more coming soon...
We want to give a special thank you to the State of Tennessee Health Department, they played a key role in helping us determine parameters around COVID-19 safe capacity allowance. One more "shout out" to TN Event Health for conducting COVID-19 Screening and contact tracing follow-up if needed. We believe every in-person event should have TN Event Health ensuring all guests are in a safe environment.