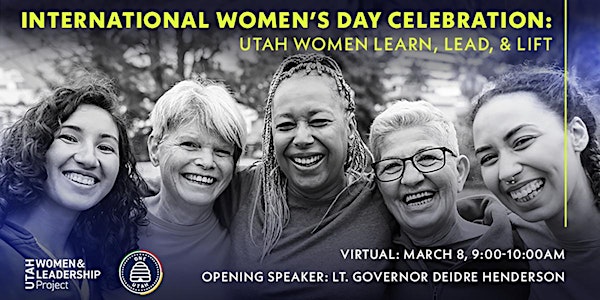 International Women's Day Celebration: Utah Women Learn, Lead, & Lift
Join us for an event celebrating International Women's Day where speakers will share their thoughts on learning, leading, and lifting.
About this event
Even though Utah has such a powerful history of women using their voices to change society for the better, in recent years Utah has consistently been ranked as one of the worst states for women's equality. However, Utah women are now emerging in vital ways that lift homes, schools, workplaces, communities, and society at large. As Margaret Mead famously stated, "Never doubt that a small group of thoughtful, committed citizens can change the world. Indeed, it is the only thing that ever has." As more Utah women collectively strive to use their unique gifts and capacities in ways that can positively transform society, all Utahns can rise together.
This event will be hosted and moderated by Nubia Pena (Senior Advisor for Equity & Opportunity to the Cox-Henderson Administration) and Dr. Susan Madsen (Founding Director, Utah Women & Leadership Project, Utah State University). A variety of entities are partnering together for this event including the One Utah Roadmap, Utah Women & Leadership Project, Division of Multicultural Affairs, Women's Leadership Institute, Utah Muslim Civic League, Women's Business Center of Utah, Women of the World, YWCA Utah, Utah Domestic Violence Coalition, Women Tech Council, and Utah Coalition Against Sexual Assault.
This one hour power-packed event will have many speakers from diverse backgrounds who will share their thoughts on learning, leading, and lifting. RSVP today!
MODERATORS:
Nubia Peña is the Director for the Utah Division of Multicultural Affairs where their mission is to promote an inclusive climate for Utah's growing diverse community through training, outreach, and youth leadership development. She is a national training consultant dedicated to bringing awareness to intersections of trauma and the school-to-prison pipeline. She received her Juris Doctorate from the University of Utah in May 2016, and she was one of 25 law students in the nation recognized for her social justice activism. Director Peña received the National Juvenile Justice Network 2019 Emerging Leader Award and is certified by the National Juvenile Defender Center as a Juvenile Training Immersion Program facilitator.
Dr. Susan R. Madsen is considered one of the top global scholars and thought leaders on the topic of women's leadership, has authored or edited eight books, and has published hundreds of articles, chapters, and reports. Her research has been cited in the U.S. News and World Report, The Atlantic, The New York Times, Parenting Magazine, Chronicle of Higher Education, and The Washington Post. She is also a regular contributor to Forbes and other local and state newspapers. Professor Madsen is the Karen Haight Huntsman Endowed Professor of Leadership in the Jon M. Huntsman School of Business at Utah State University and serves on many nonprofit and community boards. She is also the Founding Director of the Utah Women & Leadership Project, and her passion is to strengthen the impact of girls and women in Utah and worldwide.
SPEAKERS
Deidre M. Henderson became Utah's ninth Lieutenant Governor on Jan. 4, 2021. Prior to her election as Lt. Governor she served for eight years in the Utah State Senate. As a vocal champion of the underdog, Lt. Governor Henderson has used her time in public office to increase opportunities for small business owners, women, families, and underserved communities by identifying and removing barriers to success. Lt. Governor Henderson and her husband, Gabe, are longtime residents of Spanish Fork. They have five children, three sons-in-law, and two grandsons. She graduated from BYU in December 2021 with her Bachelor of Arts in History, inspiring other nontraditional students across the state to finish their degrees.
Noelle E. Cockett was appointed as Utah State University's 16th president in October 2016, beginning her official tenure in January 2017. At the time of the announcement, Cockett was serving as executive vice president and provost at USU and has held that position since 2013. Prior to that, she served USU as vice president for Extension, dean of the College of Agriculture and Applied Sciences, and director of the Utah Agriculture Experiment Station. Cockett joined USU in 1990 as a researcher and assistant professor in the College of Agriculture and Applied Sciences. Cockett has built a distinguished career in sheep genomics research, maintaining an active research program even while serving in various leadership positions at USU. Cockett grew up on a beef cattle ranch in eastern Montana and is married to John Cockett, director of technology in USU's Emma Eccles Jones College of Education and Human Services. Noelle and John have two children, Dylan and Chantelle.
Luna Banuri, Executive Director of the Utah Muslim Civic League, is a seasoned consultant with 25 years' experience in non-profit and for-profit sectors. Banuri has been recognized for advocating and fostering social justice policies based on diversity and inclusion. Her legal education and expertise evolved into a distinguished consulting practice for many organizations such as the World Bank. She has held multiple leadership roles managing corporate multicultural/inclusion initiatives and served as a member of Salt Lake City's Human Rights Commission and the Governor's MLK Commission on Human Rights. She is founder and director of TeleTaleem, a nonprofit enterprise focused on solving the toughest global development challenges in education in her native country of Pakistan. Luna is a fellow of the Salt Lake Chamber of Commerce "Leadership Utah" program and is a fellow of the USU's American Muslim Civic Leadership Institute.
Emma E. Houston currently serves in the role as Special Assistant to the Vice President of Equity, Diversity & Inclusion at the University of Utah and leads strategies for community outreach, staff engagement and program development. A longtime community member and social justice advocate, Emma is the former director of Diversity Affairs for Salt Lake County Government, former chair of the Utah MLK Jr., Human Rights Commission, and currently serves on the Utah COVID-19 Task Force, the Pastor France A. Davis Scholarship Board, PBS Utah and a member of the local chapter of Alpha Kappa Alpha Sorority, Incorporated®. Emma is the owner and CEO of Brighter Day Productions, LLC and holds a BS in Business Management and an MBA in Business Administration.
PANELISTS
Fatima Dirie was born in Barawa, Somalia, and raised in Kenya and Utah. She received a Master's degree in Social Work from the University of Utah. Fatima is passionate about advocating for human rights and social justice issues, empowering women and youth to be leaders, and educating people on refugee populations.
Patricia Jones became the CEO of the Women's Leadership Institute in 2015. Before that, as co-founder and former President of Dan Jones & Associates, she helped lead and manage the company. She also served in the Utah Legislature for 14 years, serving in leadership positions 12 of those years. She was a member of the Utah House of Representatives from 2000-2006 and the Utah Senate from 2006-2014, which included serving as the first female leader in either party and in either House. A University of Utah graduate in Communications, Jones currently serves on the Utah Board of Regents, National Education Association Foundation Board, the Salt Lake Chamber Executive Board, Zions Bank Advisory Board, Intermountain Healthcare Community Care Foundation, Dominion Energy Advisory Board, Chair of Governor's Education Excellence Commission, Garff Foundation Success in Education Board, among others.
Liz Owens is a womanist, feminist, multi-racial, multi-cultural woman of color from Utah. She serves as a community educator, gender justice and racial justice activist. Her multi-issue work is firmly rooted within a human rights and social justice framework with a focus on the intersections of power and privilege. Liz has experience working on issues that disproportionately impact women and with historically underrepresented individuals and communities including: women of color, transgender folks and their loved ones; refugees and immigrants, queer youth; and women involved in the criminal justice system, gangs and/or drugs, drug trafficking, sex-work and prostitution, and survivors of domestic and sexual violence, among many others. She currently serves as CEO of YWCA Utah where she leads the organization in meeting their mission of "eliminating racism, empowering women and promoting peace, justice, freedom and dignity for all."
Ann Marie Wallace started her career in hotel management and then launched her own small business. Because of this experience, she was hired by the Women's Business Center of Utah as a business consultant and provided advising to over 520 clients. She was then promoted to Director in 2013 and has taken the Center online and statewide, tripled the budget and staff, opened a second office, created new opportunities to access capital, and launched a directory of women-owned businesses. Ann Marie serves on Utah Governor's Women in the Economy Commission, the board and credit committee of Mountain West Small Business Finance, and credit committee for the Salt Lake City Economic Development Loan Fund. She holds a bachelor's degree in marketing from USU and recently earned a Certificate of Entrepreneurship through the Goldman Sachs 10,000 Small Business Program.