#ChooseToChallenge and #SOAR at #IWDAtHome2021 #IWDNashville #IWDCincinnati International Women's Day 2021
About this event
Broadcasting Live on YouTube, Twitch, and Facebook this Sunday, March 7th, 4PM EST/ 3PMCST!
Are you ready to celebrate International Women's Day2021 with us?
We are bringing an amazing program right to your home, with amazing expert speakers talking to us about Inclusion, Diversity, Allyship. Entrepreneurship, and The Arts and some of the best musical, dance, and spoken word talent in Cincinnati and Nashville.
We are livestreaming the entire event! So, get your IWDAtHome2021 Swag, plan your socially distanced watch party, and join us for an amazing evening, this Sunday, March 7th, 2021, from 4-8PM Eastern/ 3-7PM Central.
We are broadcasting live from the National Underground Railroad Freedom Center's Harriet Tubman Theater! The event is free, but we do ask that you secure your tickets early.
If you can, please consider making a donation to make sure that we can continue to bring you quality events every year. All funds donated go directly to cover the costs of putting on this free event. All co-chairs donate their time.
Check out the Party line up on our website: www.IWDAtHome.com
Check out our lineup of speakers and performers!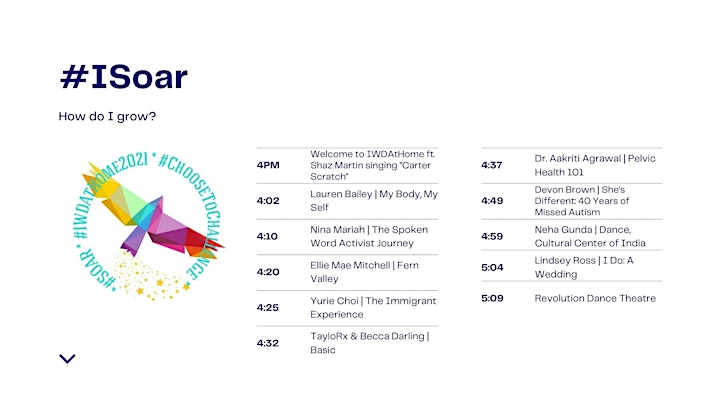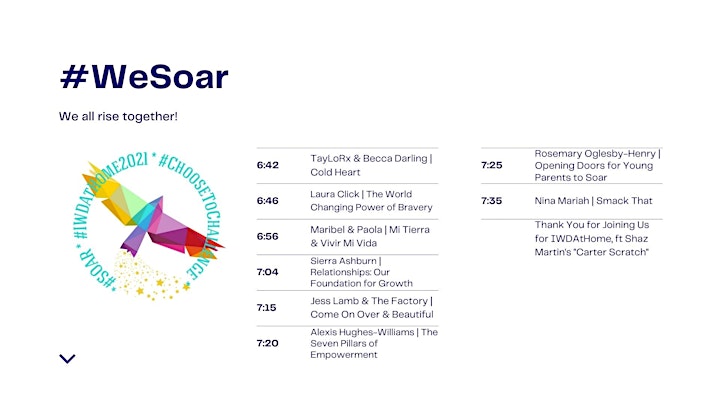 About International Women's Day, IWDNashville, IWDCincinnati, and IWDAtHome
Celebrated annually on March 8th, International Women's Day marks a call to action for accelerating gender parity while featuring the social, economic, cultural, and political achievements of women worldwide. It has been celebrated for over a century, with the first ever event held in 1911 with support from over a million people in Austria, Denmark, Germany, and Switzerland.
Having spoken at the 2017 and 2018 IWD celebrations, Alexis Hughes-Williams and Liz Delgado-Fitzgerald successfully launched the 2019 #IWDNashville event at The Parthenon, which was celebrated again in 2020.
For the 2021 International Women's Day event, they have partnered with Lauren Bailey and Lindsey Ross to launch a new event experience: #IWDAtHome, broadcast live from two cities, Cincinnati and Nashville, simultaneously, with an amazing cast of Speakers and Performers ready to #SOAR.
After the difficulties we leave behind in 2020, our IWDTeam returns, more dedicated to their goals, partnering with like-minded allies across the spectrum, and working to create a legacy of events, talks, and workshops meant to further our progress on the path toward gender parity.
#IWDAtHome2021 continues the work of representing women, girls, and members of every shade of the gender spectrum involved in helping our Cincinnati and Nashville Communities #ChooseToChallenge and #SOAR.
All funds donated go directly to cover the costs of putting on this free event. All co-chairs donate their time.