INTERNATIONAL WOMEN OF POWER BUSINESS SHOW 2015

Saturday, February 28, 2015 from 11:00 AM to 11:30 PM (GMT)
Event Details
LvLv Events Ltd is the Event Organiser and Planner of International Women of Power (iWoP) Business Show, a yearly Business Show to Showcase, by Feven Pro" href="#">Promote
and Celebrate successful female by Feven Pro" href="#">entrepreneurs
around the world in the United Kingdom. iWOP is an organisation that believes that every female by Feven Pro" href="#">entrepreneur
 with a desire to succeed and achieve greatness should possess a willingness to acquire the necessary skills and knowledge to reach their full potential. Our mission is to provide forums and events that allow us to by Feven Pro" href="#">share
and teach this message.
We are in our 3rd year and we are currently collaborating with a number of business partners on our 2015 Business Show titled Woman - "Top to Toes with your Dreams" for which we are inviting you to attend. This show is something that we are passionate about from both a personal and professional viewpoint. It will also assist us in making this Show an extra by Feven Pro" href="#">special
celebration also with a view to by Feven Pro" href="#">supporting
our chosen Charity, The  Breast Cancer Care UK, we will donate £1 for every by Feven Pro" href="#">ticket
sold.
Have you ever wondered whether or not you are operating your life and career at the optimum level by Feven Pro" href="#">earning
the right by Feven Pro" href="#">financial
by Feven Pro" href="#">reward
? You have the business knowledge, experience, and expertise to achieve great things in business or have by Feven Pro" href="#">started
to wonder if there is more to achieve or realised there are greater things to achieve?
by Feven Pro" href="#">Invest
In yourself... Never miss this Business show because it may be the opportunity you've been waiting for; you will network and have great moment with the speakers and other attendees. Read by Feven Pro" href="#">feedbacks
from previous attendees online. "Your Network is your Net-Worth"!
Are you ready to unfold your potentials and become the boss of your own lifestyle? Then, you need to attend this Business Show with 10 Amazing Female Speakers from diversed backgrounds across the globe.
iWOP BUSINESS SHOW 2015 Speakers are: -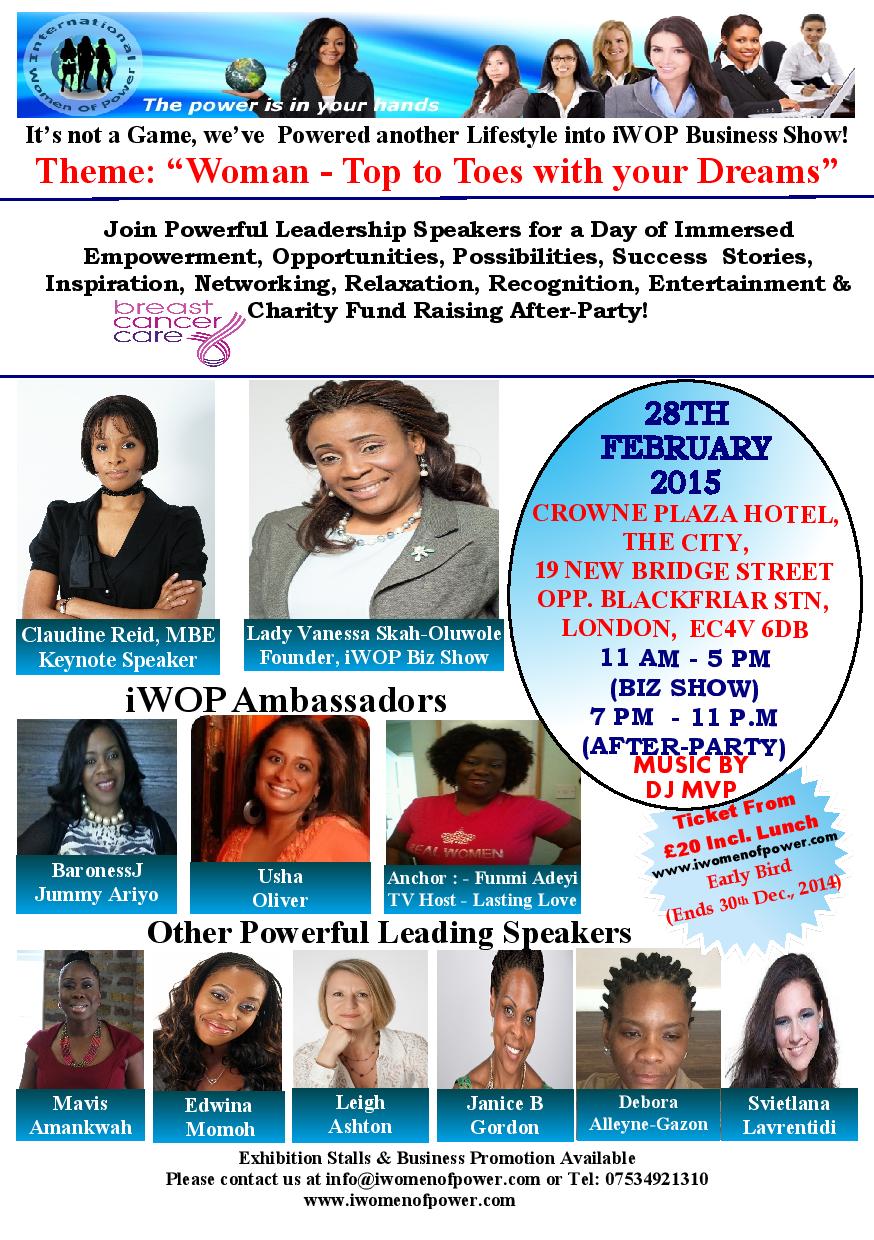 Read more about our Speakers on www.iwomenofpower.com
What inspired me most in my drive towards getting iWOP Business Show together and living my dream lifestyle was the fact that there are no limitations to what I could do and that is what I wish for all of you attending this show. This Business Show will show you the possibilities and open by Feven Pro" href="#">your
mind to opportunities and ideas that you may not have thought of. Please take the opportunities open to you when these speakers are taking their time to by Feven Pro" href="#">share
with you their knowledge, experience and expertise to help you get to where you want to reach in life faster with fewer mistakes, which is a by Feven Pro" href="#">gift
. All past attendees have prosper in their business and some of our Business Ambassadors have won prestigious awards from various organisations.
Now it is by Feven Pro" href="#">your
opportunity to Listen, Learn and Live your Life and by Feven Pro" href="#">reap the rewards
in your lifestyle.
There is an opportunity to exhibit by by Feven Pro" href="#">promoting
& showcasing your business to over 15 million viewers on TV with added benefit of getting a Recognition Award for your business at the Show.
Other Benefits are: -
- Mentioning in our media advert
- Advert inside our A4 Business Show Brochure
- Prominent Presence on our website for 1 year -www.iwomenofpower.com
- Distribution of business materials and insertion in 200 goody bags
- Networking Opportunity and Candle lit Dinner After Party
- This event guarantees to drive traffic to by Feven Pro" href="#">your
business, create business exposure and awareness within a short space of time.
It will be my pleasure to meeting each and every one of you and thank you to all our Speakers, Exhibitors and Sponsors for by Feven Pro" href="#">supporting
this dream.
One Love
Lady Vanessa Skah-Oluwole
Chaol Ghleann, Dunans Castle.
Founder, Int'll Women of Power Business Show
07534921310
FAQs
 What are my transport/parking options getting to the event?
Nearest Car park, Baynard House on Queen Victoria Street EC4V 6DB
By Bus: from Kings Cross Bus 63 or 45 to Blackfriar or  Bus100 from Liverpool Street
By Train: Blackfriar Underground Station or London Blackfriar Overground
 Is my by Feven Pro" href="#">registration
/ by Feven Pro" href="#">ticket
transferrable?
by Feven Pro" href="#">Your
by Feven Pro" href="#">Ticket
is transferable but you MUST email - info@iwomenofpower.com with the by Feven Pro" href="#">new
attendee's name, email by Feven Pro" href="#">address
and by Feven Pro" href="#">phone
number.
 Do I have to bring my printed by Feven Pro" href="#">ticket
to the event?
Yes; please print your by Feven Pro" href="#">electronic
by Feven Pro" href="#">ticket
for easy check in.
Is there by Feven Pro" href="#">Hotel
Accomodation?
Yes, with by Feven Pro" href="#">special discounted
rate for attendees.
What is included in the Exhibition Stall?
A trestle Table with White table cloth and Chair (s)
Packed Lunch 
by Feven Pro" href="#">Admission
to the Red Carpet Dinner
Goody Bag insertion
Logo on the Red Carpet Banner
Advert in the Events Magazine
Business by Feven Pro" href="#">Promotion
- Opportunity to speak (Diamond & Platinum)
Recogintion Plaque
When & Where

Crowne Plaza London - The City
19 New Bridge St
EC4V 6DB London
United Kingdom


Saturday, February 28, 2015 from 11:00 AM to 11:30 PM (GMT)
Add to my calendar
Organizer
 About LvLv Events Ltd
LvLv Events is a London based events and entertainment management company that deals with every aspects of events and entertainment such as Event Mgmt. & Designing, TV Interviews, Exhibitions, Mentorship and Workshops.
LvLv Events has come through recession, doing better than many competitors, and the company has achieved significant recognition for organising the Annual iWOP Biz Show at the prestigious Central Hall Westminster Abbey in its 1st year with highly successful 300 women in attendance & promoted to over 15 million on TV and 2nd year at the Holiday Inn Regents Park London. She Co-organises UK Black, Asian, Minority Entrepreneurs & Professionals have over 350 members within 18 months. 
LvLv Events & Designing Academy is a Bi-yearly Venue Styling Workshops in floral, Balloons & Drapery Artistry workshop organised by vanessa since 2010.  Vanessa have helped over twenty new businesses in U.K by training, mentoring and coaching the Business Owners in the art of Events Decorating since 2010 and her company have decorated over 500 social and corporate events since establishing the business in 2008 including The Olympic Dinner Party organised by the Nigerian Embassy in 2012, The Enfield Mayoral Ball, Park Inn Hotel Thurrock Xmas Parties, Obi of Onitsha Royal Wedding, Women for Africa Awards 2012 & 2013.
LvLv Events also co- founded and organises the Annual Nigerian Events Awards UK. 
LvLv Events won Exemplary Business Awards by Life Changer for her Networking Platform (Black, Asian Minority Entrepreneurs) Mentoring and empowerment role (IWOP Biz Show) in UK, Star Awards from the Lift Effect Organisation, finalist at Women4Africa Awards 2013 & 2014 and Nominee for the National Diversity Awards UK 2014.
Events Publicity Company
Great Rapid Leap is a Branding, Marketing & Creative Business Solution Company providing bespoke tools for small businesses to be seen.  We first started as an event organisation with over 20 years within the team and have built our list of happy clientèle over the years, helping small scale businesses to be noticed in a competitive business world.
Out of the need for our clients requesting an all-in-one solutions in one place for their business needs we realized the gap in the market where small businesses wanted help to get them leaped over to the next level of their business at an affordable price.
Today we provide a service second to none where businesses can have a all-in-one solution to help their business gain a competitive edge in the market.
We brand and market your business or events to appeal to the public at a very competitive rate.
Read more about us at www.GreatRapidleap.com