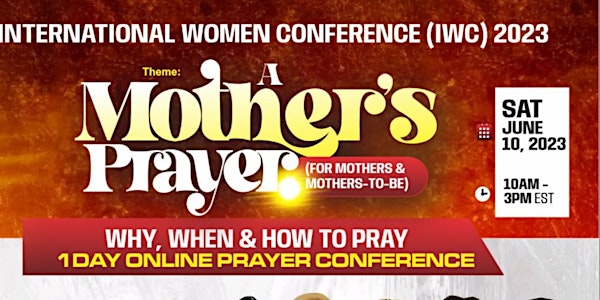 International Women Conference (IWC) 2023
1 Day Online Prayer conference for Mothers & Mothers to be led by Seven (7) Prayer Warriors who are mothers and grandmothers
By MyFaithTVNetwork International Inc in conjunction with Go Global Conferences
Date and time
Saturday, June 10 · 7am - 12pm PDT
About this event
IWC 2023 - INTERNATIONAL WOMEN'S CONFERENCE 2023
DATE: SAT JUNE 10 2023
TIME: 10AM - 3PM EST
ONLINE , ZOOM
👇
At this 13th year conference we are focussing on praying agressively for our children AS MOTHERS & MOTHERS TO BE!
The enemy is out to attack our children to cause us pain and suffering. Some mothers have suffered heart wrenching losses already with the death of young children, young adult children in colleges & young adult children just starting life as young adults & new parents. THIS MUST STOP! 🙆
We must use our powers as (2 Tim 1: 5) praying mothers & grandmothers (Isa 49:15a) to come collectively TOGETHER (Deut 32:30) and reinforce the hedge around our children and grandchildren and cover them all round from the attacks of the evil one.
WE DECREE & DECLARE THAT
✅ None of our children/ grandchildren will be handicapped by illness, rejection, frustration, bullying or subject to shame, ridicle or targeted for evil.
✅ We must break open their heavens via prayers, make ways for fruitful relationships, business sucess and generational wealth for our children and grandchildren.
This event is a FREE EVENT 💥
✅ IF YOU HAVE CHILDREN/ GRANDCHILDREN you have to SET APART THESE FIVE (5) HOURS to pray with violent & serious passion with these anointed SEVEN (7) Prayer Warrior Mothers & Grandmothers.
✅ IF YOU ARE WAITING TO BECOME PREGNANT OR BECOME A MOTHER..you cannot afford to miss this ATMOSPHERE OF VIOLENT PRAYERS to provoke your pregnancy for your miracle baby to come!🙋
REGISTER TODAY
PARTICIPANTS INFORMATION
a.Fast at least 1 day before the event that your prayers at this event will be answered speedily
b. Write out EXACTLY 5 prayer points you eill be praying dor your children/grandchildren at this meeting
c. Arrange to be in a quiet place ( away from family & distraction) that you can cry and shout as you feel led during the conference
d.Get bottles of water ready to drink during the event
e. Get a small bottle.of oil that you will pray into during the event that you will take away to anoint your children/ grandchildren
🎉REGISTER RIGHT NOW 🎉
1. Register on the event page & a zoom link will be sent to you to attend the event
2. Send a phone number reachable on WHATSAPP to +1- 678 886 5117 to recieve FREE 5 Digital books on Warfare prayer, Mothers prayer, Praying for your children, Scriptures to use for prayer for children and general prayer book that you can read before the event.
3. Send this event page link to at least 10 mothers/ grandmothers and groups you belong to invite more mothers/ grandmothers to join the prayers.
LET US CREATE AN ATMOSPHERE OF RADICAL PRAYERS FOR OUR CHILDREN/ GRANDCHILDREN
✅ None of them will die in our face.
✅ Every one of them shall be successful and ✅ We as mothers and grandmothers will all eat the fruits of our labors on them.
IN JESUS NAME 🙏
NO PRAYERS ARE TOO MUCH! 🙋
For more information contact
Tel: 678 532 5116
Info@myfaithtvnetwork.com
www.myfaithtvnetwork.com
About the organizer
MyFaithTVNetwork International Inc  an Atlanta based non profit organization in conjunction with Go Global Conferences organises periodic workshops, trainings and conferences.

www.myfaithtvnetwork.com     www.goglobalconferences.com