Sex Worker Rights Digital Rally Live from NYC
About this event
International Whores' Day 2020 is a celebration of the resilience of our intersectional sex working communities as we continually provide mutual aid to one another.
Digital Rally
On June 2, 2020, to honor the 45th International Whores' Day (IWD), sex workers of New York City are staging a digital rally to join the annual protests that take place globally.
RSVP for updates and reminders.
Join us on this historic day!
We invite all sex workers, sex worker-led organizations, and allies to join us by tuning into our live-stream event and flooding social media with survival stories during this global pandemic -- wearing RED, our color of pride and protest.
What to do on June 2
LIVE-STREAM: Tune into our live event 12-2pm on internationalwhoresday.com to watch NYC sex working organizers speak on how they are surviving and caring for their communities.
DIGITAL RALLY: Join the rally by flooding social media with selfies, photos, graphics, or art heavily featuring RED, the color of sex work pride and protest, using the hashtag #IWDNYC2020
WEBSITE: Visit the IWD website to find crisis-care resources, a global list sex work orgs and events, sex worker art, and historic IWD information.
ZINE: Download the International Whores' Day Zine for art and information conveying our plight under the racist, anti-immigrant, classist, homophobic, transphobic, and misogynistic current U.S. laws.
Speaker Lineup
Support & Share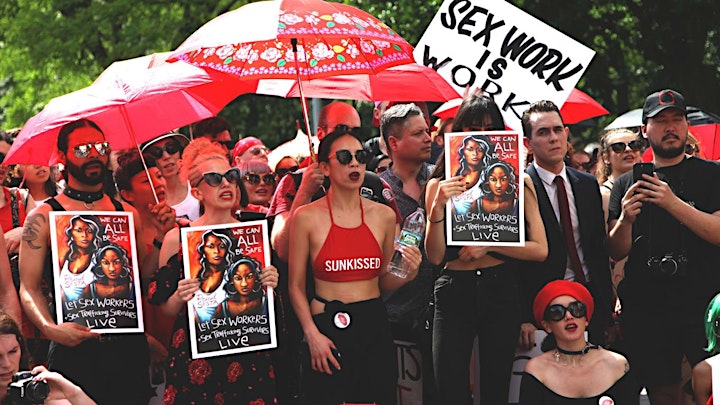 IWD History
IWD is an event that started in Lyon, France in 1975 when over 100 sex workers protested the violence and police brutality targeting their livelihood. In 2020, with the Internet now a site of displacement and resistance, we are protesting the state violence, racism, and stigma-based discrimination that still targets our working communities.
Our Protest
During this time of social distancing, we are all experiencing an urgency and fear that puts space between our bodies, suspicions in our minds, and isolation in our spirits.
This is how sex workers experience the world on a constant basis.
The livelihoods of trans, queer, and femme-identified workers -- those who depend on sex work as a means of sustenance and survival -- have been policed, violated, banned, and incarcerated throughout history. Entrepreneurial and persistent, sex workers were one of the first communities to create communications and commerce platforms online. The web, a "free space," allowed workers to privately solicit and screen clientele from the safety of their own quarters, and create a community of emotional support, skill sharing, resource gathering, and dangerous client alerts.
U.S. government policies, specifically SESTA/FOSTA, have now taken away these Internet safe spaces by penalizing third-party platforms, censoring the web, and driving exploitative perpetrators further underground; putting consensual adult sex workers and victims of abusive pimping further at risk of violence and incarceration.
During the COVID-19 crisis, as citizens practice the protective measure of staying clear of public spaces, all socializing, information sharing, and work communications are online. And yet, another bill, EARN IT, is looming that will further censor our communities and rights to privacy.
We are calling for the decriminalization of sex work, decriminalization of survival, and protection of labor conditions. Sex worker rights are human rights.
We invite sex workers to tell your stories. What you do, what you need, and how we can support your survival.
******
ABOUT FOSTA/SESTA & EARN IT
In April 2018, FOSTA and SESTA were signed into law. Created to fight online sex trafficking, FOSTA/SESTA INSTEAD have compromised the livelihoods and safety of marginalized individuals in the sex trade AND pushed those victimized by exploitative perpetrators further underground. The online tools and platforms which consensual sex workers depended on to survive have been shut down one by one, forcing individuals to work in unsafe conditions.
EARN IT, an expansion of SESTA/FOSTA, is aggressively geared toward surveillance and government anti-encryption. A 19-person commission would set government control of online speech, which digital security experts believe is a thinly veiled attempt to mandate encryption backdoors. In practice, this ends encryption. We are still experiencing the ramifications of FOSTA/SESTA – we cannot double down on these harms.
ABOUT IWD NYC 2020 COALITION
The IWD NYC 2020 Coalition is comprised of NYC-based Sex Worker Rights organizers who have come together with Kink Out to collaborate. We are led by Sex Workers and supported by allies. Sex Worker Rights activism relies on art and storytelling to spread public awareness of our issues and urgencies. Member orgs include: Bluestockings Bookstore, Cafe, & Activist Center, Colectivo Intercultural TRANSgediendo, DecrimNY, G.L.I.T.S., Hacking//Hustling, Kink Out, Make the Road NY, Red Canary Song, Support Ho(s)e, Survived + Punished, and SWOP Brooklyn. internationalwhoresday.com | @iwdnyc
ABOUT KINK OUT
Kink Out produces empowering events that bring people of intersectional identities with lived experience in BDSM and sex work together to share art, activism, work, and conversation. kinkoutevents.com | @kinkoutevents