Description
International Trade Conference

Join Representative John Curtis on Thursday, October 18, 2018, for an International Trade Conference. Learn how trade and tariffs impact your business in Utah and what you can do about it, hear straight-talking insights and lessons learned from local e-commerce businesses who have taken their business global, participate in exporting workshops, and hear from a tariff panel moderated by Rep. John Curtis. This conference is for merchants, manufacturers, retailers, consultants and government agencies looking for actionable takeaways they can apply to their business immediately. Please register and reserve your spot today! Seats are limited.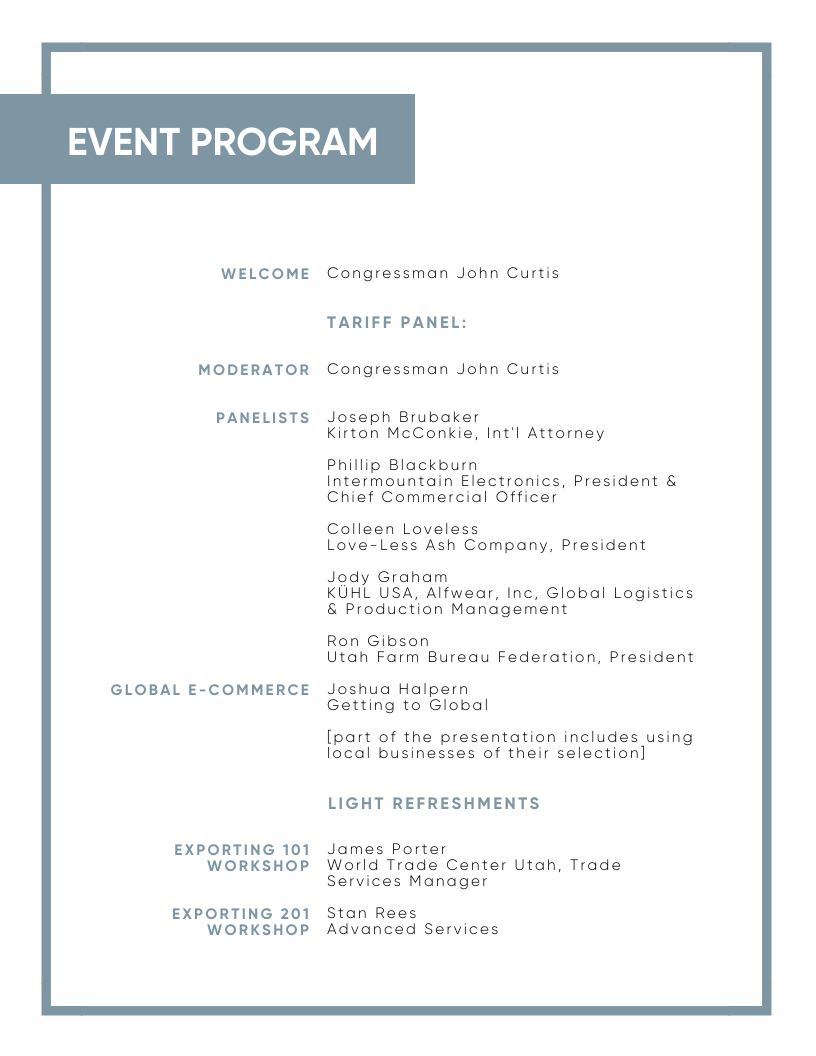 Getting to Global
Building on the success of the "Getting to Global Interview Series", Getting to Global (GtG) brings you this interactive conference that helps companies develop a strategy for taking their online business global. Learn from the leaders in the space about what is and isn't working for them and leave with actionable takeaways.
Joshua Halpern, Executive Director of the Getting to Global Initiative will take the stage to help companies understand the essential building blocks for an overseas online expansion strategy and conduct live interviews with leading global e-commerce experts from your local area.
• Why Global? Where do I start?
• What can the data show me about my specific market opportunity?
• What are the best tools and platforms to use to get started?
• How do I optimize my overseas sales strategy?
• What are common cliffs I need to avoid?


Speakers & Panelists
Joshua Aiken

Zonos

Chief of Staff

Phillip Blackburn

Intermountain Electronics

President and Chief Commercial Officer

Joseph Brubaker

Kirton McConkie

Attorney

Marc Christensen




Entrepreneur and Regulated Markets Wholesale Distribution Specialist

Ron Gibson

Utah Farm Bureau Federation

President

Jody Graham

KÜHL USA, Alfwear, Inc

Global Logistics and Production Management

Joshua Halpern

Getting to Global Initiative

Founder & Executive Director

Colleen Loveless

Love-Less Ash Company

President

Jim Porter

World Trade Center Utah

Trade Services Manager

Stan Rees

Advanced Services

Advanced Services
GtG Partners