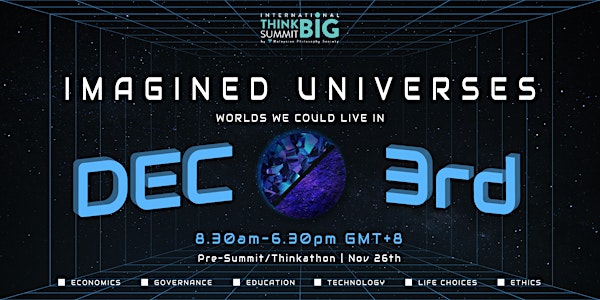 [International Think Big Summit]Imagined Universes: Worlds We Could Live In
Journey into the Multiverse of Possibilities at the International Think Big Summit 2022, exploring and building a more ideal world for all.
Refund Policy
Refunds up to 7 days before event
About this event
Malaysia's largest gathering of Thinkers, Innovators and Changemakers is back in 2022! This year, we reimagine norms and realise new ways to live.
The International Think Big Summit is an annual gathering of leading luminaries and changemakers worldwide to promote a critical thinking and liberal culture in Malaysia and beyond.
Event Details
🗓 Main Summit: December 3 (Saturday), 8.30am - 6.30pm, GMT+8
🗓 Pre-Summit/Thinkathon (exclusive to Premium participants): November 26 (Saturday), 9am - 4pm GMT + 8
💻 Virtual (Zoom Events)
🎟 Ticket Prices: Regular (RM 40), Premium - Thinakthon Speaker (RM 30), Premium - Thinkathon Spectator (RM 50)
🌟 Sponsors: CIS (Silver Sponsor) and various individual sponsors from Khazanah Nasional (Gold Sponsors).
Why Imagine Bolder?
For the majority of our life, we live and shape our worldview based on "what is" — what's good, what's bad, what's right, what's wrong, what's expected, what's normal…
What if…there are alternative ways of living, learning, loving, working, socialising, and coexisting with one another?
At the International Think Big Summit 2022, we will join forces with world's top luminaries and changemakers, to explore the philosophy of the "might be" rather than the "is", in doing so we hoped to fire everyone's imagination to envision a better and brighter future for all in various aspects of life.
How?
Imagine. Imagine alternative universes with world-leading thinkers, policy makers, changemakers and activists.
Be informed. Be informed with the transformative works done by local and international bodies in an immersive expo.
Get involved. There are a few ways you can get involved in building a better world for all:
Engage in mind-stimulating talks, debates and networking sessions with changemakers worldwide,
Participate in a diversity of learning hubs with our partners worldwide at our expo, to explore better, alternative perspectives and solutions to existing socio-personal problems and dilemmas,
Join our Thinkathon experience: A Philosophical Hackathon through Space and Time as a speaker or spectator. Put your thinking skills into work to solve real-world interpersonal and ethical issues. Walk away with book vouchers and cash prizes worth up to RM1700 and get certified for your critical thinking skills.
*Limited availability. Thinkathon sign-ups will be based on a first come, first served basis. Register an early bird/premium ticket to participate.
(*Thinkathon speakers tickets are non-refundable to ensure fair tournament match-up.)
Universes at a Glance
🪐 Life Without Regrets: A Mere Dream or Possibility?
👤 Professor Jay Wallace, Distinguished Professor of Philosophy, UC Berkeley
From the Great Reshuffle to the general restlessness of society, we are increasingly faced with alternative life choices. And we are always left either overwhelmed with life choices or regretful for not having treaded a separate path.
This event aims to explore the big question of how we should live in the face of 'what-if's and potential regrets.
🪐 Unfettered Growth: A Race to the Bottom
👤 Dr. Alan Marshall, lecturer of Environmental Social Sciences, Mahidol University
👤 Dr. Dennis Goerlich, heads the program team at the Global Solutions Initiative
👤 Nick Khaw, Economist and Head of Research at Khazanah National
The current climate state, widespread burnout and a general decline in mental health have clearly shown that our obsession with economic and material growth is harming us.
This event aims to reevaluate the groundwork for our economic system–the very emphasis on material growth–and explore how we could structure our values and priorities as well as break away from the very flawed assumption that growth creates all good things in life.
🪐 WWW: Whose World Web?
👤 Yasmin Al-Douri, co-founder and co-director of Responsible Technology Hub,
👤 Prof Carl Mitcham, philosopher of engineering and technology, Colorado School of Mines
We know it's coming: Web 3.0, decentralised blockchain, Internet powered by AI, and what they hope to bring about: a better Web–a cyber utopia. However, is this the direction the Internet should head towards? Is there possibly another Internet future that better tailors to our society?
This event aims to invite the audience to rethink their attitude in regards to the direction that our Internet is heading towards, and reassess the power the Internet has over us.
🪐 Malaysian Pedagogy: Made to Oppress
👤 Chan Soon Seng, CEO of Teach for Malaysia
👤 Datin Noor Azimah Abdul Rahim, Chairman and Founder of Parent Action Group for Education Malaysia (PAGE)
Rigid marking schemes? Mere regurgitation of facts? Student ranking system? These are but some of the oppressive features we have internalised as "normal" and "acceptable".
This event aims to dissect the problem of intellectual oppression in Malaysia, and how we can concoct the ideal yet feasible Malaysian education for us and our children, by involving key decision-makers and activists in the field.
🪐 Malaysia's Promised Lands: Doomed to Fail?
👤 Nurul Izzah Anwar, incumbent Member of Parliament for Permatang Pauh, KEADILAN Spokesperson for the Ministry of Women, Family, and Community Development
👤 Sharan Raj, socialist and a former Central Committee for Parti Sosialis Malaysia (PSM),
👤 Halmie Azrie Abdul Halim, researcher for democracy and governance at IDEAS,
👤 Aliff Naif Mohd Fizam, Chief Coordinator of the youth-led leftist organisation, the Social Democrat Organisation.
Why, if every political ideology motivates its moves based on utopian ideals, are we still living under a governance where corruption, poverty, and marginalisation still prevails?
This event aims to look into the ideals of our political parties without the political drama, and offer the audience the opportunity to challenge the fundamental assumptions of these ideals, and discuss what a foolproof utopian Malaysian society would look with local politicians and thinkers.
🪐 Philosophical Coaching (exclusive to Premium Participants)
👤 Joe Tyler, philosophy wizard and coach, Philosophy Foundation
What Will I Gain?
✨ Network with leading changemakers worldwide and get involved in the transformative works they are doing.
✨ Engage in meaningful discussions and discovery sessions with local and international thinkers and leaders to reshape our lives and community for the better.
✨ Upgrade your critical thinking skills with 2 days of mind-stimulating events.
✨ Give yourself a chance to relive your life with alternative perspectives and pathways.
Join us to explore the #ImaginedUniverses you could live and thrive in at #ITBS 2022.
🔗 ✅ For more information, visit: https://itbs.myphilsoc.com/
Learn more about our Pre-Summit Thinkathon here.
For quick and convenient updates of the event, follow our social media pages: Instagram | Facebook | LinkedIn
*Note: A PayPal account is NOT required to register for the event.