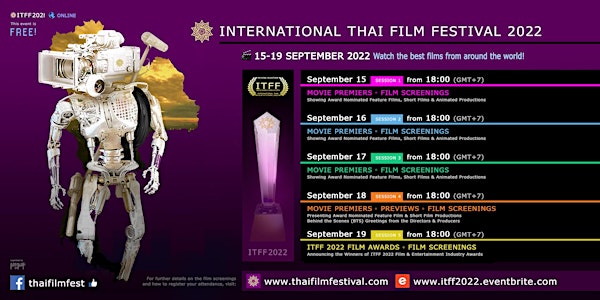 International Thai Film Festival 2022
Screening the best films from around the world, plus film previews & reviews and the ITFF 2022 Film Awards!
About this event
The International Thai Film Festival 2022 (ITFF 2022) online film event presents what the world of cinema can truly offer, screening a wide variety of inspirational and meaningful films from around the world. ITFF22 is showing a colorful selection of new, fresh, quality short films, animations, music video productions and feature films in various genres. The event concludes with announcing the winners of the ITFF 2022 Film & Entertainment Industry Awards. The language of the event is English, all the films screened at the event are in English and/or have English subtitles. Please be advised that the program of this event is mature audience oriented and not recommended for children! This event is FREE of charge! Get a ticket/register your attendance to receive the Link & Password to access the event [Then we will send you the Link & Password (to that email address you registered with) to access the Event Page. NOTE: You will receive the email with the Link & Password directly from us (contact@thaifilmfestival.com) and NOT from Eventbrite's email.] The event starts at 6pm (GMT +7) on the 15th of Sept and all films will be available for viewing online until the 25th of Sept 2022. Join us, watch and discover inspiring and meaningful film productions, and find out who will win the ITFF Awards this year!
To know more about ITFF, please visit www.thaifilmfestival.com (The event will be available on the ITFF site at the time of the event.) To keep you up-to-date with ITFF, news and opportunities, please follow our Facebook page at www.facebook.com/thaifilmfest