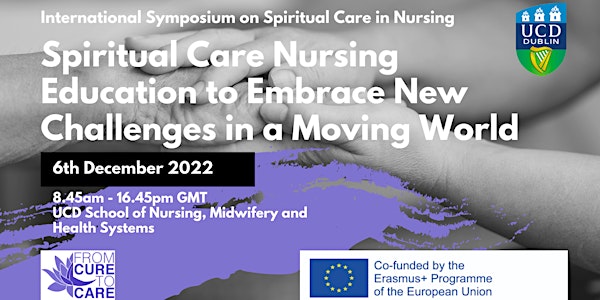 International Symposium on Spiritual Care in Nursing
Location
Health Sciences Centre
UCD School of Nursing, Midwifery and Health Systems
Health Science Centre, UCD Belfield Campus
Dublin
Ireland
Title: Spiritual Care Nursing Education to Embrace New Challenges in a Moving World
About this event
Part of the ERASMUS+ PROJECT "FROM CURE TO CARE - DIGITAL EDUCATION AND SPIRITUAL ASSISTANCE IN HOSPITAL HEALTHCARE"
With the participation of international keynotes speakers from Italy, Spain, Wales & Ireland
Spiritual Care is now recognised as a key area of nursing practice. In a secular and multi-religious environment, nurses are invited to take care of each patient in a unique and holistic way by addressing their spiritual needs and concerns. This is particularly true in times of existential crisis where identity, values and meaning are shaking. The COVID 19 pandemic has replaced spiritual care at the core of holistic care by highlighting the importance of compassion and presence, and the need to assess and respond to patients' spiritual distress. The recent displacement of millions of Ukrainians also highlights the need for holistic and spiritual care to promote not only physical health but mental and spiritual health as well. Because the challenges of our moving world require for the next generation of nurses to address new and complex spiritual challenges, this symposium aims to promote the latest initiatives in Spiritual Care Nursing Education and to reach a better understanding of current and future challenges.
Schedule
08:45-09:00 Introduction, by Professor Fiona Timmins, Dean and Head of School, School of Nursing, Midwifery and Health Systems, UCD & Professor Cecily Kelleher, College Principal, UCD.
09:00-09:10 A moment of spiritual meditation by Karen Ward
09:10-09:30 discovery of spiritual Irish roots by Professor Kelly Fitzgerald
09:30-10:30 1st Panel. How the COVID 19 pandemic highlights the need for spiritual care nursing education?, by Associate Professor Michael Connolly, Professor Linda Ross, Professor Wilf Mc Sherry , and Shauna Sweeney 1
10:30-11:00 Tea and Coffee break
11:00-11:30 What are the theoretical requirements to build an international and interdisciplinary educational program in Spiritual Care?, by Professor Stefania Palmisano & Matteo di Placido
11:30-12 Updates on UCD's From Cure to Care module and the importance of simulation videos in Spiritual Care training, by Professor Fiona Timmins & Nicolas Pujol
12:00-14:00 Lunch break
14:00-14:10 A moment of spiritual meditation by Professor Kathleen Neenan
14:10-14:30 Reflections on leading Spirituality Research and Innovation Professor Jacqueline Whelan
14:30-15:30 2nd Panel. Spiritual and mental health support for displaced people , by Professor John Wells, Dr PJ Boyle & Professor Sinem Uzar Ozcetin1
15:30-16:00 Tea and Coffee Break
16:00-16:30 Progressive loss, spirituality and rituals: taking care of the caregivers, by Professor Daniel Burgos
16:30-16:45 Conclusion by Professor Fiona Timmins