International Symposium on Employability and the Learner Profile (ISELP)
Description
The needs of employability, and life, are urgent questions which humanity needs to resolve decisively. Yet Higher Education's graduation requirements are biasing the school curricula in both visible and subtle ways, and thus preventing students from acquiring important Knowledge, Skills and Character qualities necessary for a modern world.
We invite you to join us this international symposium where the following questions will be explored:
What are the similarities and differences between OECD countries, as far as tertiary entrance requirements are concerned? What are the best practices, and do they provenly not bias primary/secondary education?

What are the possibilities to modify assessments to match the desired outcomes? What does an expanded Learner Profile look like? How can formative assessments and badges/certifications be used appropriately?

What exercisable leverage does tertiary accreditation hold, in helping or hindering change?

If governments do not react fast enough, should corporations drive the emergence of a 'double bypass" mechanism, to accelerate the drive towards a fairer, wiser system? Are there already emerging strategies being put in place by leading corporations?
Please download the BIAC position paper here
Limited capacity, please reserve asap.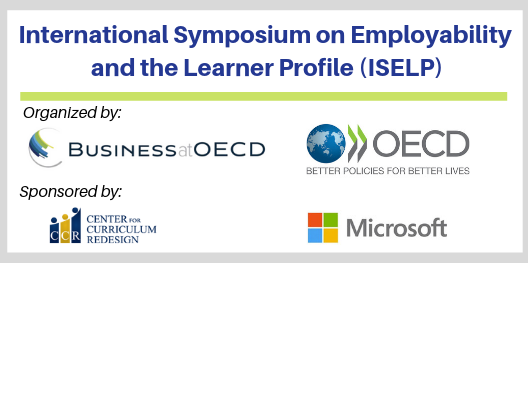 Agenda as Follows:
8:30 – 9:00 Coffee/tea and light pastries
9:00 – 10:00
Introductions, welcome, setting the stage
Greetings and setting the stage (5 mins): Charles Fadel, BIAC Chair of Education committee

Greetings (10 mins): TBD Microsoft as host, re importance of conversation to business

Presentation (30 minutes): Employability in the age of Artificial Intelligence (Charles Fadel, BIAC)

Presentation (15 minutes): Importance to OECD countries (Andreas Schleicher, OECD)


10:00 – 11:00
Panel* 1: Global comparisons of university entrance systems and views from leading-edge employers

Panellist 1: Dirk Van Damme, OECD

Panellist 2: Riikka Heikinheimo, Conf

ederation of Finnish Industries

Moderator: Tony Mackay


11:00 – 11:30 Coffee Break


11:30 – 12:45
Panel 2: The need for sorting in Higher Ed admissions offices: how do we expand the Learner Profile without "breaking the bank"?

Panellist 1:

TBD NACAC

Panellist 2: Stacy Caldwell, MTC

Panellist 3:

Sarah Maddison,

Swinburne University

Moderator: Charles Fadel, BIAC


12:45 - 13:45 Lunch On-Site


13:45 – 14:45pm
Panel 3: Changing the Assessments to change the behavior, and focusing on qualifications
Panellist 1: Andrea Gray, NZQA

Panellist 2: Yuri Belfali, OECD PISA

Moderator: Tony Mackay, NCEE


14:45 - 15:05 Coffee / tea break


15:05 – 16:15
Panel 4: Could Accreditations provide the higher leverage?

Panellist 1:

Tala Khudairi,

Babson Global

Panellist 2: Bradley Shrimpton, International Baccalaureate

Moderator: Charles Fadel, BIAC


16:15 – 17:15
Panel 5: "Double Bypass" strategy: should technology firms provide alternative strategies that accelerates change?
Panellist 1: Maria Langworthy, Microsoft

Panellist 2: Ulrik Christensen, Area9

Moderator: Charles Fadel, BIAC


17:15 – 17:30 Final Comments & next steps; audience polling: Charles Fadel (BIAC) and Tony Mackay (NCEE)
* All panels format is moderator + panellists
Organizer of International Symposium on Employability and the Learner Profile (ISELP)