Description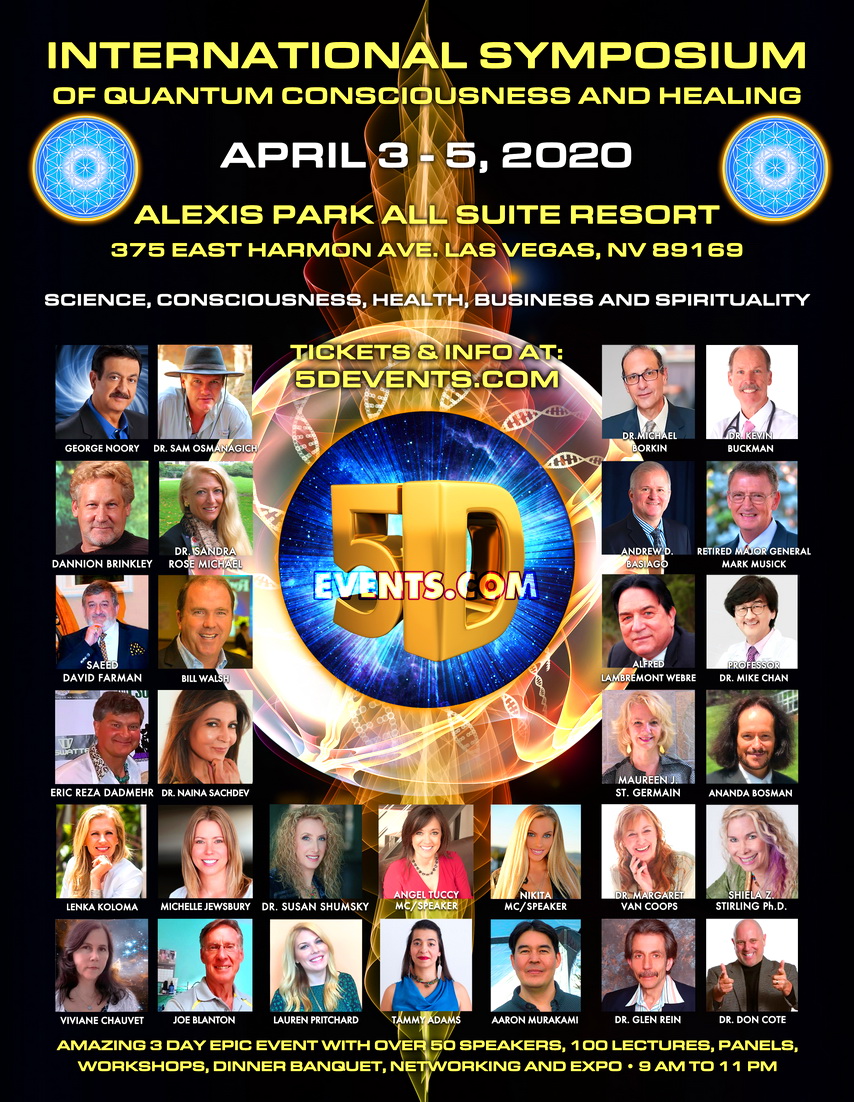 INTERNATIONAL SYMPOSIUM OF QUANTUM CONSCIOUSNESS & HEALING
APRIL 3-4-5, 2020 from 9 AM to 11 PM
Alexis Park All Suite Resort, 375 E. Harmon Ave, Las Vegas, NV 89169
5D Events the amazing Events with 5 Dimensions of Science, Consciousness, Health, Business & Spirituality invites you to their 23RD epic 3-day event in Las Vegas.
Website: http://5devents.com
Speakers List & Bio:
Page 1: http://5devents.com/id142.html
Page 2: http://5devents.com/id139.html
Page 3: http://5devents.com/speakers.html
***Event hours: Registration starts at 8 AM and Event starts at 9 AM on Friday April 3RD it goes until 11 PM, Saturday from 9 AM to 11:00 PM and Sunday from 9:00 AM to 8:00 PM.
Exhibits are from 9 AM to 7 PM daily and Friday starts at 11 AM
This Event has 4 speakers speaking at the same time in 4 Ballrooms.
Main Conference Parthenon Ballroom: 300 seats
Other halls: Zeus: "A": 150 Seats Zeus "B": 75 Seats Zeus "C": 75 seats
The estimated number of attendees for 3 days is 2000 people.
***Hotel sleeping rooms
Call reservation office at 800-582-2228 (in the Continental United States) or 1-702-796-3322
Hotel Website: www.alexispark.com
The EXPO Exhibit Hall is by Donation open to both professionals and consumers or public above 18 must register online.
Event tickets:
Door Tickets are $299, FOR FULL EVENT 3 DAYS (Dinner Banquet on Saturday Night is &69)
Meet and greet party on Friday night is $25 and Saturday Dinner banquet is $69 extra.
Friday Door Ticket: $79, Saturday Door Ticket: $139 & Sunday Door Ticket: $99