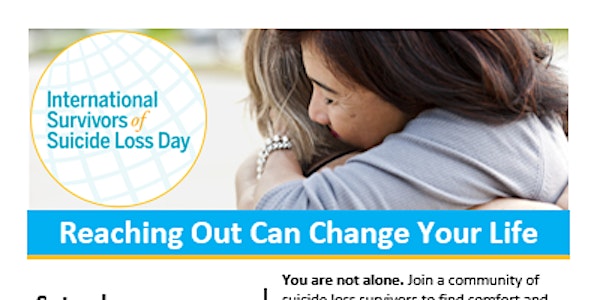 International Survivors of Suicide Loss Day
When and where
Location
First Unitarian Universalist Church of Indiana PA 285 Twolick Drive Indiana, PA 15701
Description
International Survivors of Suicide Loss day was created in 1999 by the U.S. Senate, and every year thousands of suicide loss survivors around the world participate in Survivor Day Events to share their experiences, gain insight, and find comfort in the knowledge that they are not alone.
You are not alone. Join a community of suicide loss survivors to find comfort and gain understanding as well as we share stories of healing and hope.
Program:
10:00AM Welcome
10:30AM Screening of Family Journeys
11:30AM Lunch
12:30PM Handling the Holidays
1:00PM Remembrance Ceremony
The day will be filled with discussion, stories, activities, and resources to help with healing after loss.
Survivor Day Film
The event features a screening of Family Journeys: Healing and Hope After a Suicide, an AFSP-produced documentary that traces the ripple effects of a suicide through the eyes and experiences of three families, and shows how the members of each family are weathering the loss of their loved one, how they're healing, and how they're finding meaning again after living through a suicide.